---
LUBOMIR KOTRHA IN PRESOV, SLOVAKIA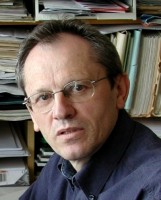 Lubomir Kotrha (see the photo), an extraordinary personality of the Slovak cartooning will exhibit his artworks from January 10, 2017 in the Brain Sneezing Gallery in the Center of independent culture Wave in Presov, Slovakia.
Since his debut in 1967 his creative work is represented by impressive 50,000 cartoons. He is an illustrator and author of several books of the Cartoon humor, but also the author of the Evening's Tales Dada & Dodo for Slovak Television. He takes part in competitions and exhibitions of cartoons around the world and so far is the holder of 120 awards from Tokyo, Ancona, Skopje, Edinburgh, Pisek, Presov, Nove Mesto nad Vahom, Istanbul …
The exhibition can be visited in Presov until February 8, 2017.
Peter RAZUS the organizer of the exhibition

*****
CARTOONS BY LUBOMIR KOTRHA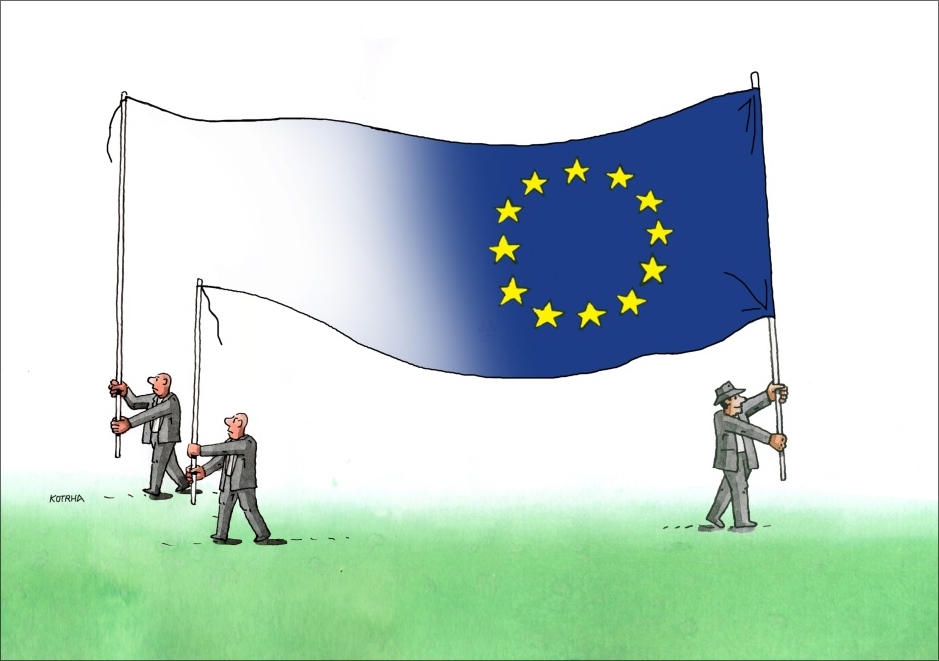 *****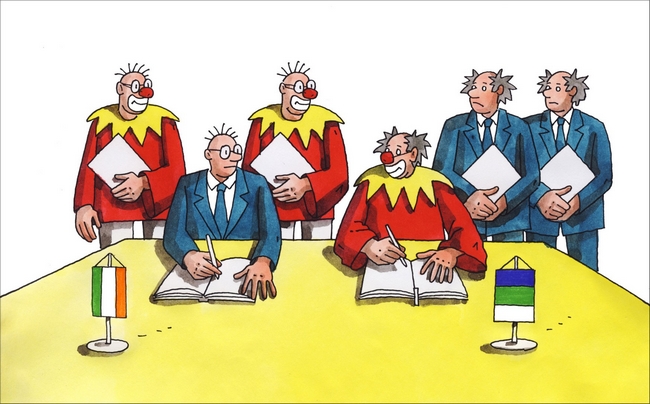 *****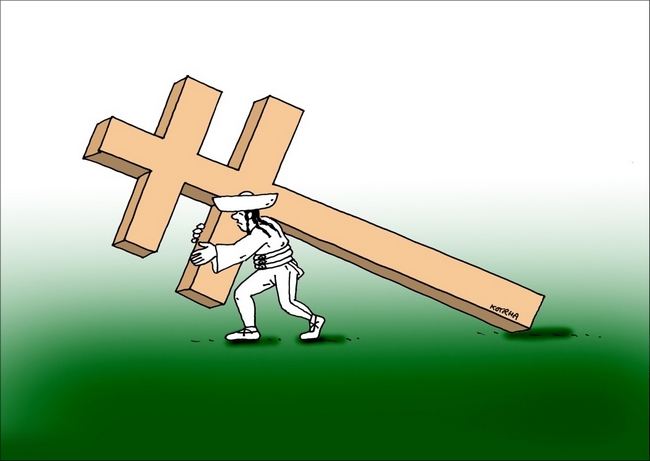 *****
* Source: text and drawings provided by Peter Razus (SK), author of drawings: Lubomir Kotrha (SK)
---
BON 2017 BY ROBERT ROUSSO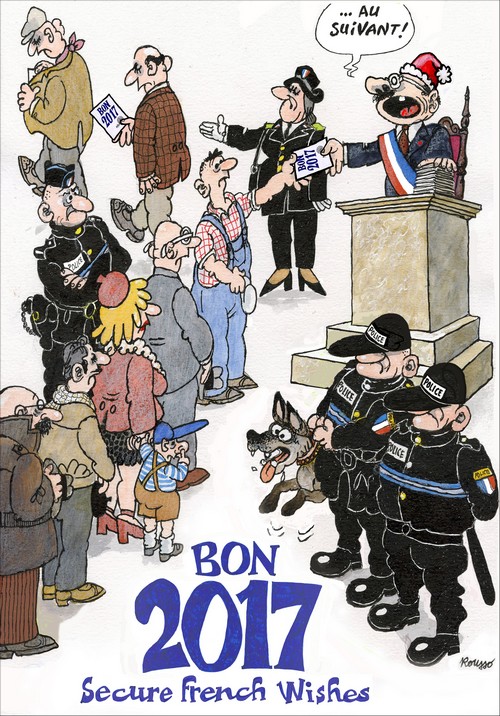 Artwork by Robert Rousso (France)
*****
---
WOMEN'S RIGHTS in PRESOV, SLOVAKIA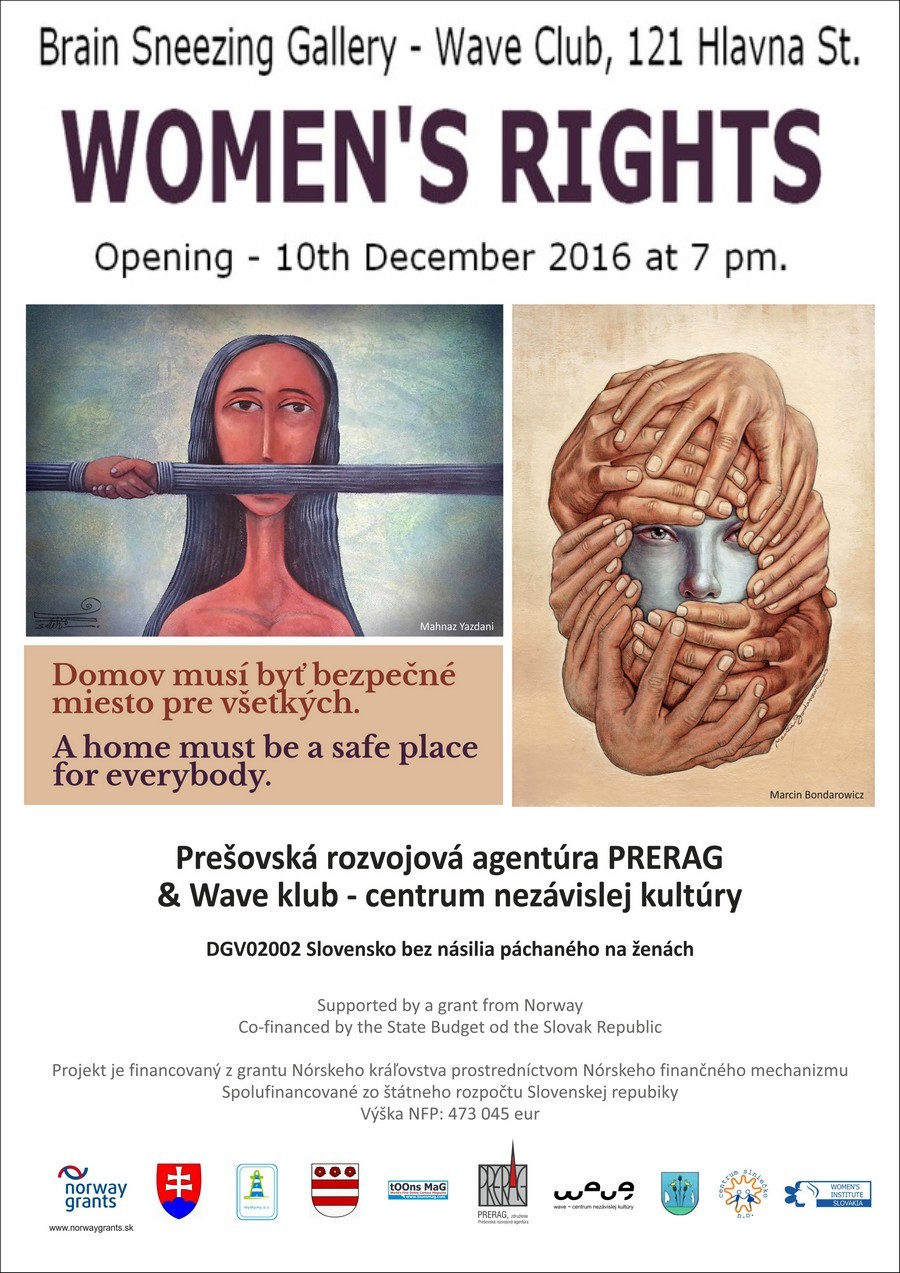 Poster of the exhibition "Women's Rights" in Presov
*****
Collection of cartoons of the international exhibition "Women's Rights", organized by Arifur Rahman, a Bangladeshi-Norwegian artist and publisher of the online cartoon magazine "toons MAG" will be opened on 10th December 2016 at 7 p.m. Gallery in Prešov the Brain sneezing Gallery of the Wave Club in Presov, Slovakia and will be open until 10th January 2017. In the cooperating gallery Avistegnernes Hus in Drobak, Norway will be installed the creative work of Slovak cartoonists.
Peter RAZUS
*****
SEVERAL CARTOONS FROM THE EXHIBITION: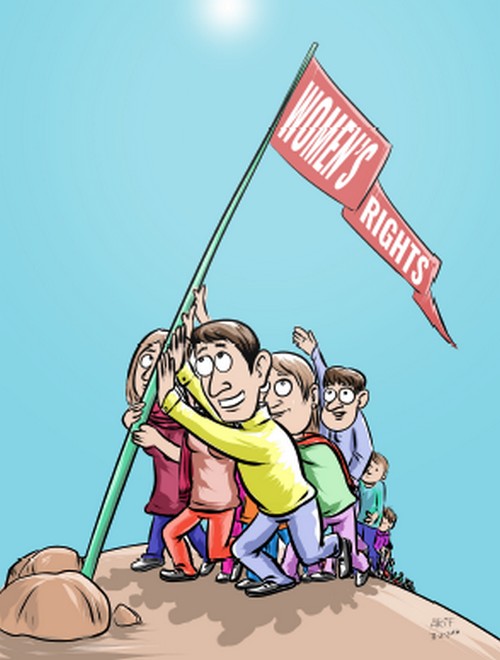 Arifur RAHMAN (Norway/Bangladesh)
*****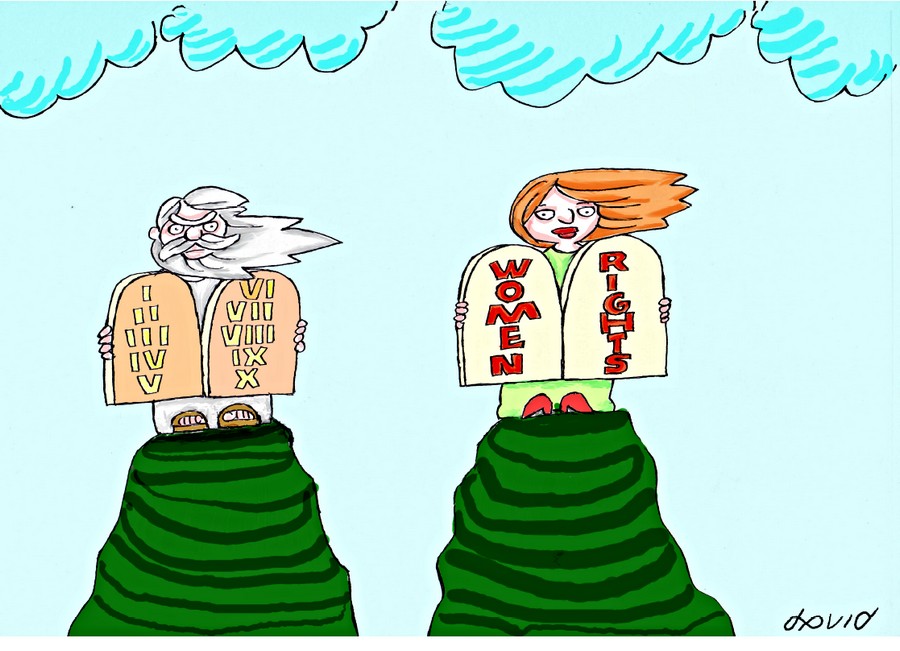 Evzen DAVID (Czech Republic)

*****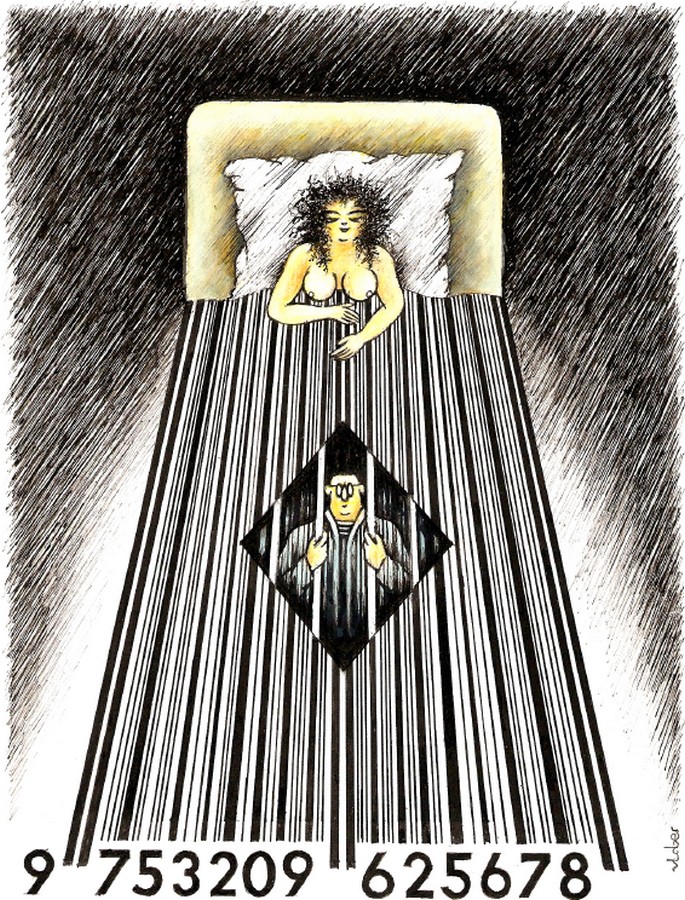 Vladimiras BERESNIOVAS (Lituania)
*****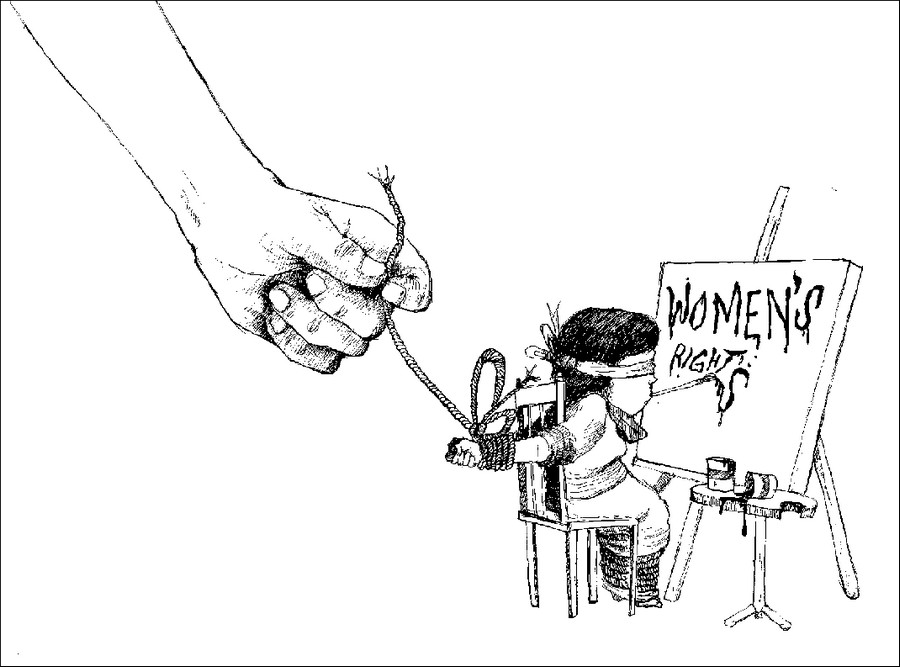 Harold JOEY (Philippines)
*****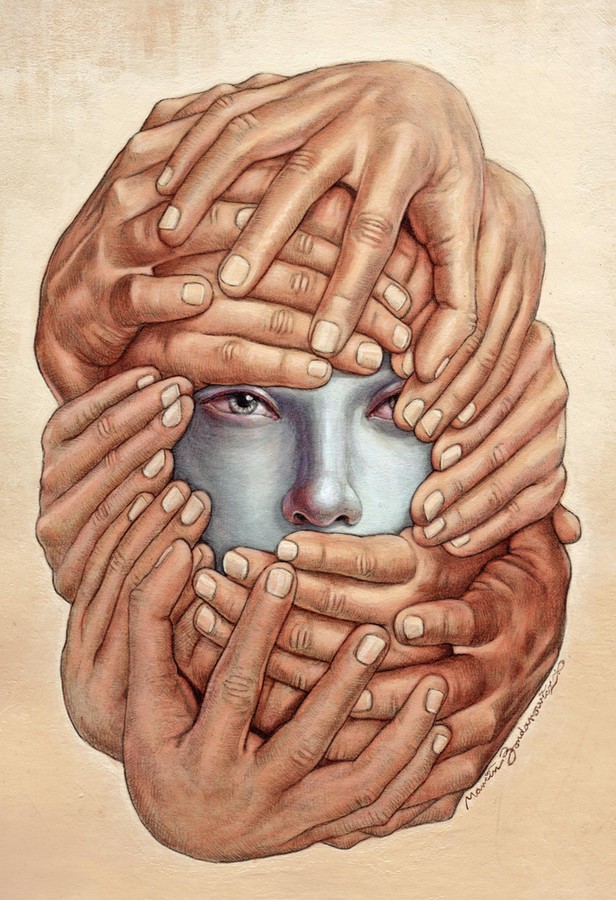 Marcin BONDAROVICZ (Poland)
*****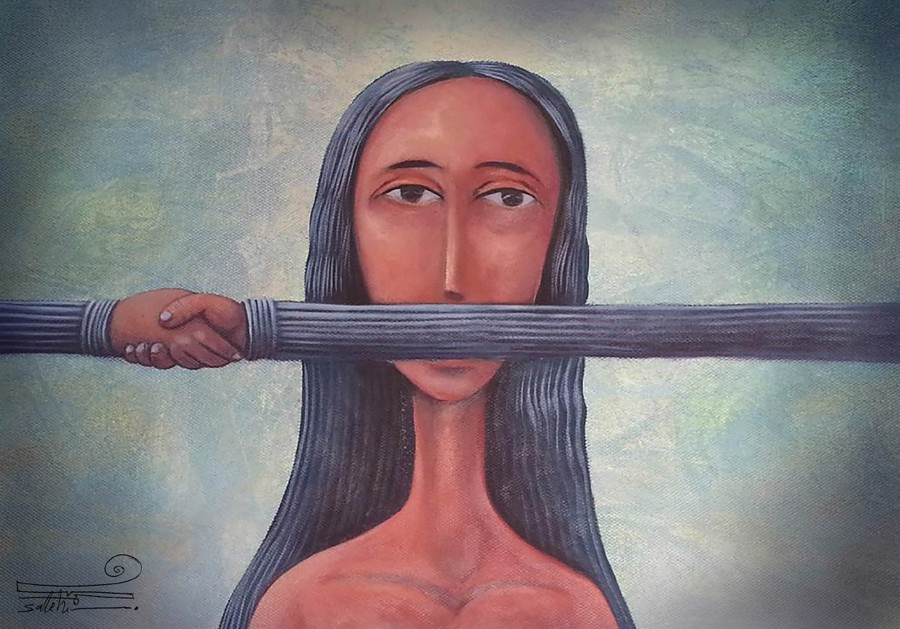 Mahmaz YAZDANI (Iran)
*****
* Source: Peter Razus (SK)
---
OLEKSIY KUSTOVSKY in PRESOV, SLOVAKIA
Olexiy Kustovsky, Ukrainian artist, began to write his professional drawn-humorous biography as a botanist, but now he could be a leading expert in the social seismograph academy because he captures in his pictures tectonics of bureaucratic and ideological structures.
He registers very sensitively the signals of impending catastrophe, warns of an imminent threat and alarms the rescue teams resting peacefully in our gray cortex.
Opening of the exhibition of artworks by Oleksy Kustovsky will be held at the Wave Club on November 8, 2016 by 7 pm.
Better to see once than to read hundred times.
Peter RAZUS organizer of the exhibition
*****
SEVERAL ARTWORKS BY OLEXIY KUSTOVSKY: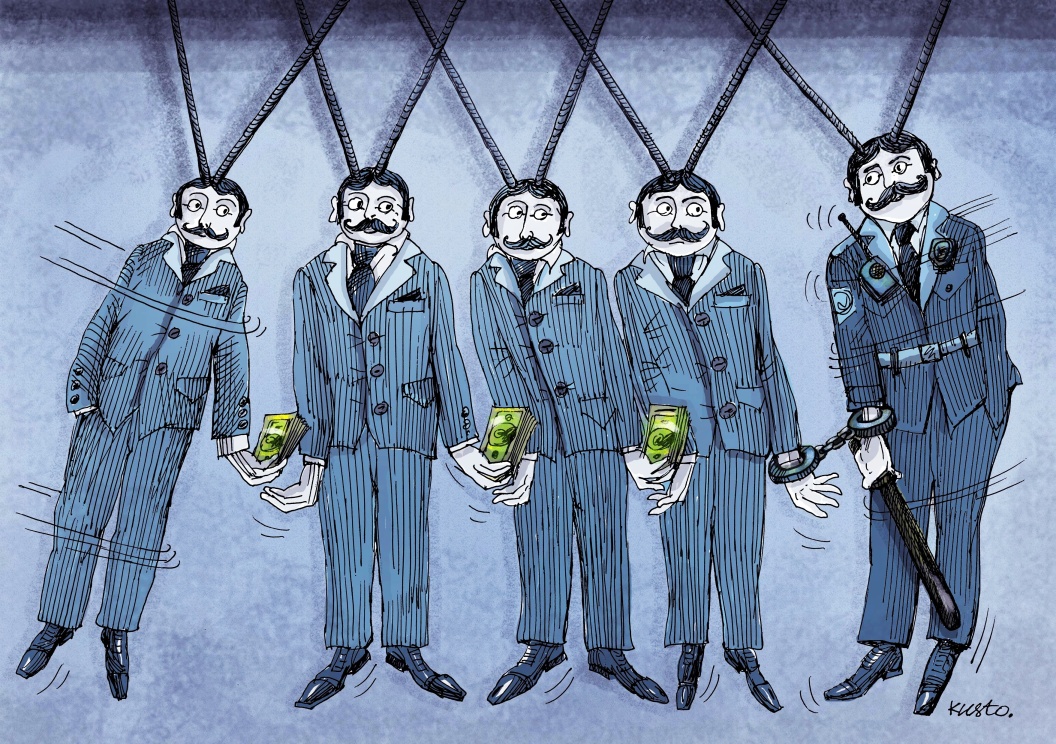 *****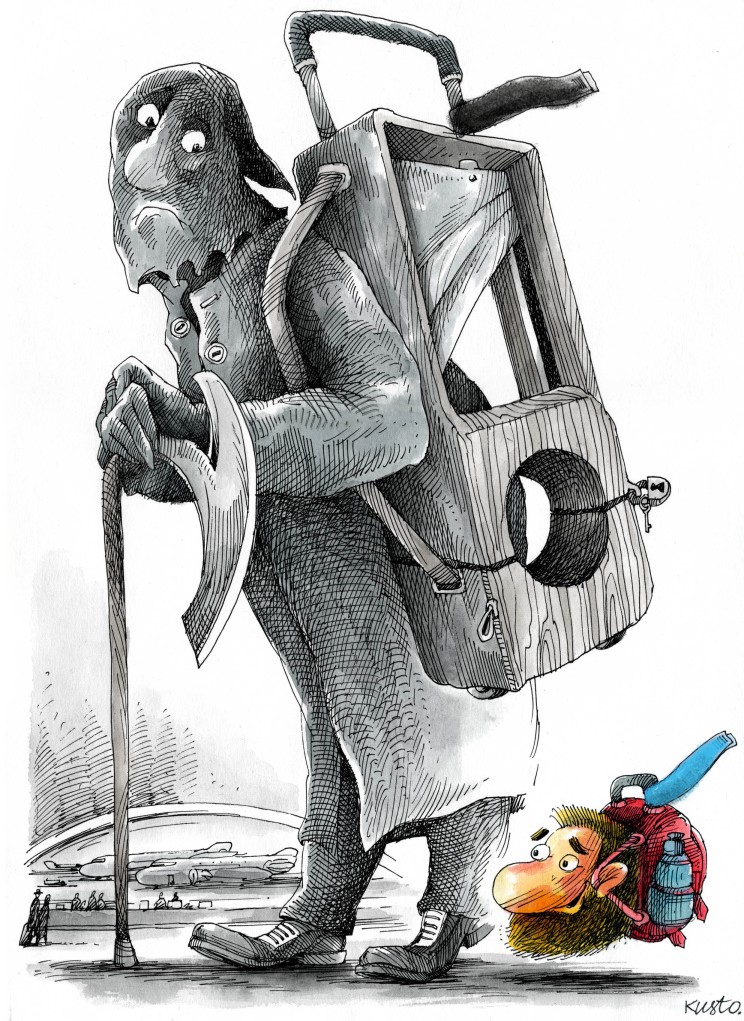 *****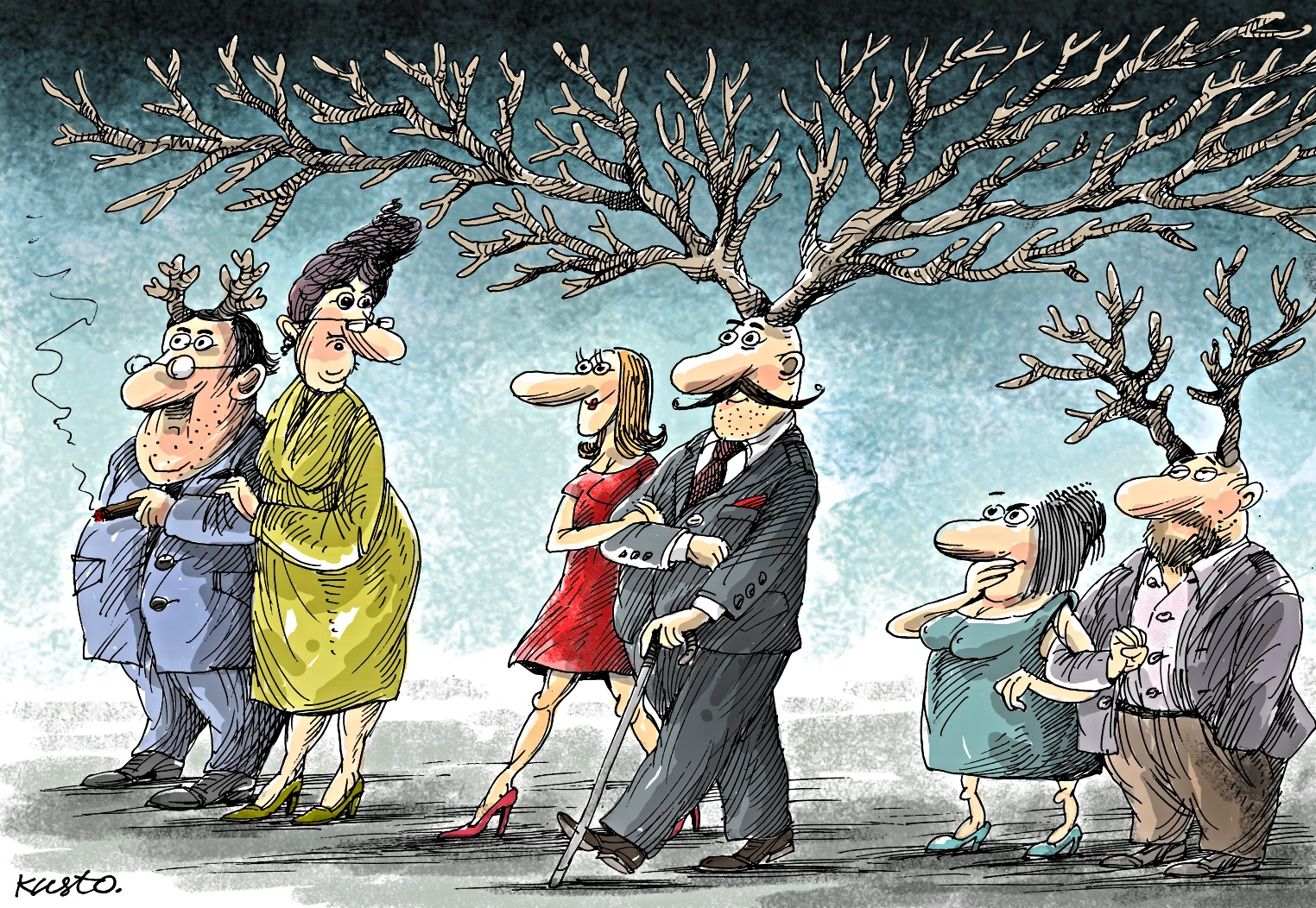 *****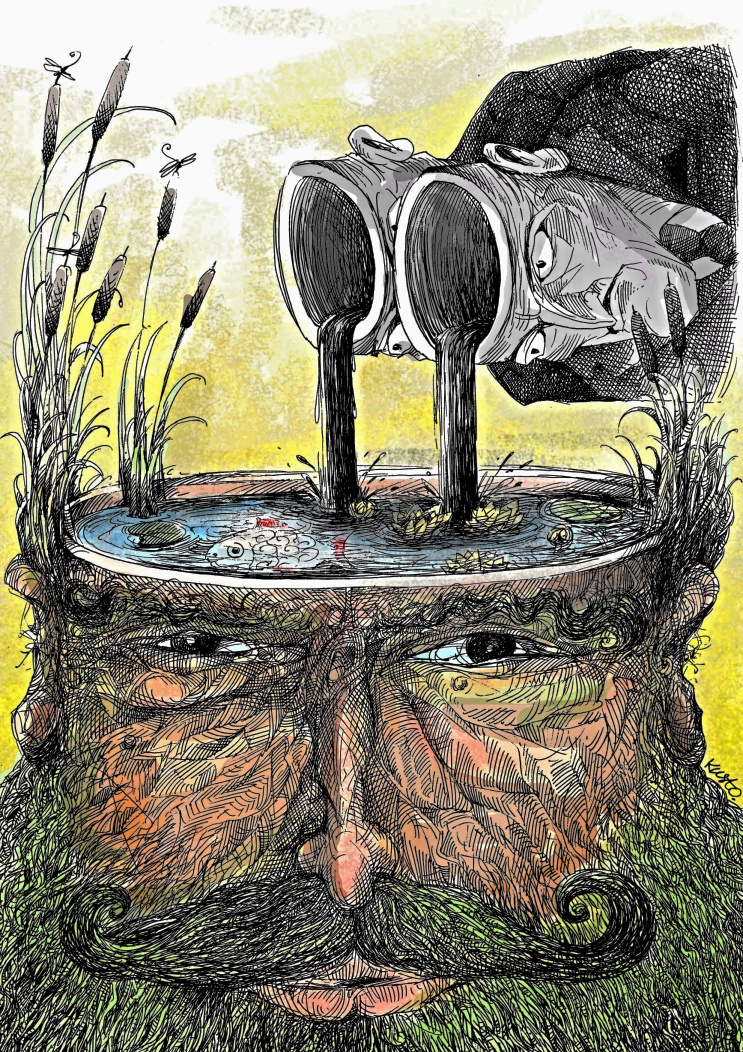 *****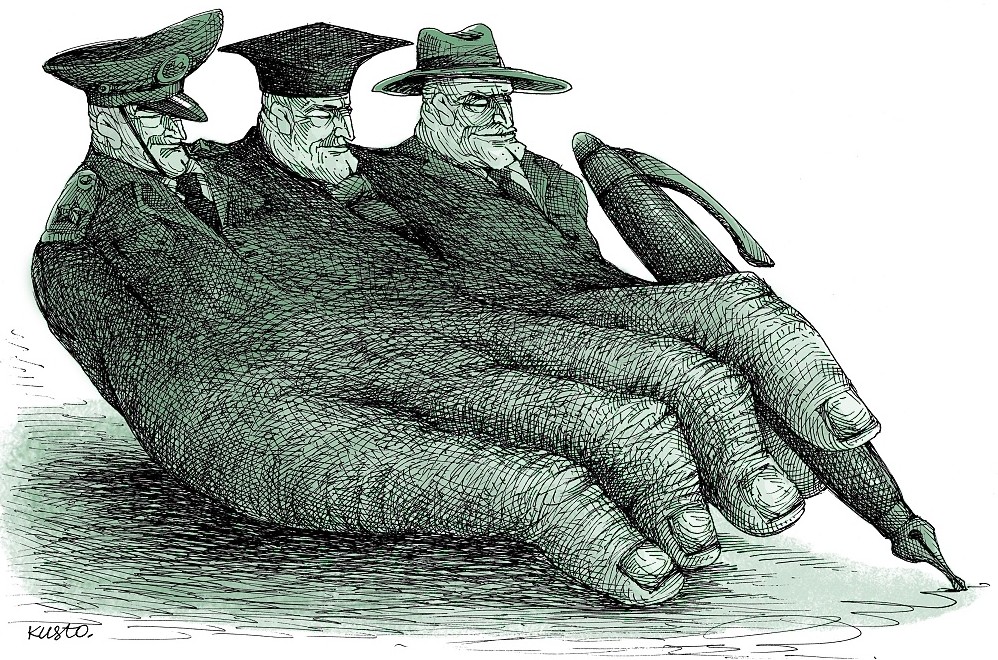 *****
* Source: Peter Razus, organizer of the exhibition (SK)
---
GOLDEN KEG 1995 – 2016
Presov Region and the Beer Gallery Presov, Slovakia invite all fans of humor at the opening of the exhibition "Golden Keg 1995 – 2016", which presents selection of the best works of the 22 editions of the International Cartoon competition Golden Keg. This unique exhibition will be inaugurated on Monday, October 31, 2016 by 4 p.m. on the premises of the Presidential brasserie VIKTORIA on the street Svatoplukova in Presov, Slovakia.
We cordially invite you !
*****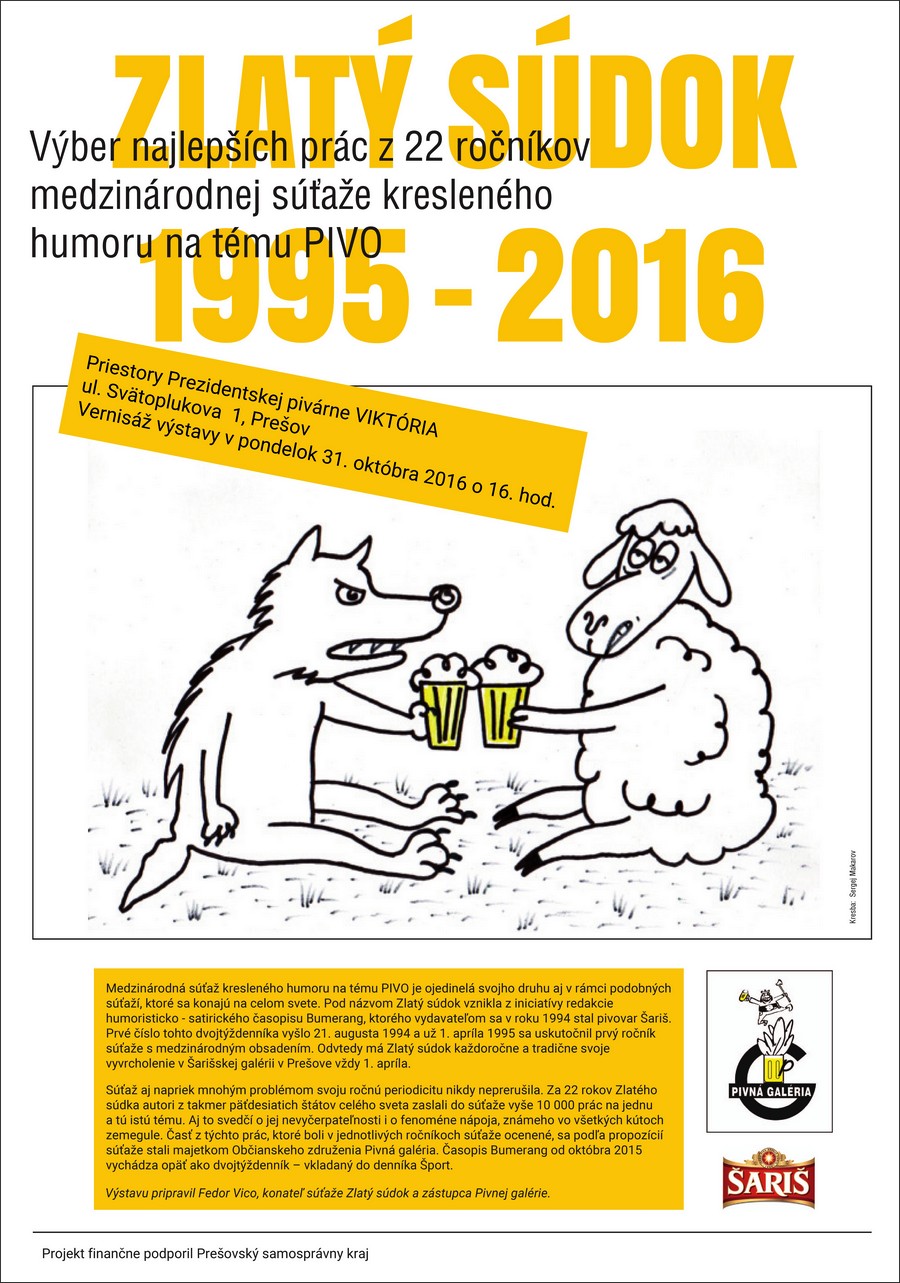 *****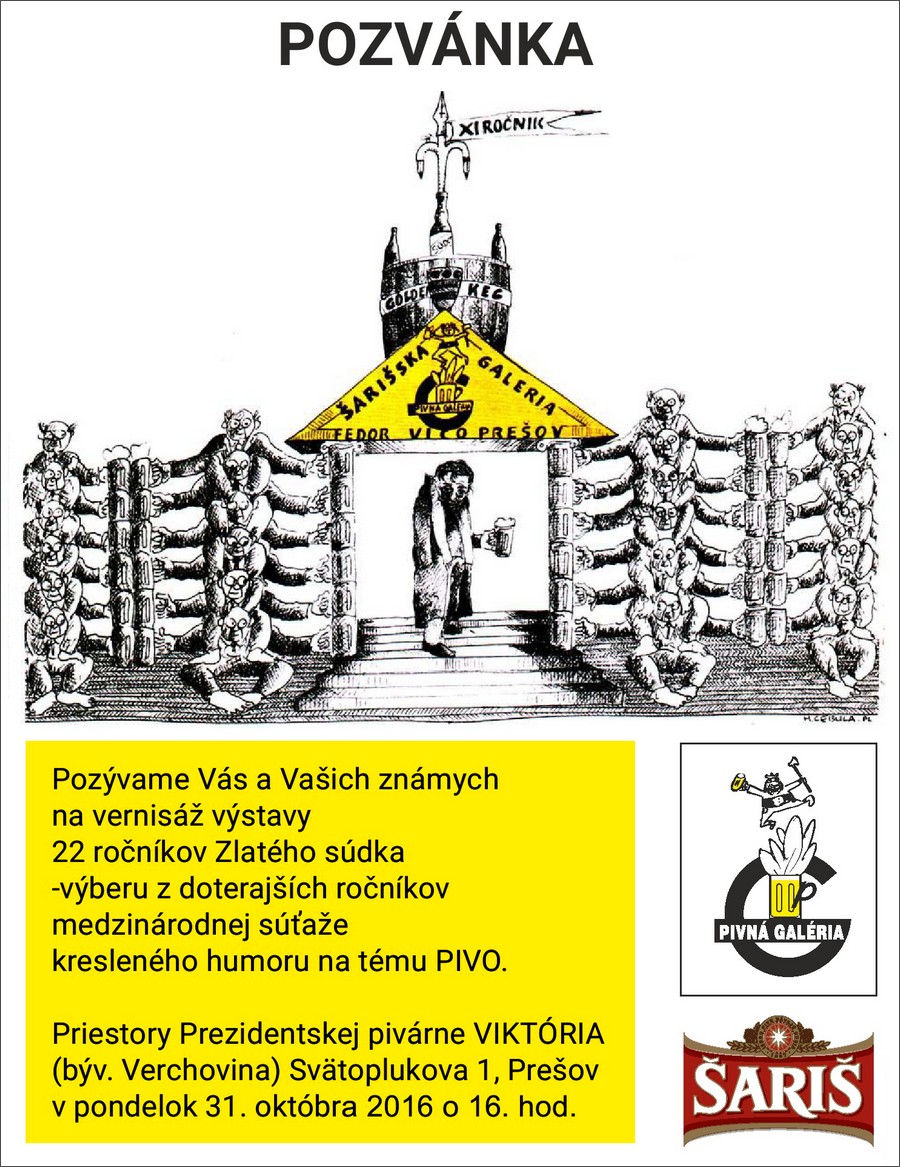 *****
* Source: Fedor Vico (SK) – organizer of the international cartoon contest Golden Keg and the editor of the humor magazine BUMerang
---
SLOVAK CARTOONS IN NORWAY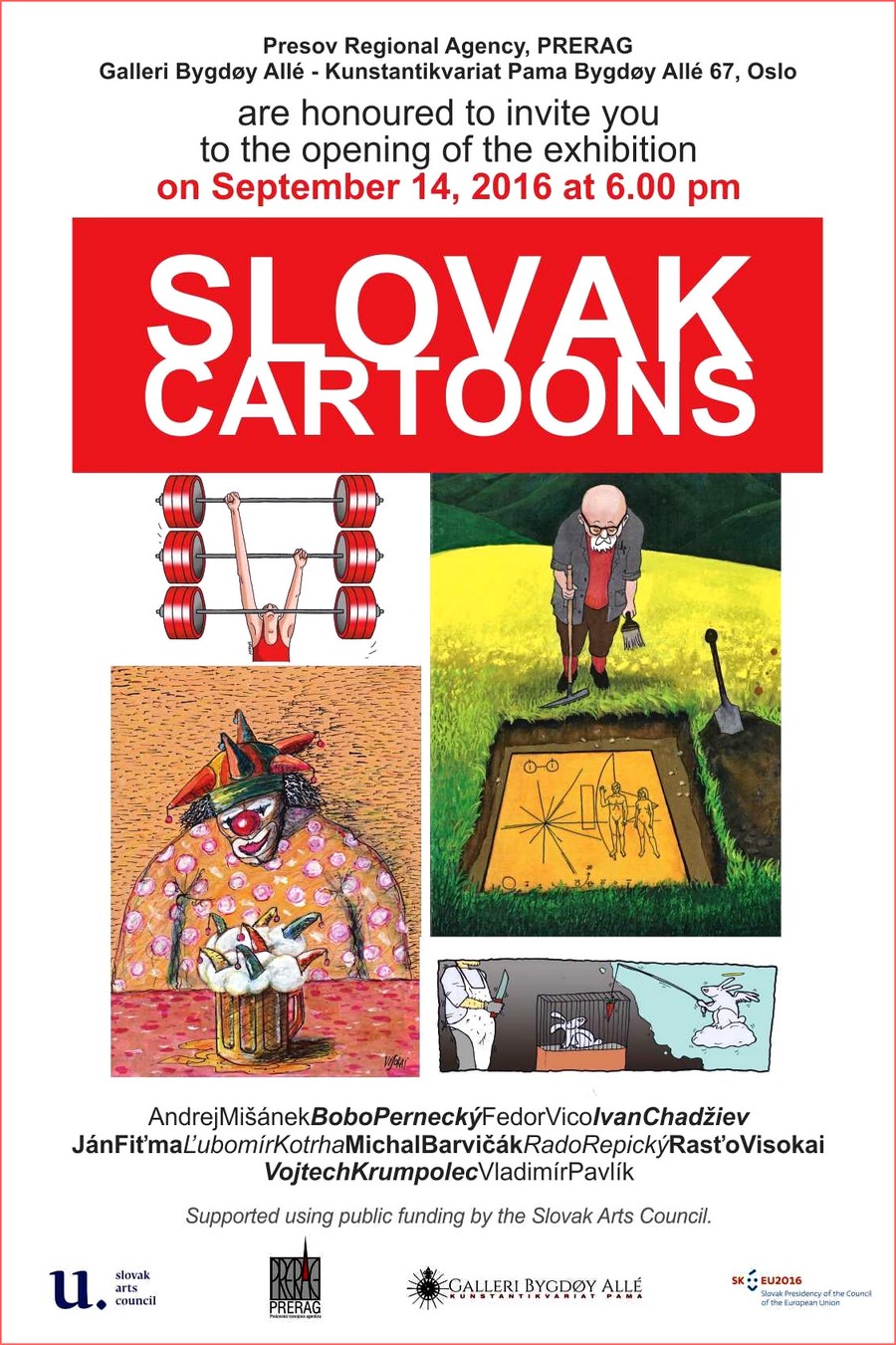 *****
* Source: Peter Razus (SK)
---
LUKA LAGATOR IN PRESOV, SLOVAKIA
Luka Lagator, author of cartoons from Montenegro will be another artist who will present his artworks in the Wave Club in Presov, Slovakia on 7th September 2016 at 8:00 p.m.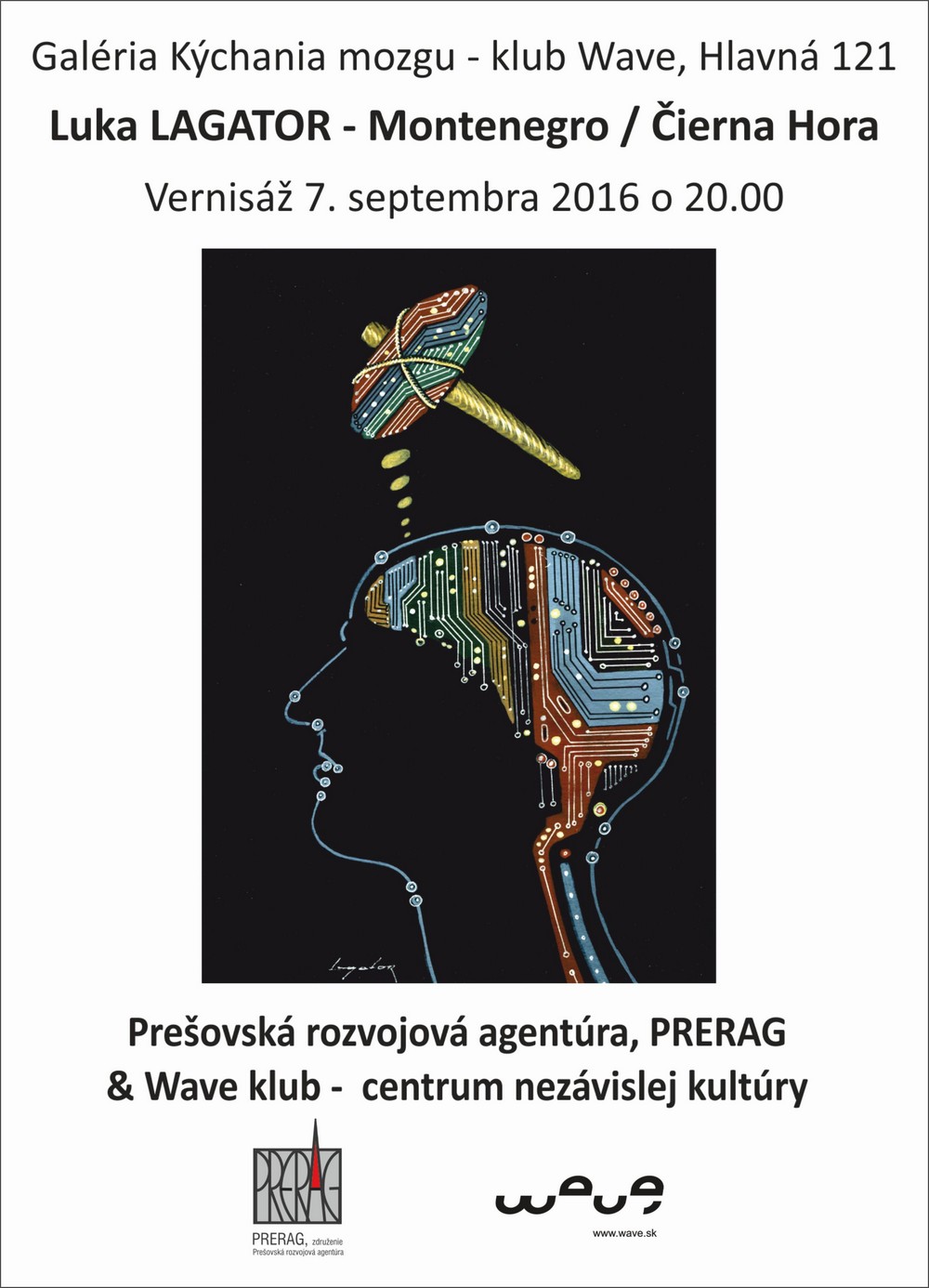 Poster of the exhibition of Luka Lagator in Presov, Slovakia

*****
His 100th jubilee award received this prestigious author of cartoons at the competition "Brain Sneezing – from kalokagathia to hypochonria and back" just in Presov, Slovakia. His collection of cartoons offers viewers a controversial view of the grotesque positions of authorities, confidently looking in burnishing crooked mirror, hoping to be better, more beautiful and wiser…
Who does not believe, he/she can see it up to 10th October 2016.
Peter Razus
*****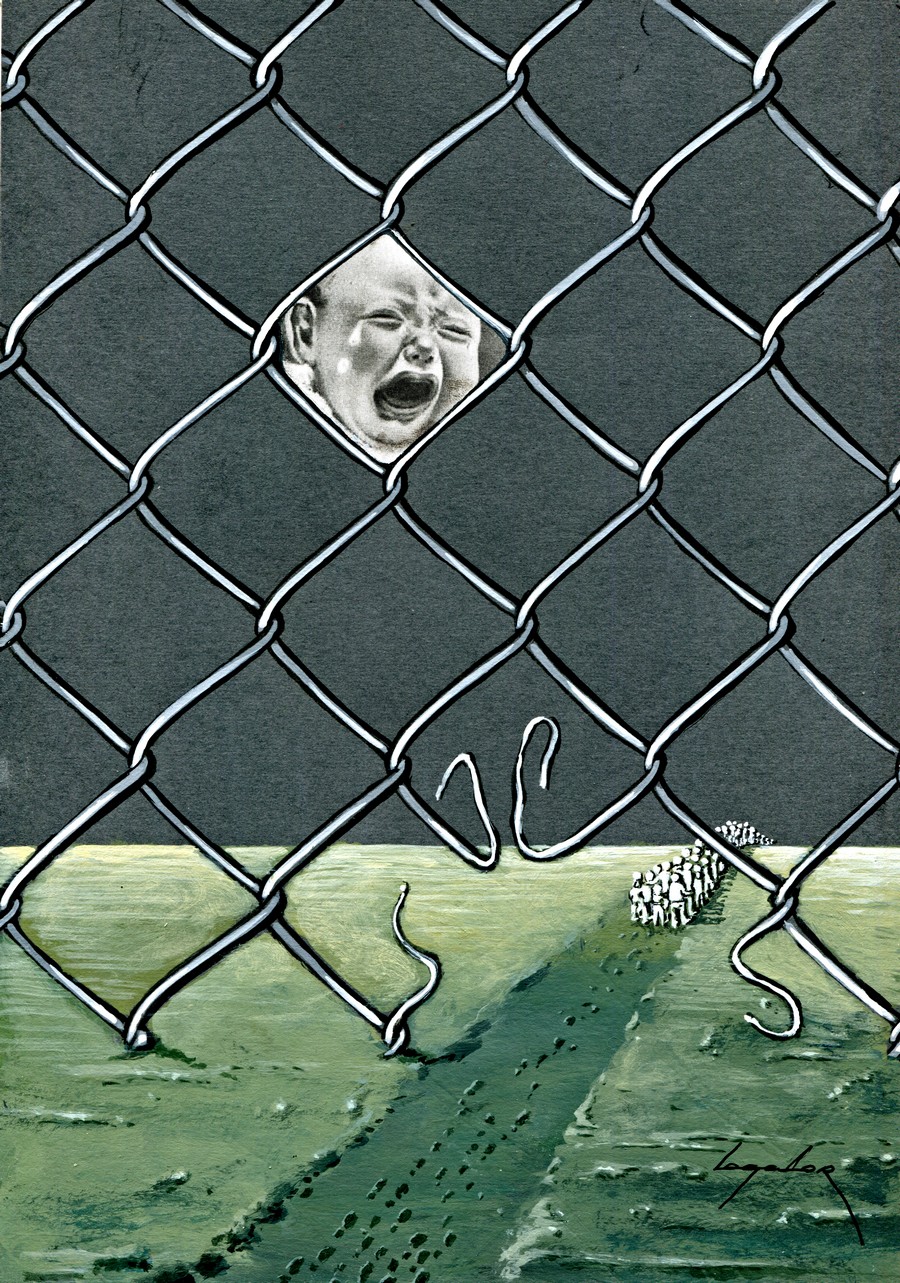 Luka Lagator (ME) – Refugees
*****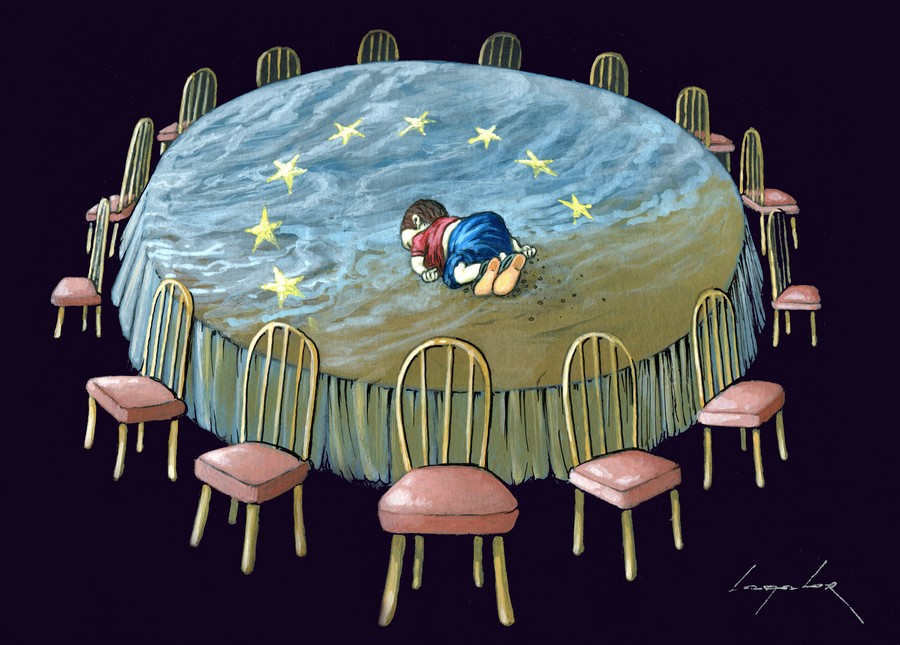 Luka Lagator (ME) – A victim
*****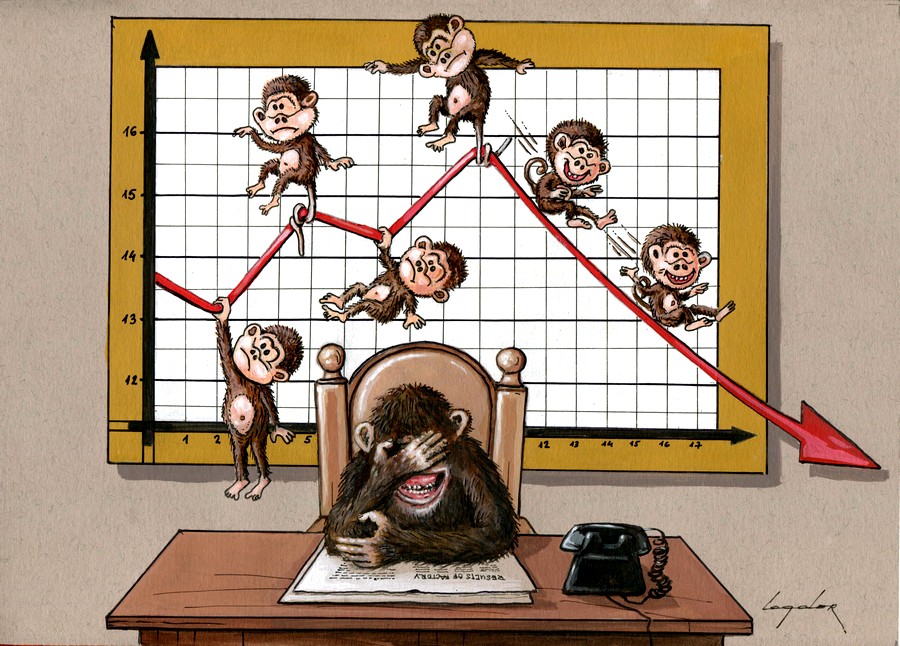 Luka Lagator (ME) – Monkey's business
*****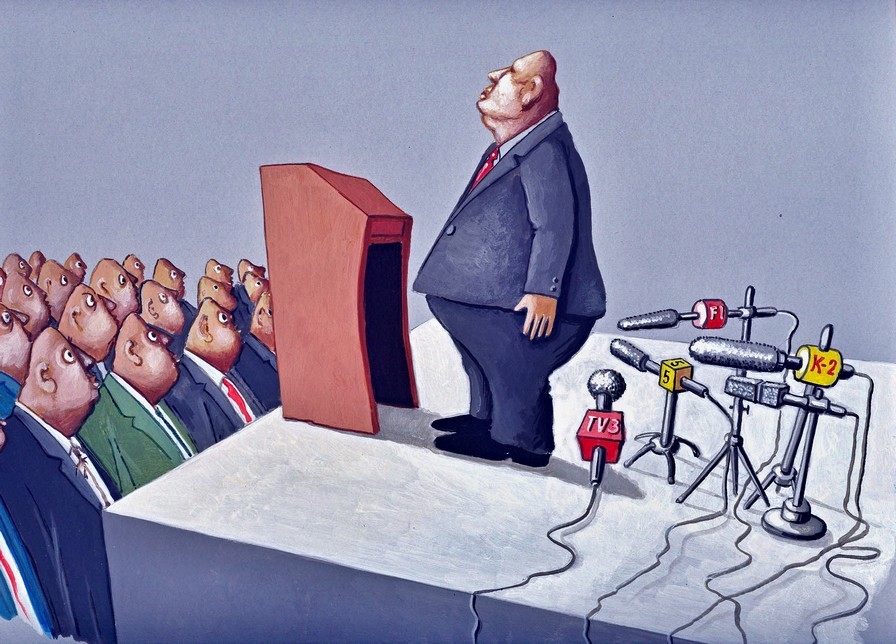 Luka Lagator (ME) – The speeker
*****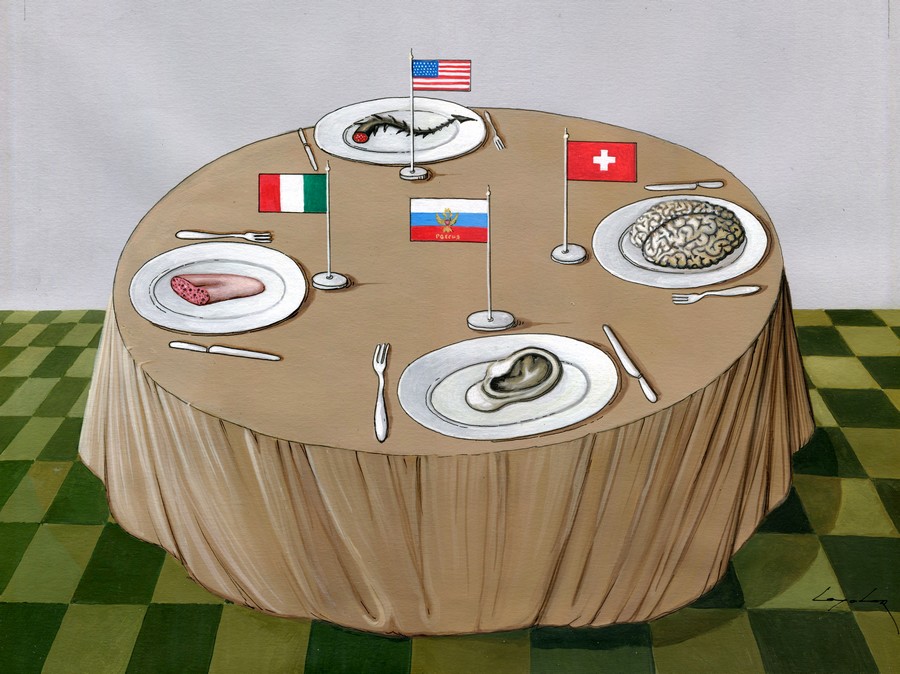 Luka Lagator (ME) – National cuisine
*****
Text and cartoons provided by the organizer of the exhibition Peter Razus (SK)
---
"FACING THE CLIMATE" IN KOSICE, SLOVAKIA
Following the recent successful presentation in Vienna, Austria and Bratislava, Slovakia the cartoon exhibition entitled "Facing the Climate", which aims to draw attention to the urgent issue of climate changes, will be presented also in the metropolis of Eastern Slovakia in Kosice. This extraordinary artistic-ecological project was originated in 2009 on the initiative of the Swedish Institute in Stockholm, and since then, the exhibition travels through many countries worldwide (see map below), and up to now it was viewed by more than 370,000 people.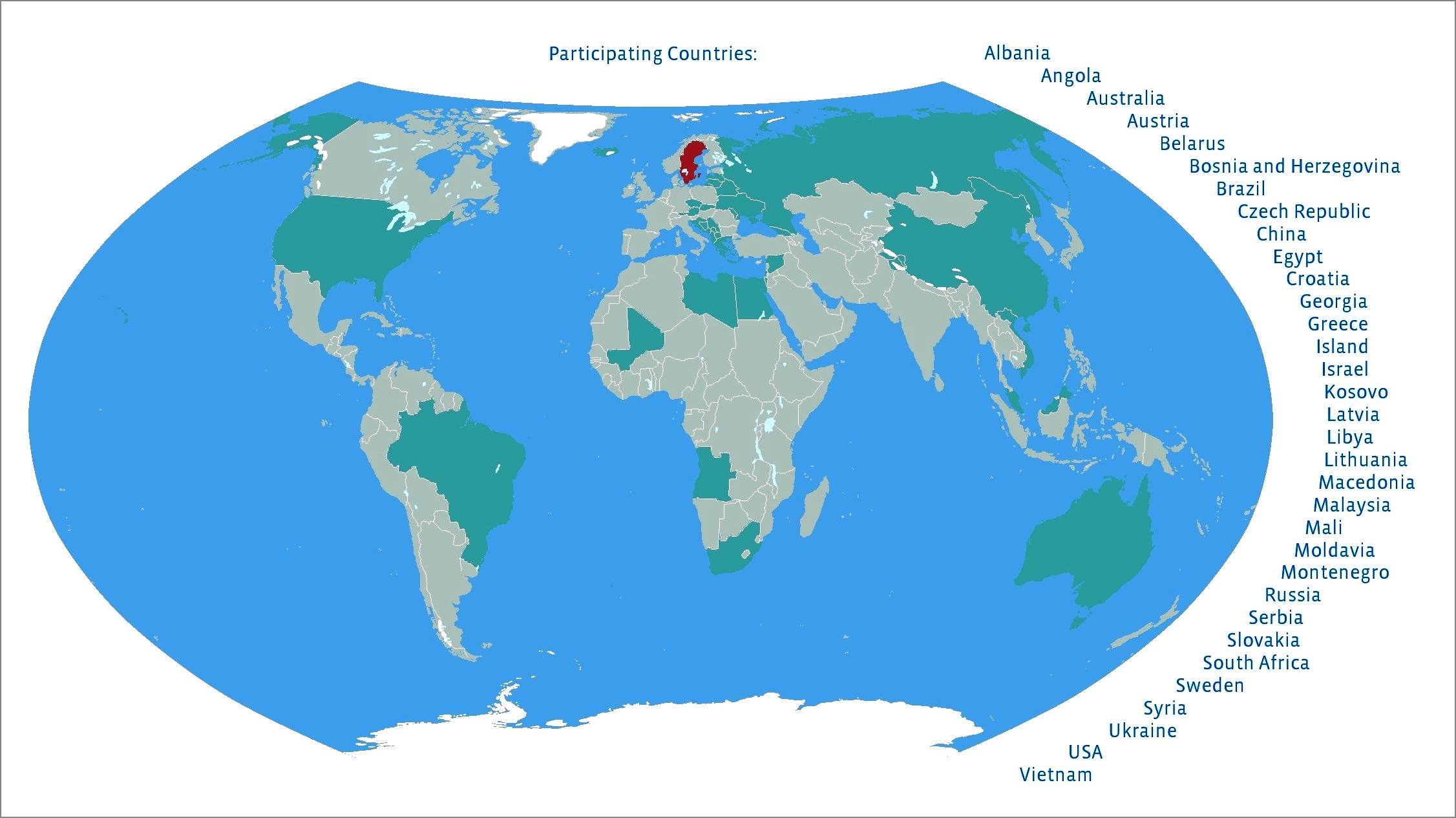 Map of the tour of the exhibition "Facing the Climate" around the world
*****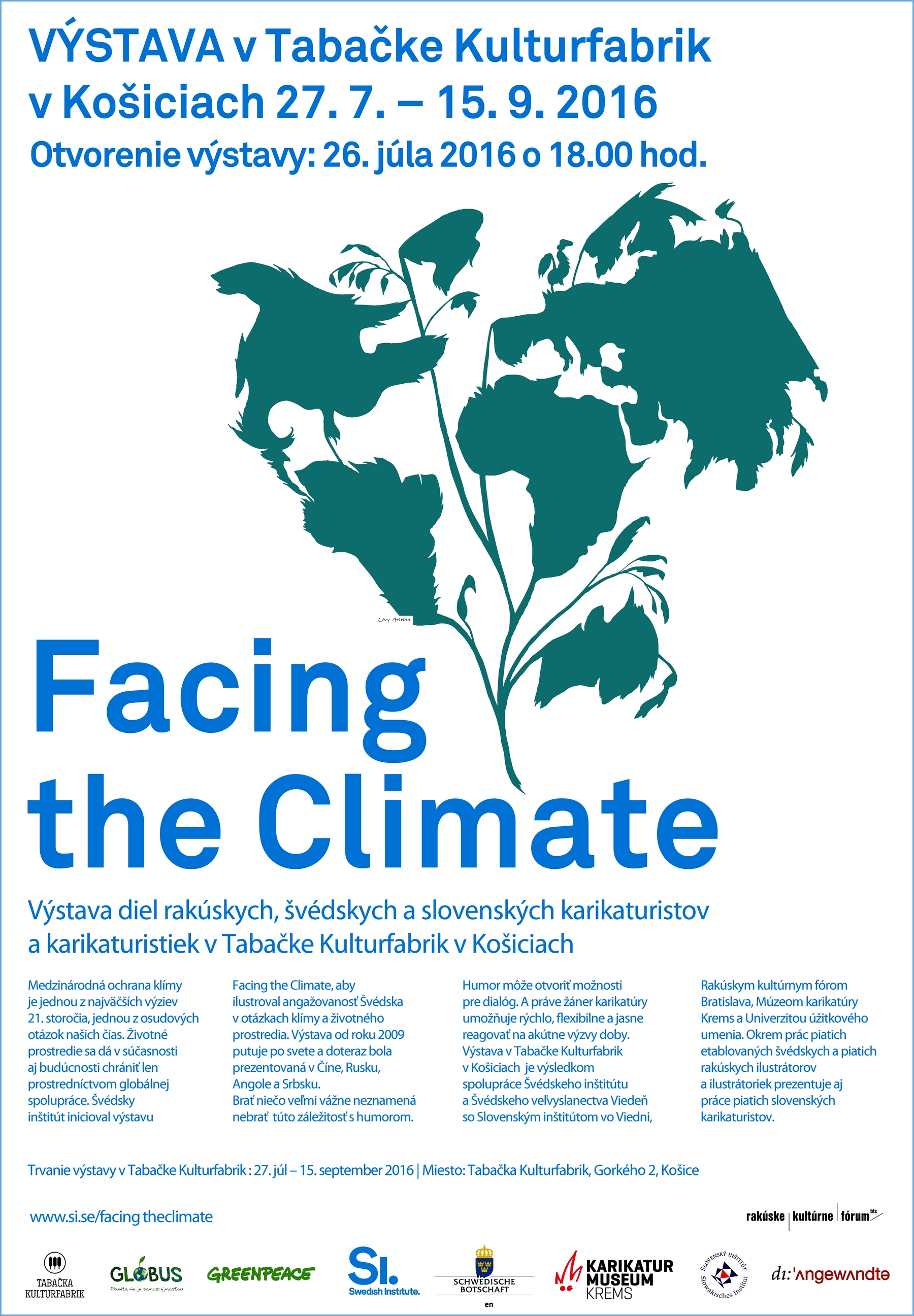 Poster of the exhibition "Facing the Climate" in Kosice
*****
Swedish Institute in Stockholm and the Swedish embassy in Vienna in cooperation with the Slovak Institute in Vienna, the Austrian Cultural Forum in Bratislava, The Caricature museum in Krems and the University of Applied Arts in Vienna present the exhibition "FACING THE CLIMATE" in Tabacka Kulturfabrik in Kosice. The exhibition features the work of five Swedish, five Austrian and five Slovak cartoonists on the topic of climate changes.
EXHIBITING ARTISTS:

SWEDEN:
Love ANTELL

Magnus BARD

Riber HANSSON

Helena LINDHOLM

Karin SUNVISSON
AUSTRIA:
Andrea Maria DUSL

Jeffrey GUAN

Bruno HABERZETTL

Nicolas MAHLER

Janina WEGSCHEIDER
SLOVAKIA:
Karol CIZMAZIA

Kazo KANALA

Vojtech KRUMPOLEC

Bobo PERNECKY

Laco TORMA
Venue: Tabacka Kulturfabrik, Gorkeho 2, Kosice, Slovakia
Opening of the exhibition: 26th July 2016 at 6 am
Duration of the exhibition: 27th July – 15th September 2016
Looking forward to your visit!
*****
CATALOG OF THE EXHIBITION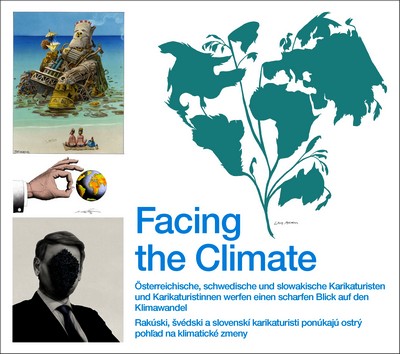 <<< To open the catalog, click on the cover >>>
*****
---
JIRI SLIVA – EXHIBITION IN ANKARA, TURKEY
"It seems that "My Turks understand me" … paraphrases Jiri Sliva with his characteristic humor the famous saying. Indeed – the Kafka theme by Jiri Sliva has an exceptional acclaim in Turkey – the latest collection of cartoons by the world-famous Czech cartoonist presents Galeri Cankaya in Ankara, capital of Turkey. Visitors can see the artworks by Jiri Sliva from 14 to 30 June 2016.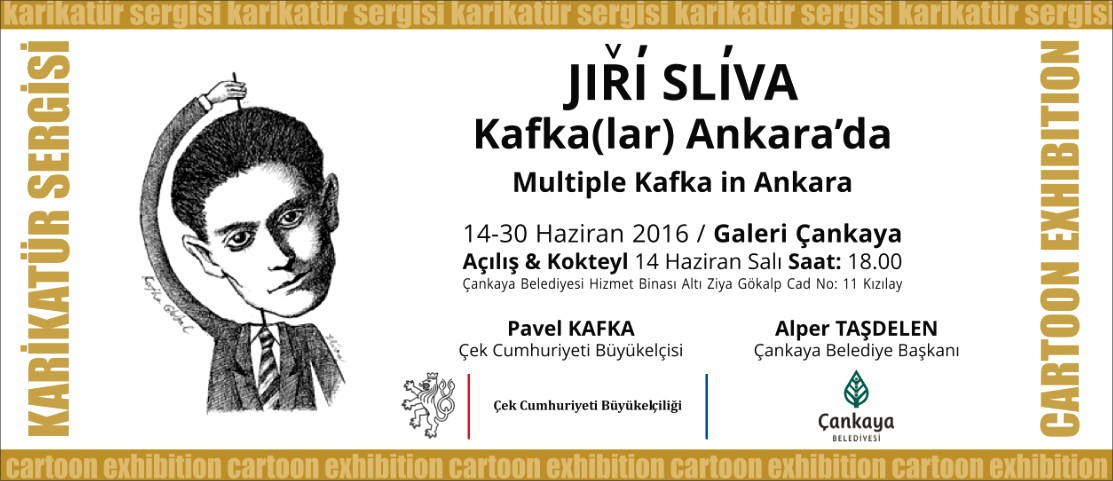 *****
---
MILAN SLADEK – EXHIBITION IN COLOGNE

World-famous mime of Slovak origin Milan Sladek will introduce in China Forum – GALLERY T in Cologne, Germany his paintings. The exhibition is entitled "Zhuangzis T-RAUM" and it is a tribute to the excellent German artist Brigitta Zeumer, who died in 2015, and who was associated with Milan Sládek with long friendship.
The exhibition opening will be held on June 11, 2016 at 6:30 pm and in addition to the Master's paintings visitors will have the opportunity to see performances by Milan Sladek and other artists. The exhibition will run until July 12, 2016.
*****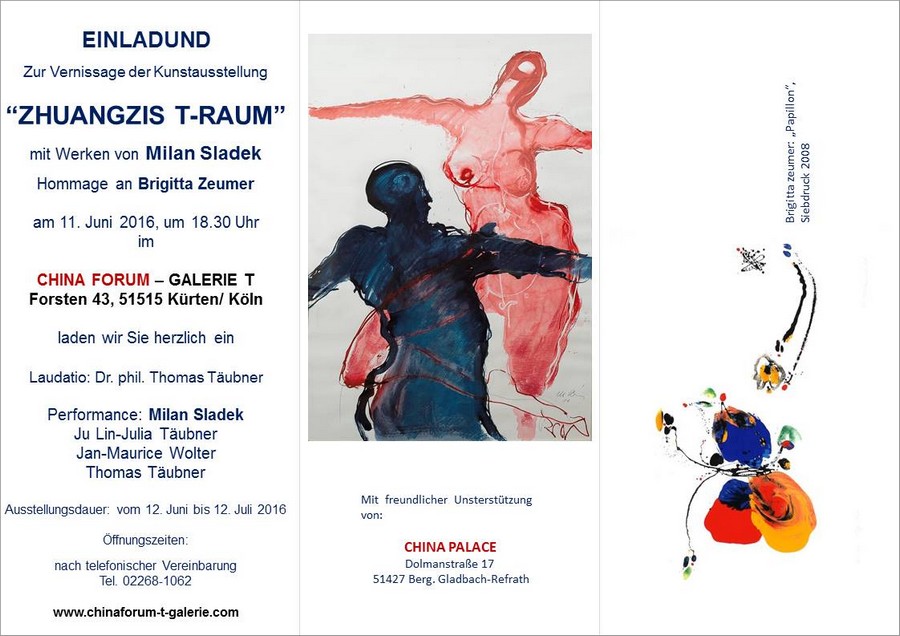 *****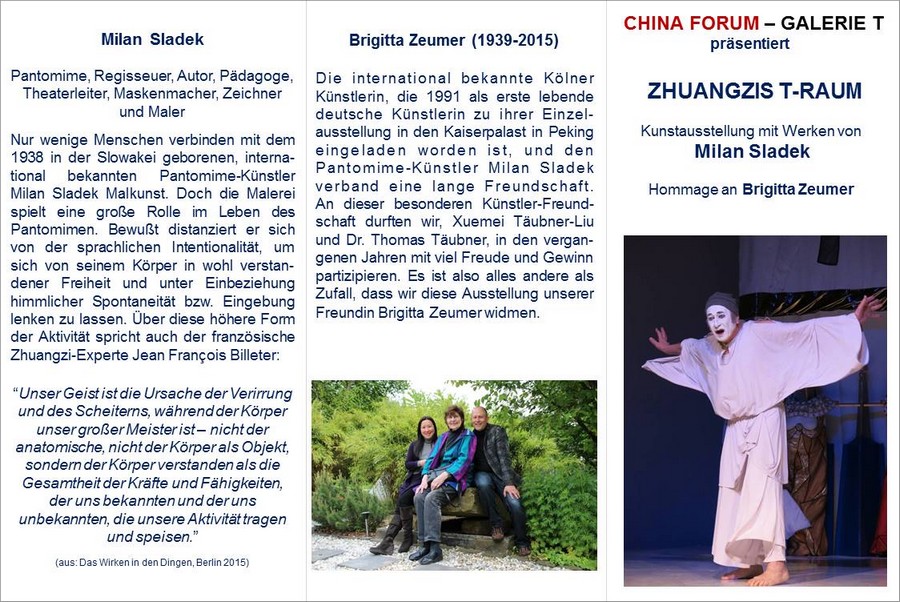 *****
---
JURY MEETING OF "OLIVE" CARTOON CONTEST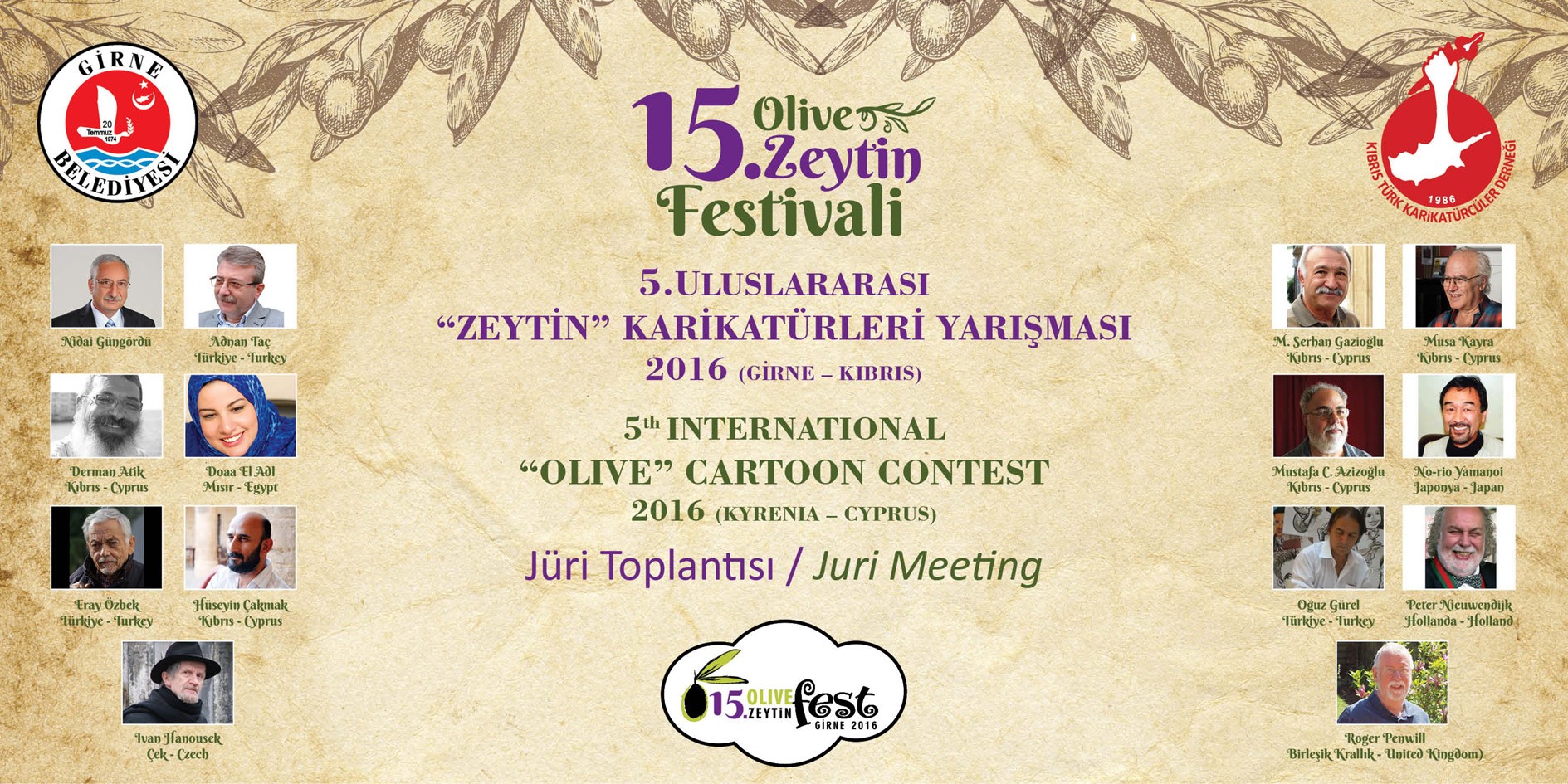 *****
---
RASTO VISOKAI – EXHIBITION in PRESOV (SK)
On 11th May 2016 at 20.00 p.m. at the Wave club, 121 Main street Presov, Slovakia, will be held an opening of the exhibition of cartoons by a leading Slovak cartoonist Rasto Visokai. We cordially invite you!

*****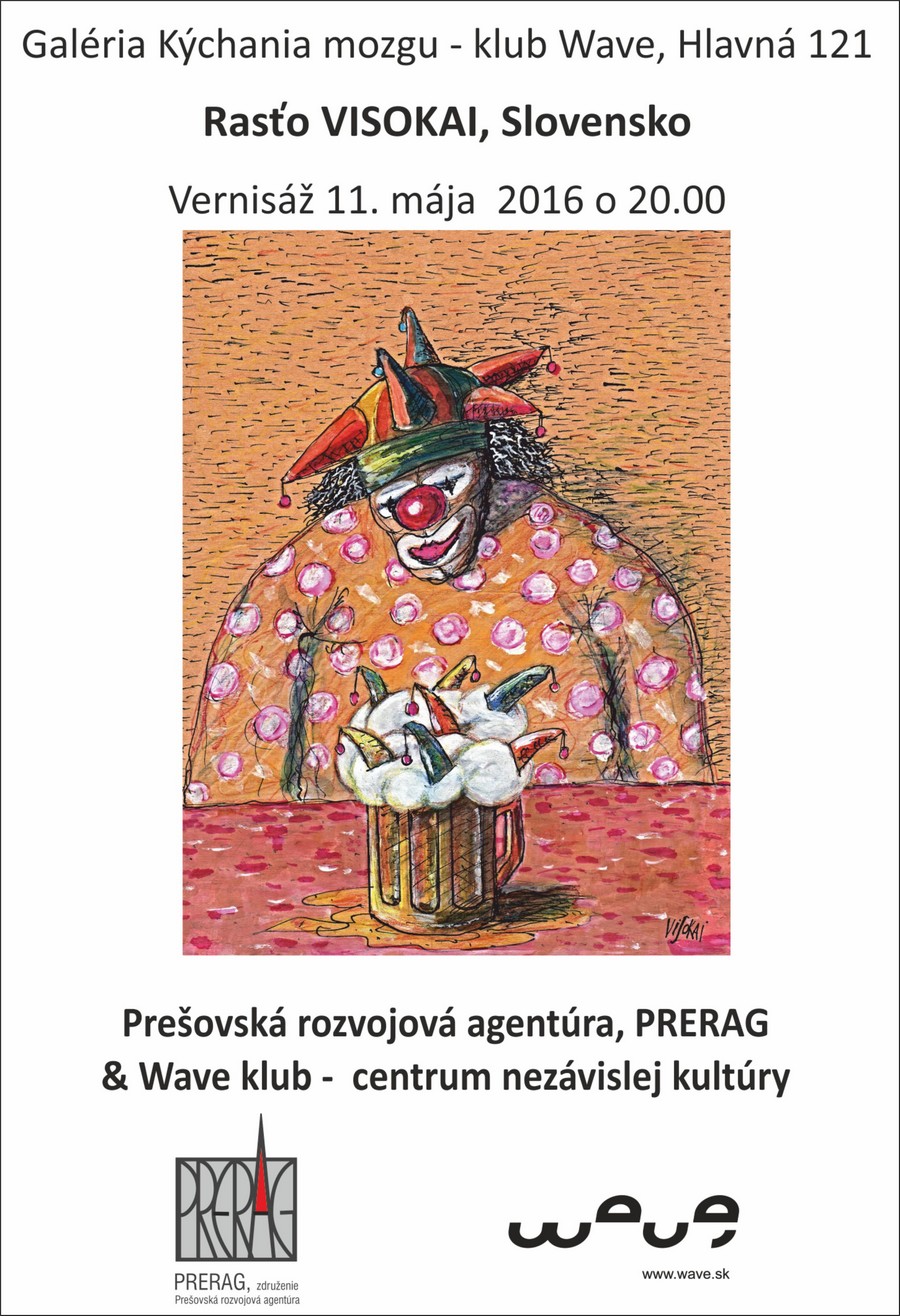 Poster of the exhibition of Rasto Visokai (SK)
*****
(Hu) Mor ho !!! by Rasto Visokai
An exhibition of a native Presover, living in Kosice, splendid wise philosopher who with his artworks provoked and still provokes political and clerical skeletons surviving in their sarcophagi, trowelled into their own portraits.
Who does not believe, let him come and he who believes as well.
Peter RAZUS organizer and curator of the exhibition

*****
* Source: Peter Razus, Presov (SK)
---
KARLJUKA 2016 POLTAVA, UKRAINE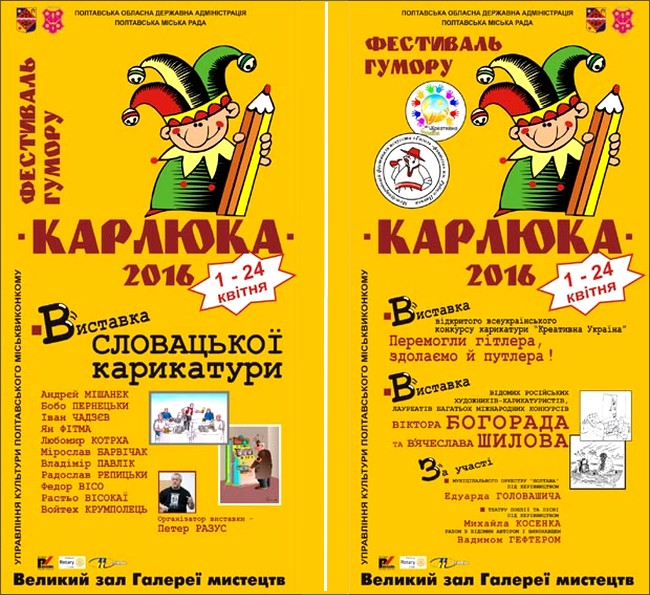 *****
KARLJUKA 2016 & archetype of crooked faces
If you are in Poltava, the birthplace of of N. V. Gogol, it is common to quote the classic wisdom: "To the mirror is angry that one who has a crooked face." The more is the face crooked, the more anger from its owner, but even more laughter from the onlookers.
Eleven Slovak authors who offered their works to the Ukrainian audience have with the archetype of crooked faces their rich experience and reward have not been important medals, but Chaplin's catharsis laugh. Eleven of representation was formed by Andrej Misanek, Bobo Pernecky, Fedor Vico, Rasto Visokai, Vladimir Pavlik, Miroslav Barvircak, Ivan Chadziev, Vojtech Krumpolec, Lubomir Kotrha, Jan Fitma and Rado Repicky.
Perfectly organized international cartoon event KARLJUKA 2016, which included a joint opening of the Slovak cartoonists in combination with the solo exhibitions of Victor Bogorod, Vyacheslav Shilov, winners of the competition "We defeated Hitler we will win over putler" and themed collection "Humor in the universe" of Ivan Varchenko. Guests of honor were cartoonists Vladimir Kazanevsky and Nikola Kapusta.
The main organizer of the event was Mikhail Shlapher, who commented on this international event: "… I was looking for differences between Slovak cartoons from the Ukrainian, Polish and Iranian. I have not found the difference, because every good author in the same time provokes the formation of a reaction to sophisticated modern, ideological, economic, aesthetic and moral self-appointed authorities grimace, but often also fashion grimaces of looking and agreeably laughing audience." A common view that combines Karljuka with Brain Sneezing. The exhibition of Slovak authors was supported by a grant from the Fund for support of the arts.
Peter RAZUS
co-organizer of the exhibition
*****
PHOTO FROM THE OPENING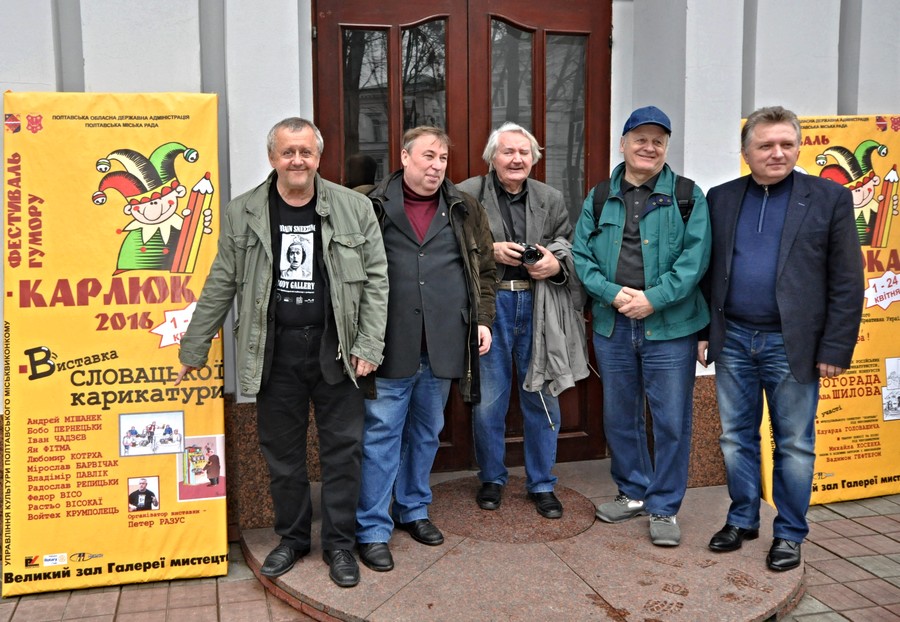 Karljuka 2016: first from the left Peter Razus (SK), second from the right Vladimir Kazanevsky (UA)
*****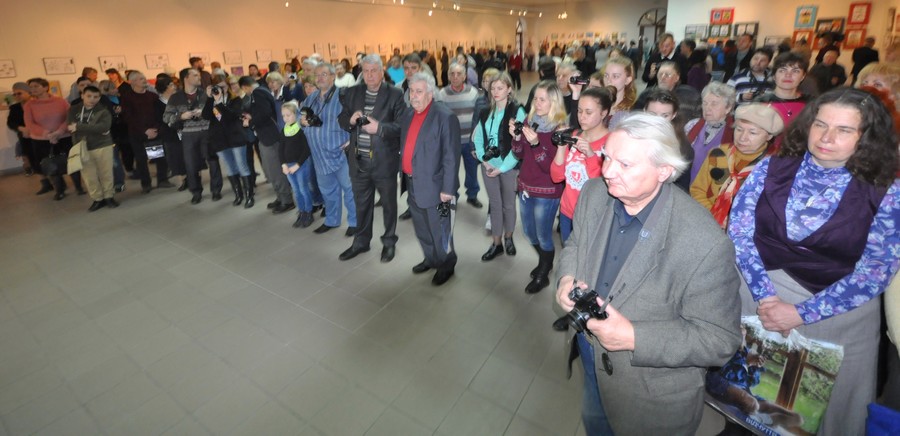 Huge interest of the audience, such as can be seen only very rarely
*****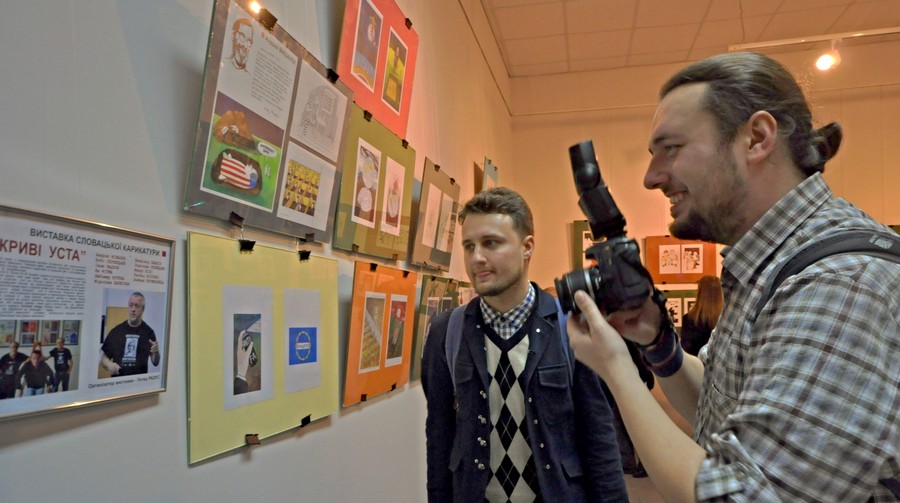 Photo from the exhibition
*****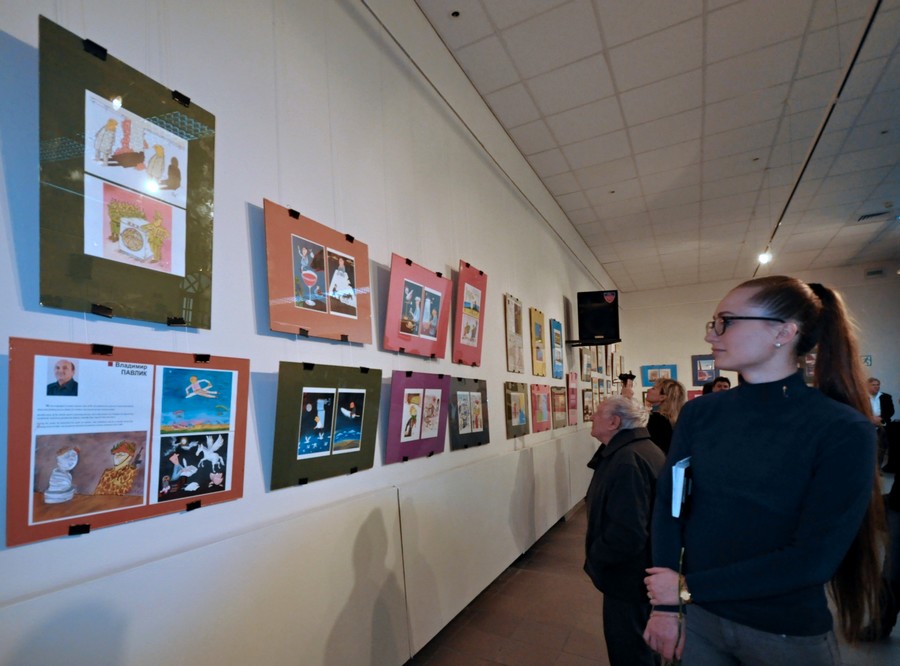 There were really many things to look at
*****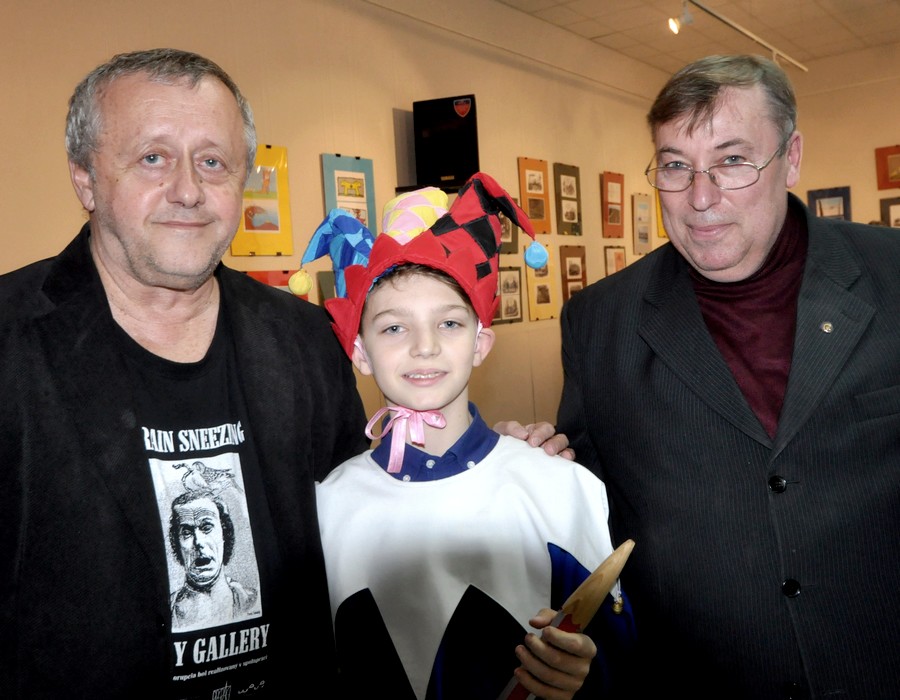 Organizers of the exhibition with the mascot in the center: left Peter Razus (SK), right Mikhail Shlapher (UA)
*****
SOME OF THE EXHIBITED WORKS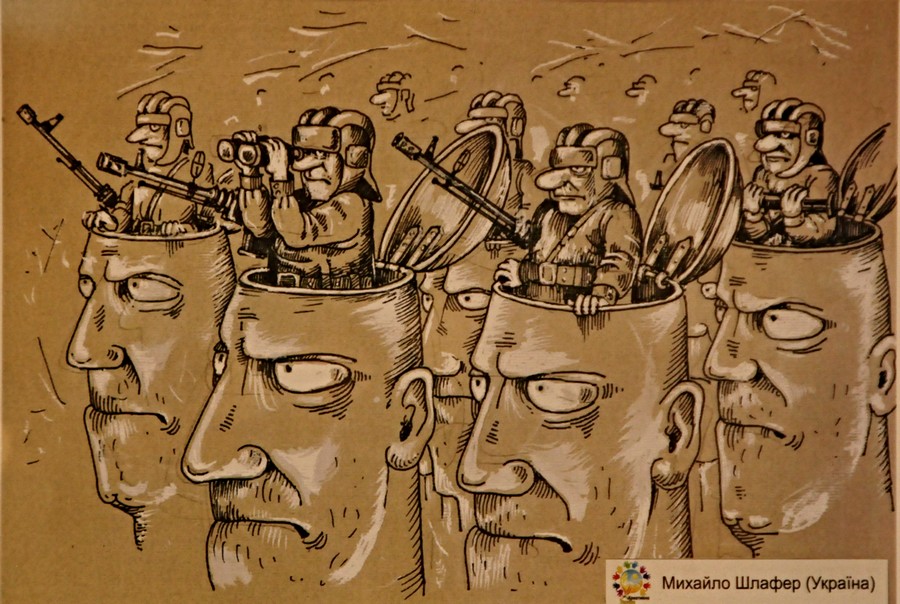 Mikhailo Shlapher (UA)
*****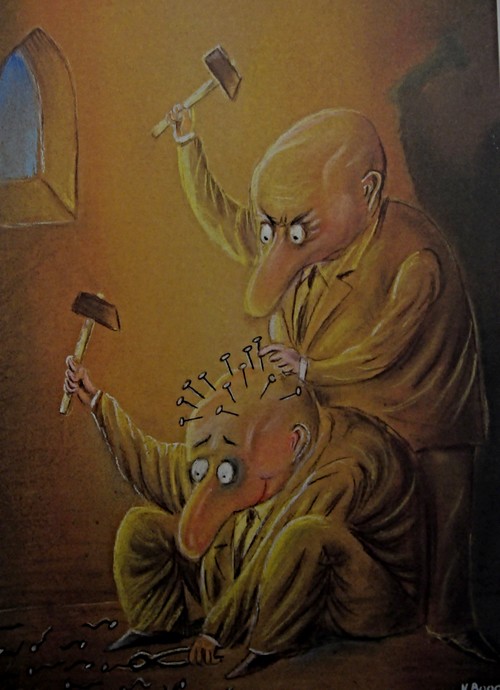 Victor Bogorad (RU)
*****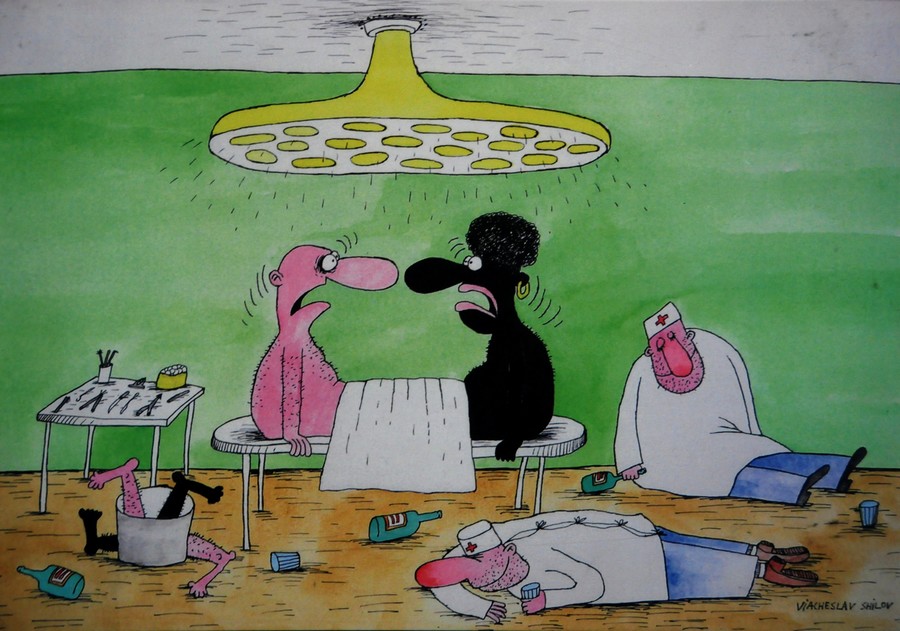 Vyacheslav Shilov (RU)
*****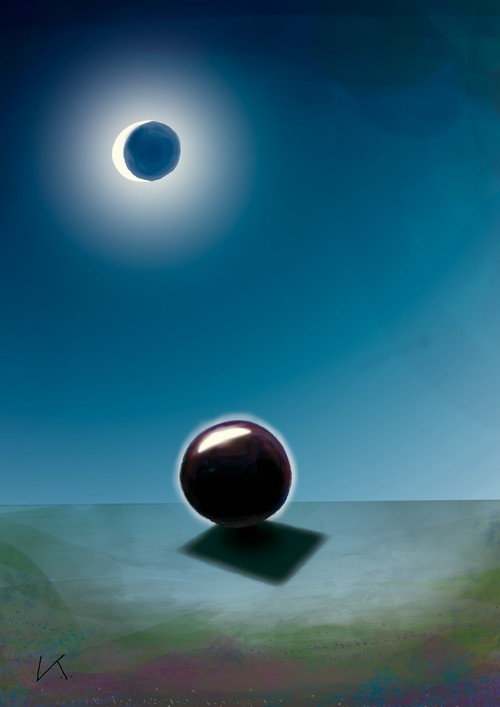 Vojtech Krumpolec (SK)
*****

Rado Repicky (SK)
*****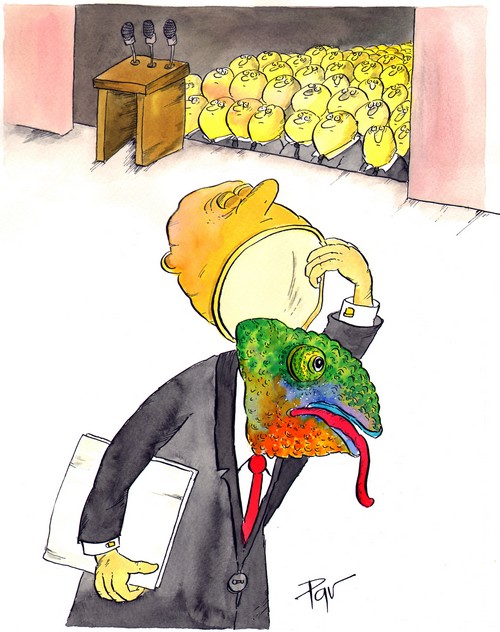 Vladimir Pavlik (SK)
*****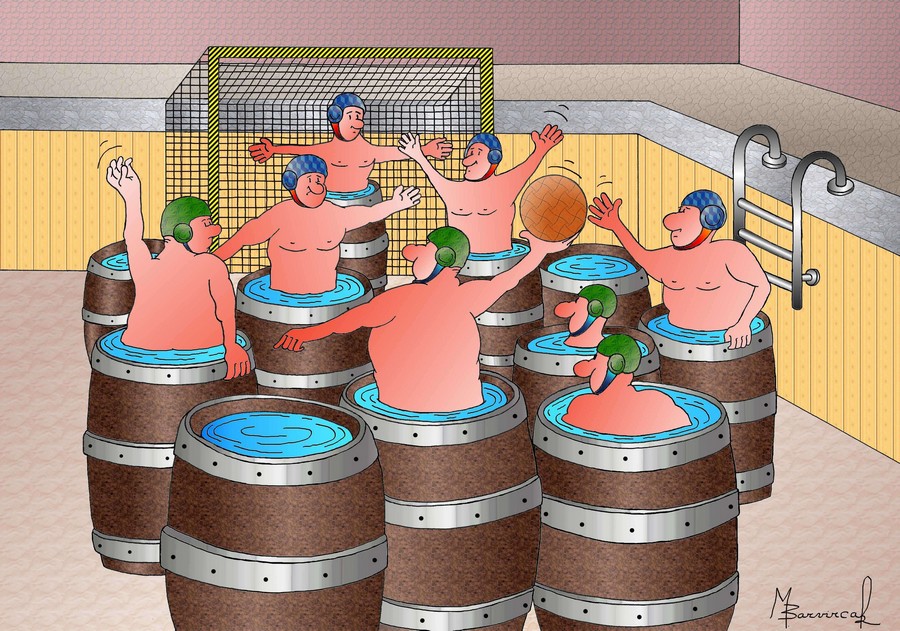 Miroslav Barvircak (SK)
*****
|* Text and photo provided by: Peter Razus, Presov (SK)
---
IVAILO TSVETKOV – EXHIBITION in PRESOV, SLOVAKIA

As has already become a good habit, thanks to the activities of Peter Razus from Presov Development Agency PRERAG, in Presov, Slovakia are regularly exhibiting their works renowned foreign cartoonists.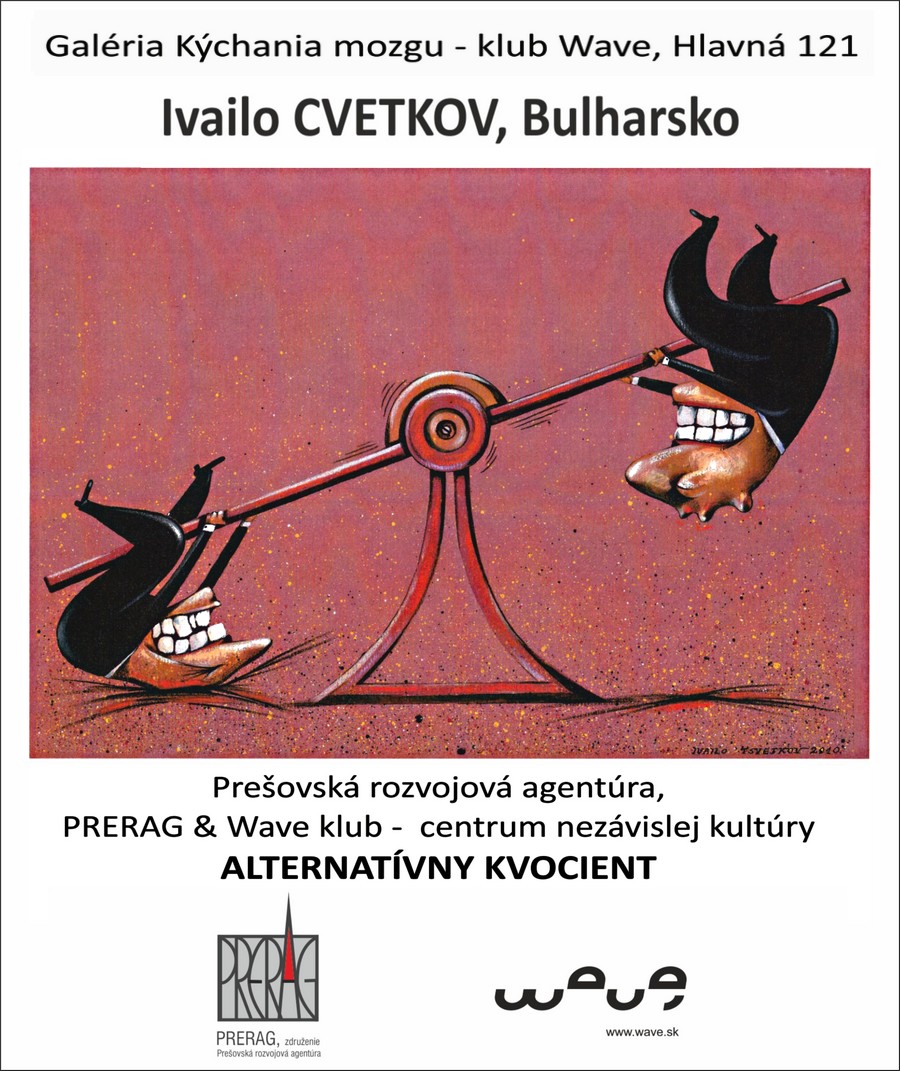 Of course, it wasn't otherwise even now – on April 13th 2016 at 8.00 p.m. has been at the Wave club on 121 Main Street, Presov opened a cartoon exhibition, which brings an extensive selection of works of outstanding Bulgarian cartoonist Ivailo Tsvetkov. The exhibition can be visited until May 12th 2016.

*****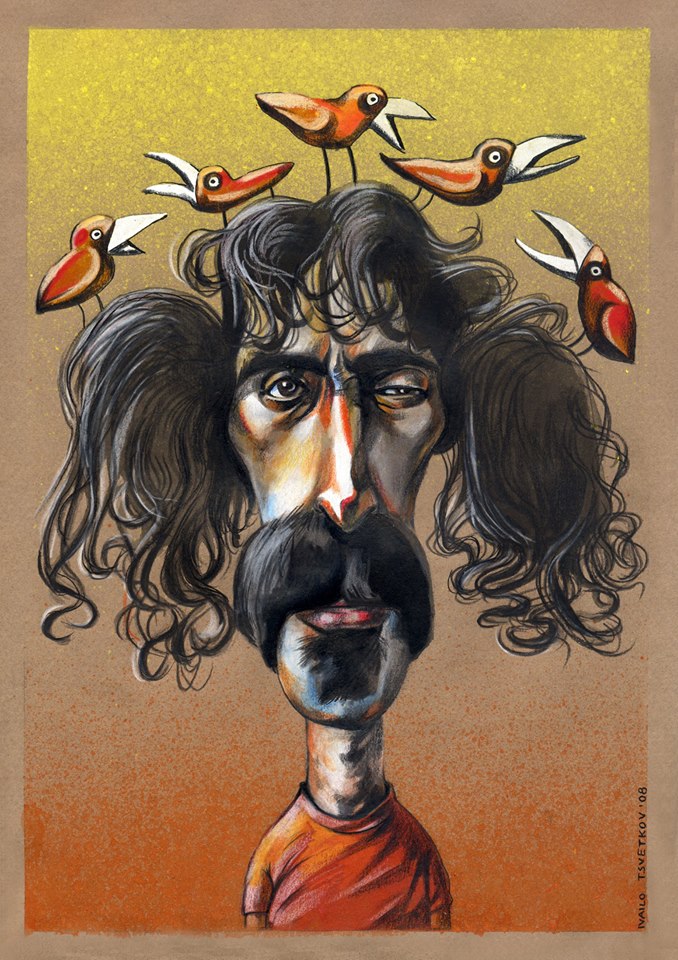 Ivailo Tsvetkov (BG) – Autoportret
*****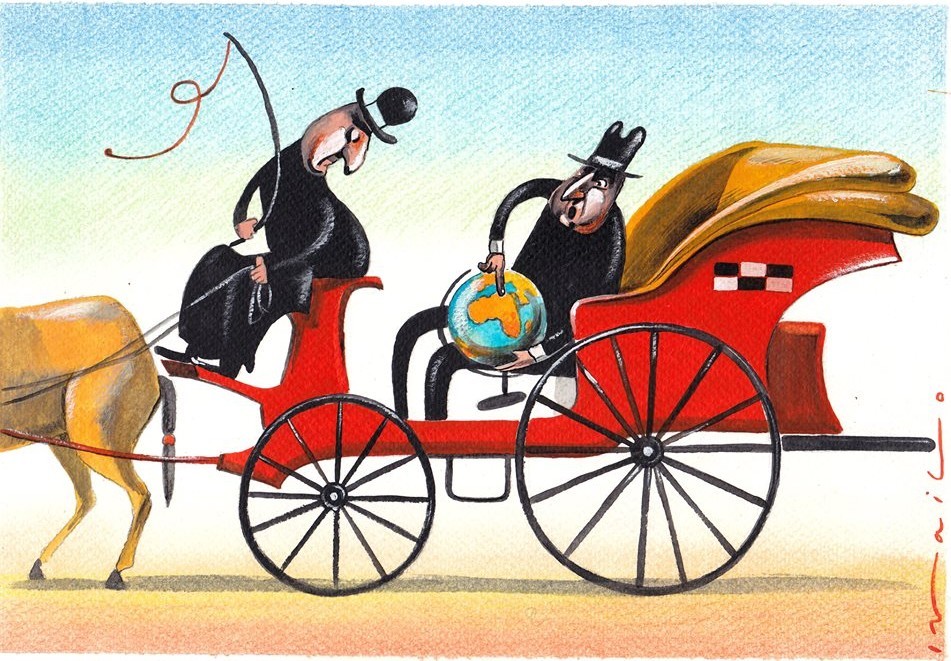 *****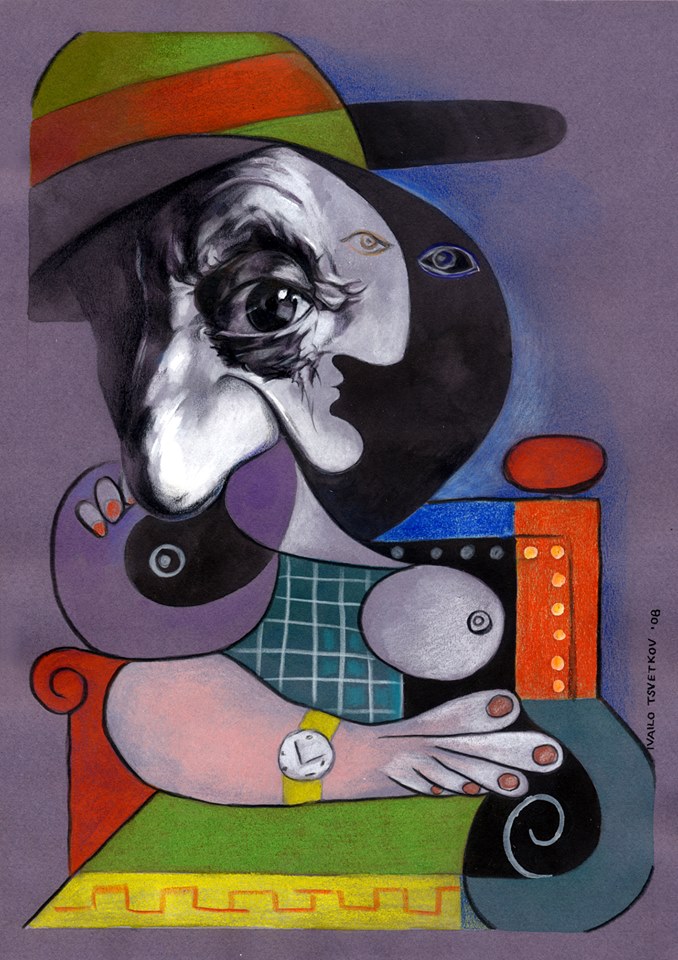 *****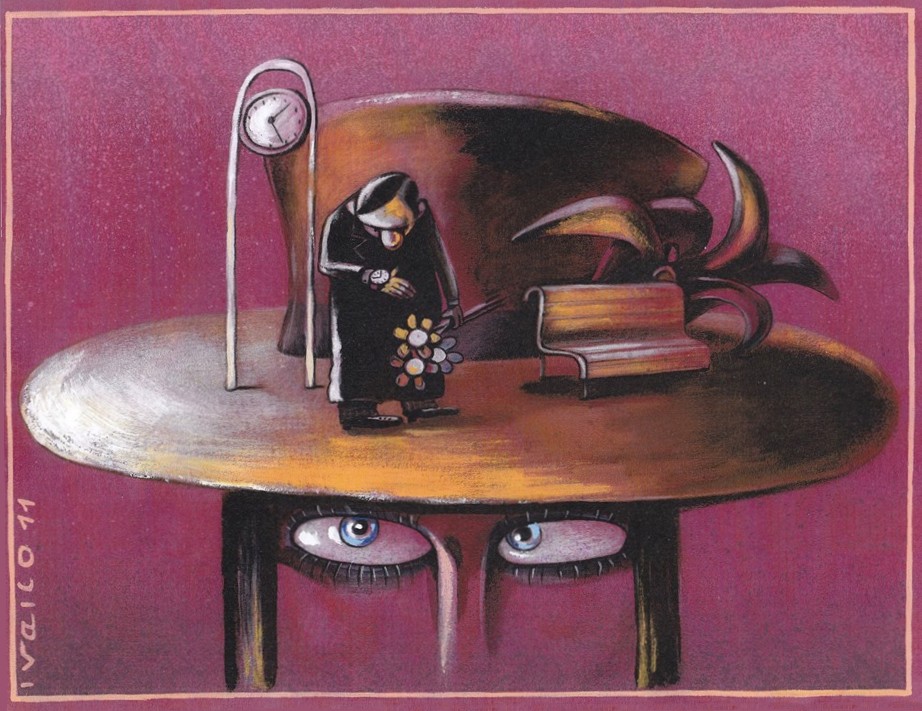 Artworks by: Ivailo TSVETKOV (BG)
*****
* Profile page of Ivailo Tsvetkov in the Cartoon Gallery can be found HERE
*****
* Source: Peter Razus, Presov (SK)
---
VALENTIN GEORGIEV – AMORE SAPORE
Valentin Georgiev, outstanding cartoonist from Bulgaria, the winner of numerous international awards, opened his exhibition of erotic cartoons named "AMORE SAPORE" at the Bulgarian Cultural Institute in Bratislava, Slovakia on 5th April 2016. We were there and bring you a short photo-report from the opening (see below).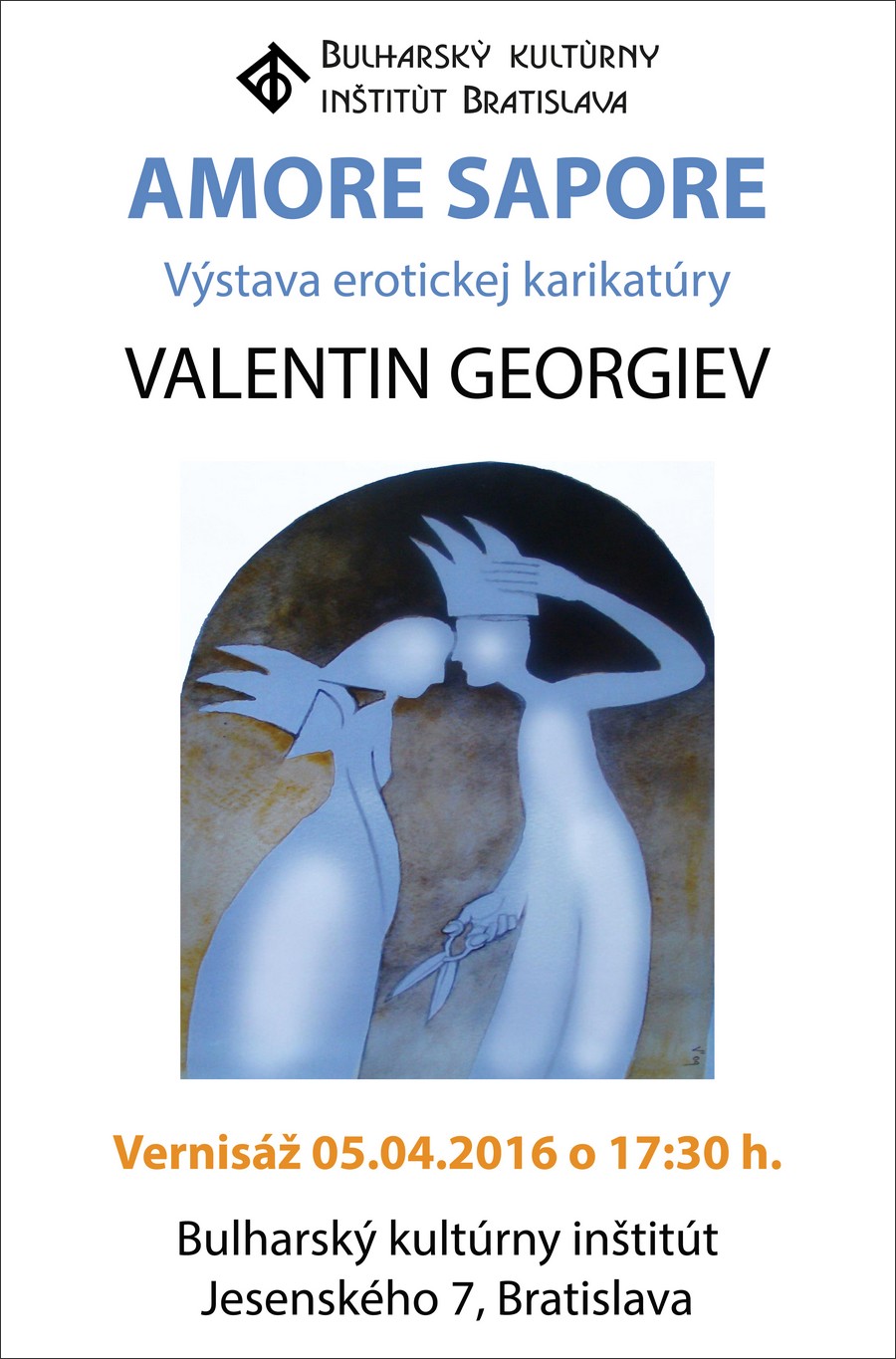 *****
Amore Sapore – exhibition of erotic cartoons by Valentin Georgiev
Opening: 5th April 2016 o 5:30 p.m., BKI, 7 Jesenskeho, Bratislava
Valentin Georgiev was born in 1970 in Trgoviste, Bulgaria. He graduated from the Saints Cyril and Methodius University in Veliko Tarnovo, specialization of painting. He is a member of the Union of Bulgarian Artists and the President of the Association branch in Ruse, Bulgaria. He has participated in numerous national and international exhibitions, festivals and creative workshops. He had six solo exhibitions at home and abroad. He is the holder of awards from national and international competitions in the EU countries, Brazil, Turkey, Macedonia, Ukraine, Syria, China and others. Valentin Georgiev was named cartoonist of the world for the year 2010. He was a jury member in national and international competitions in Poland, Slovakia, Iran, Syria, India, Azerbaijan and Turkey.
Organizer: BKI, Bratislava, Slovakia
*****
PHOTO-REPORT FROM THE OPENING OF THE EXHIBITION "AMORE SAPORE"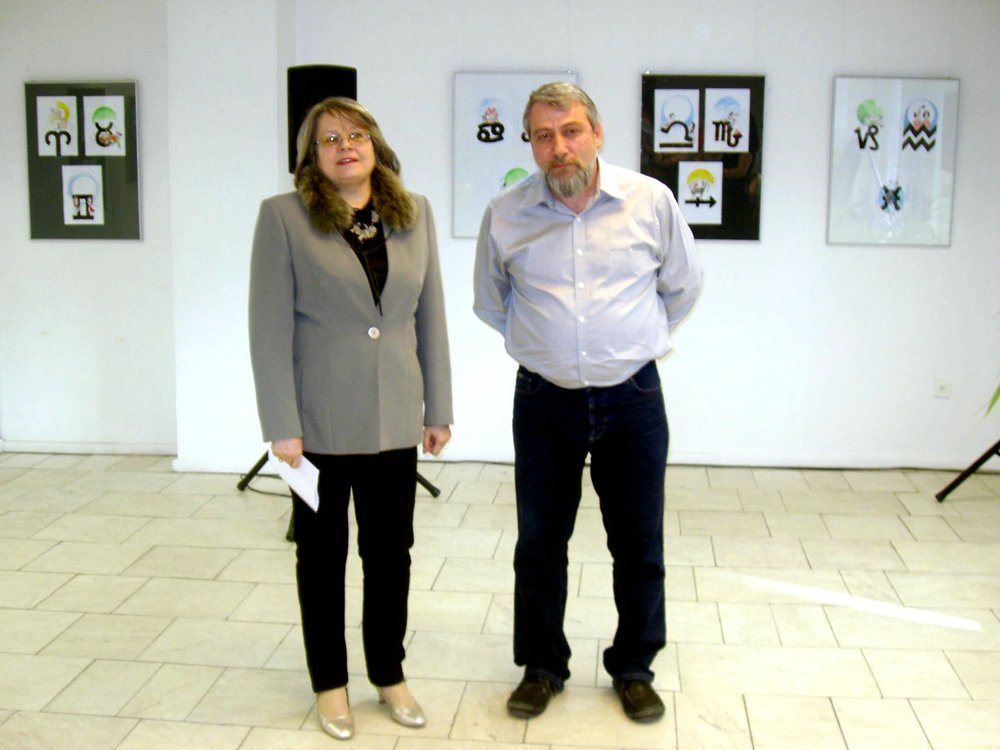 Opening of the exhibition "Amore Sapore": the exhibition have been introduced by the Director of the Bulgarian Cultural Institute in Bratislava, Slovakia Mrs. Vania Radeva in the presence of the exhibiting author Valentin Georgiev (BG)

*****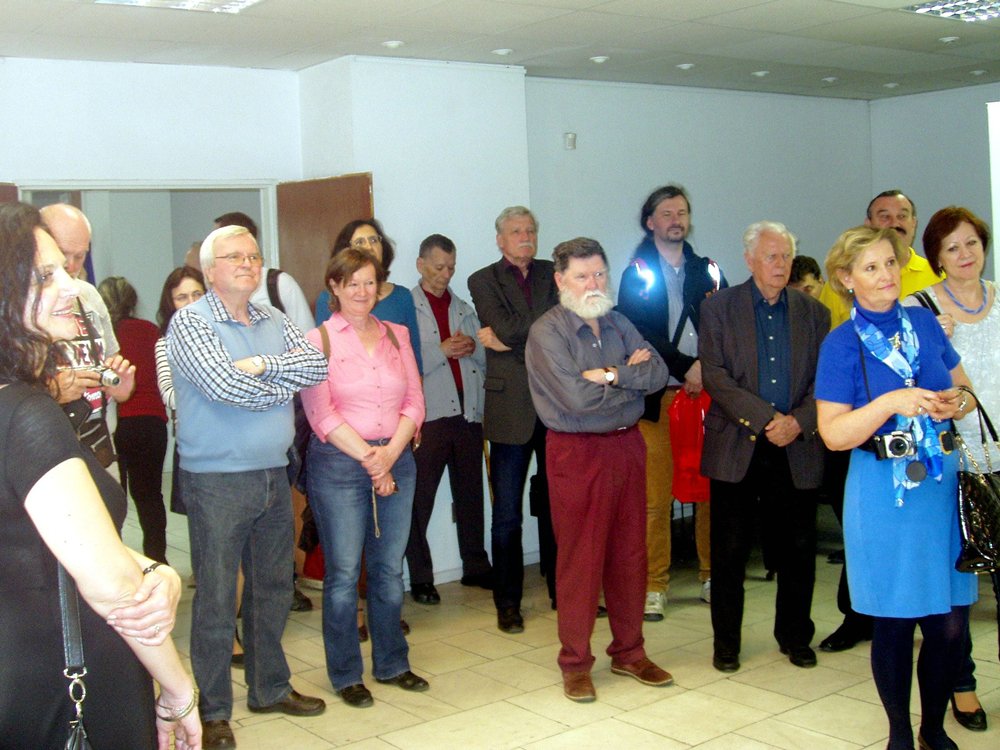 A large audience at the opening of the exhibition "Amore Sapore" at the BKI Bratislava
*****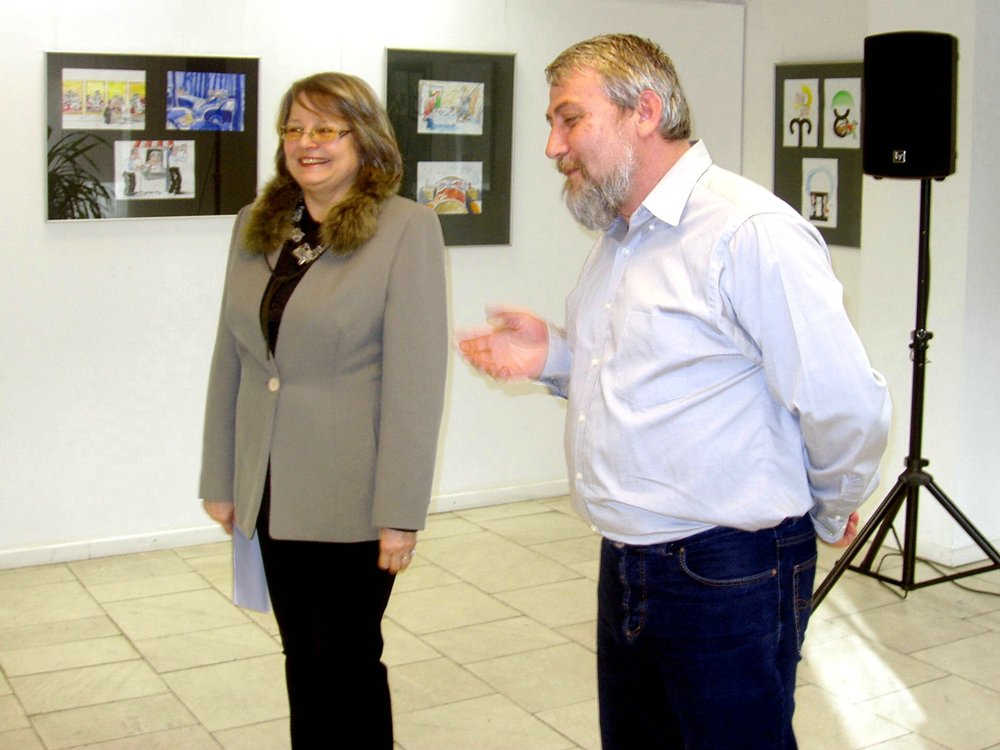 Valentin Georgiev with his witty speech provoked a smile on the face of Mrs. Vania Radeva as well as present fans of the artist's work
*****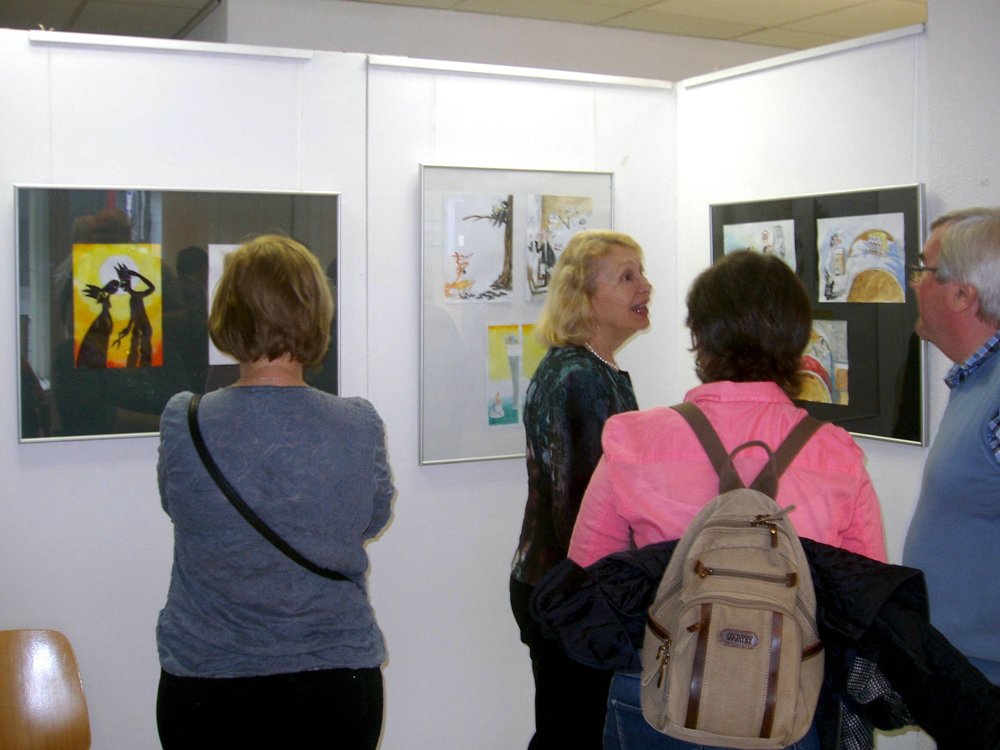 Art lovers with great interest viewed the exhibited artworks of Valentin Georgiev
*****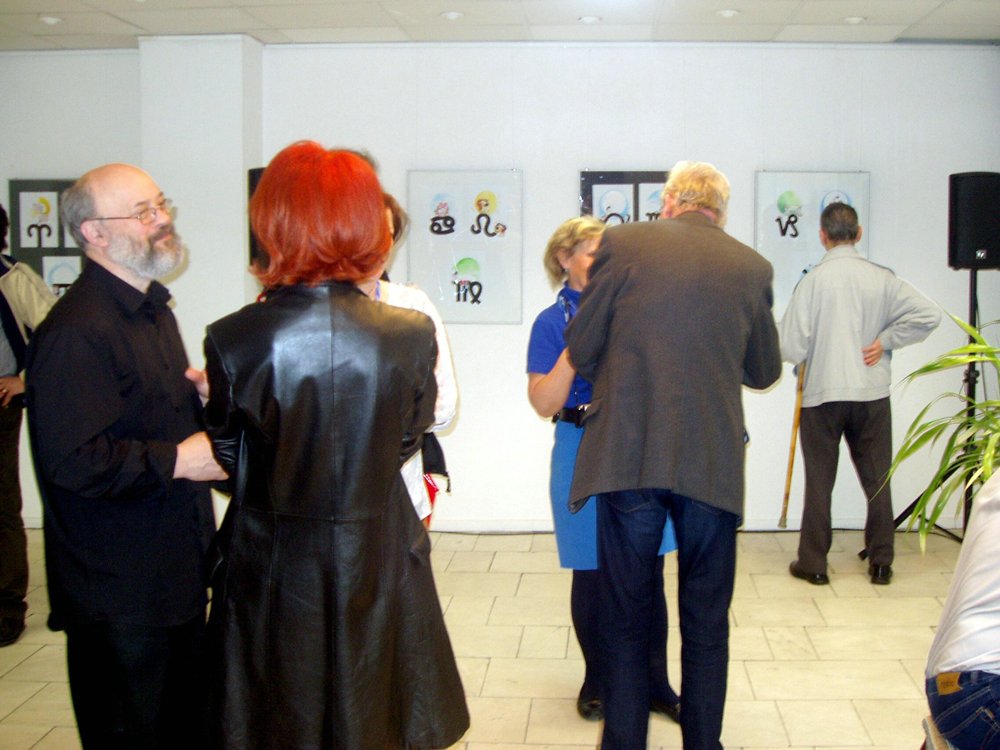 At the opening of the exhibition reigned excellent mood
*****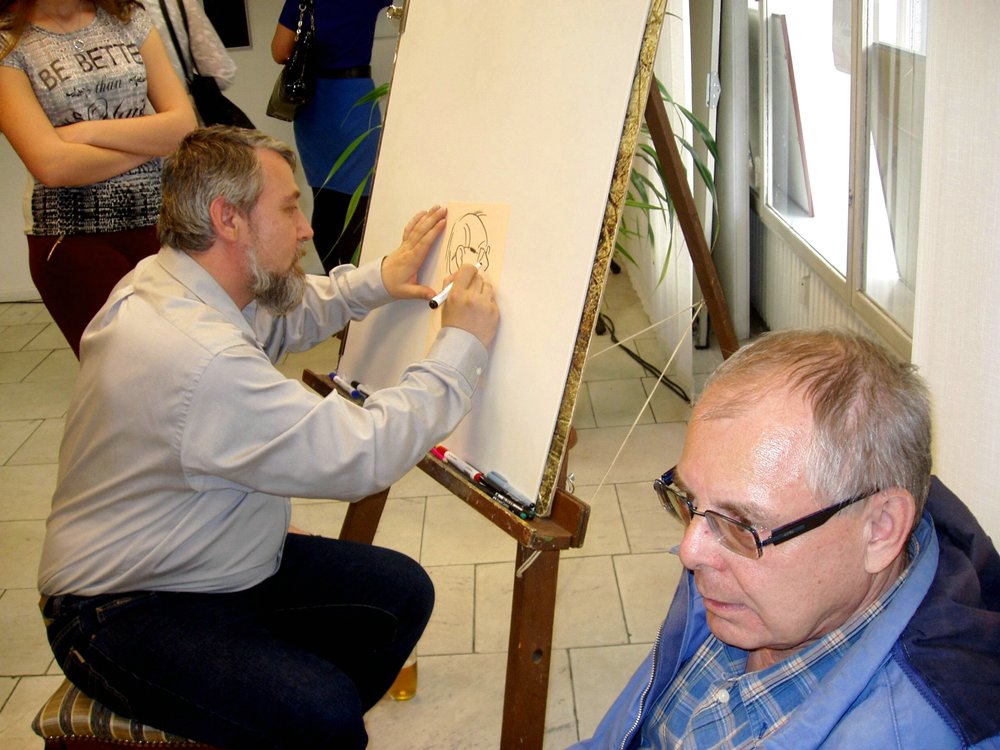 Valentin Georgiev draws a caricature of a visitor of the opening
*****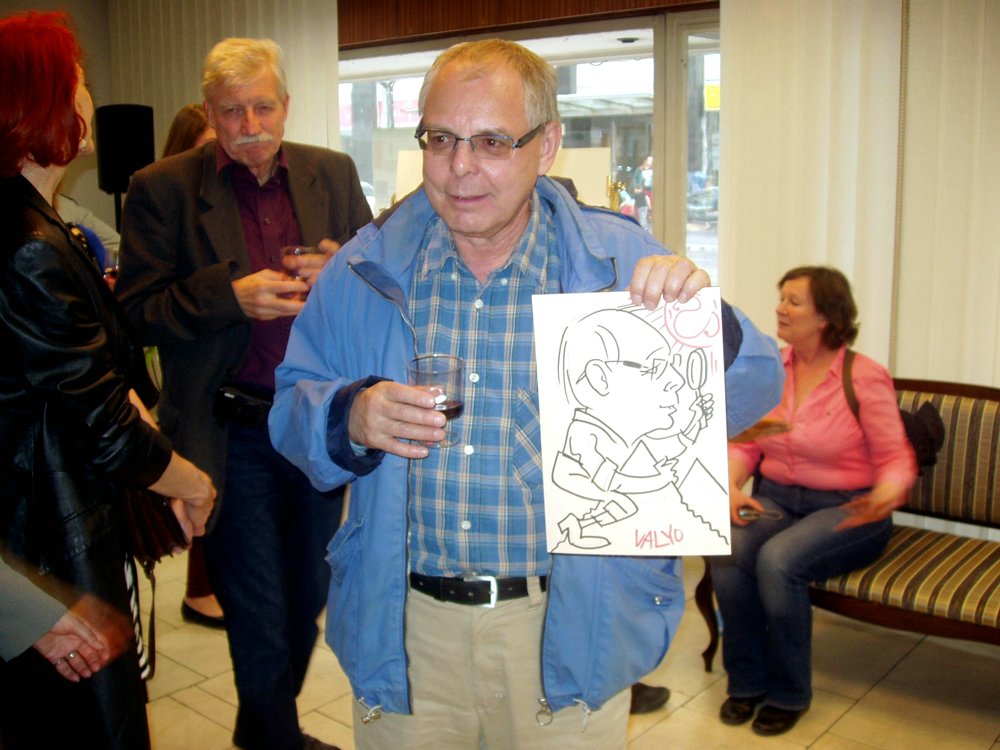 Happy proprietor of the caricature
*****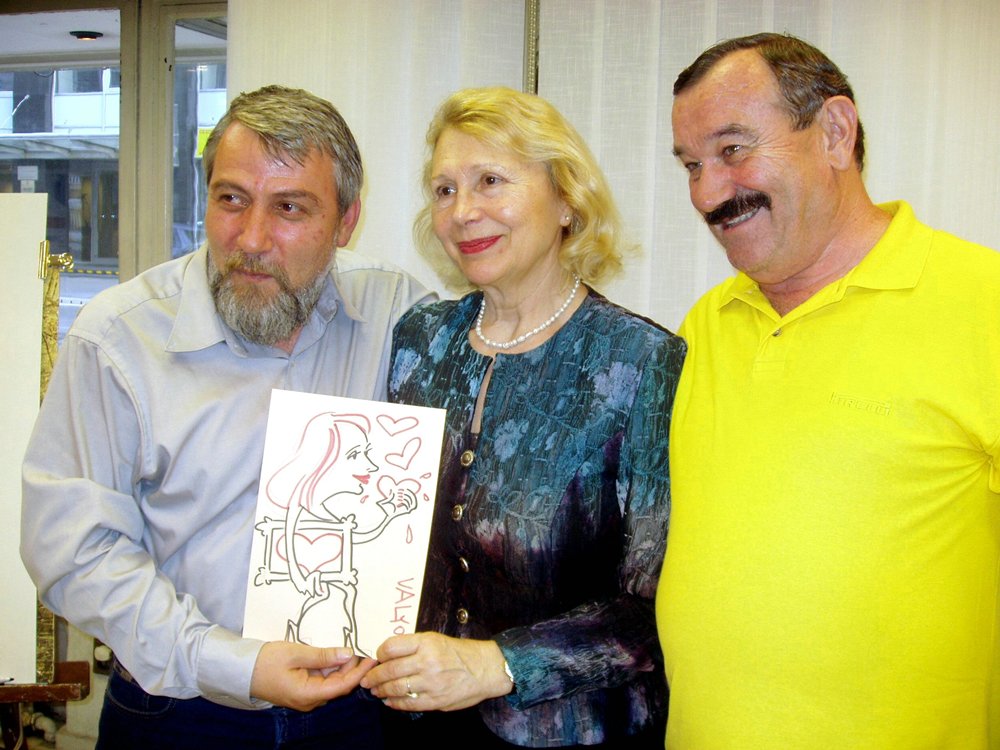 Valentin Georgiev created a caricature of Mrs. Elena Arnaudova, the former Director of the BKI
*****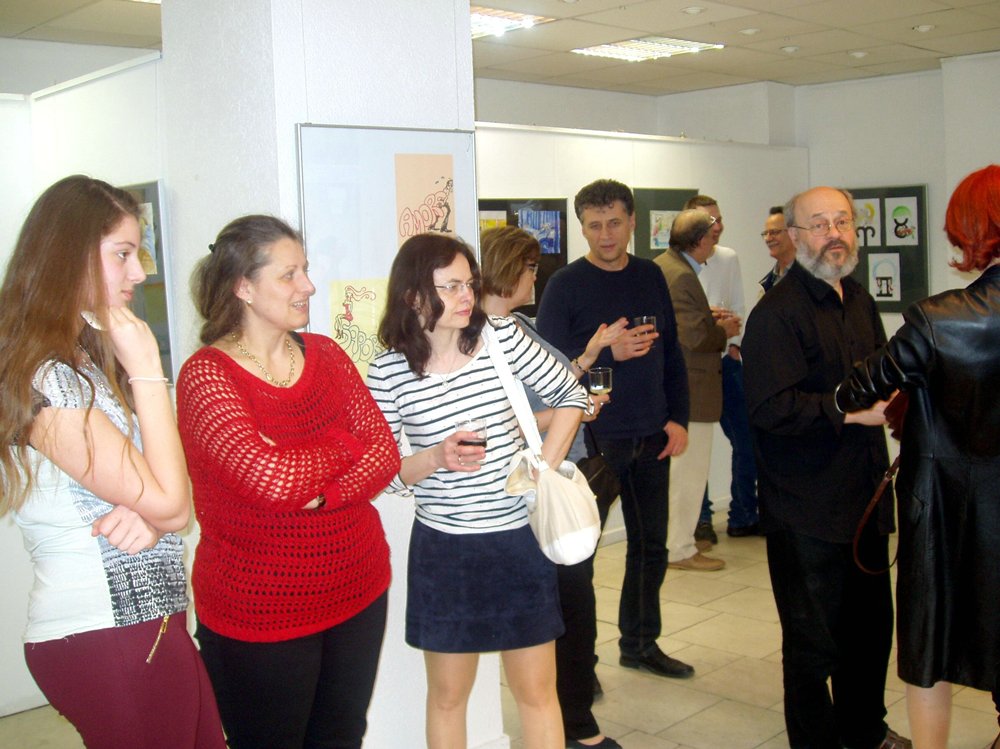 There was an extraordinary interest among the visitors of the caricatures by Valentin Georgev

*****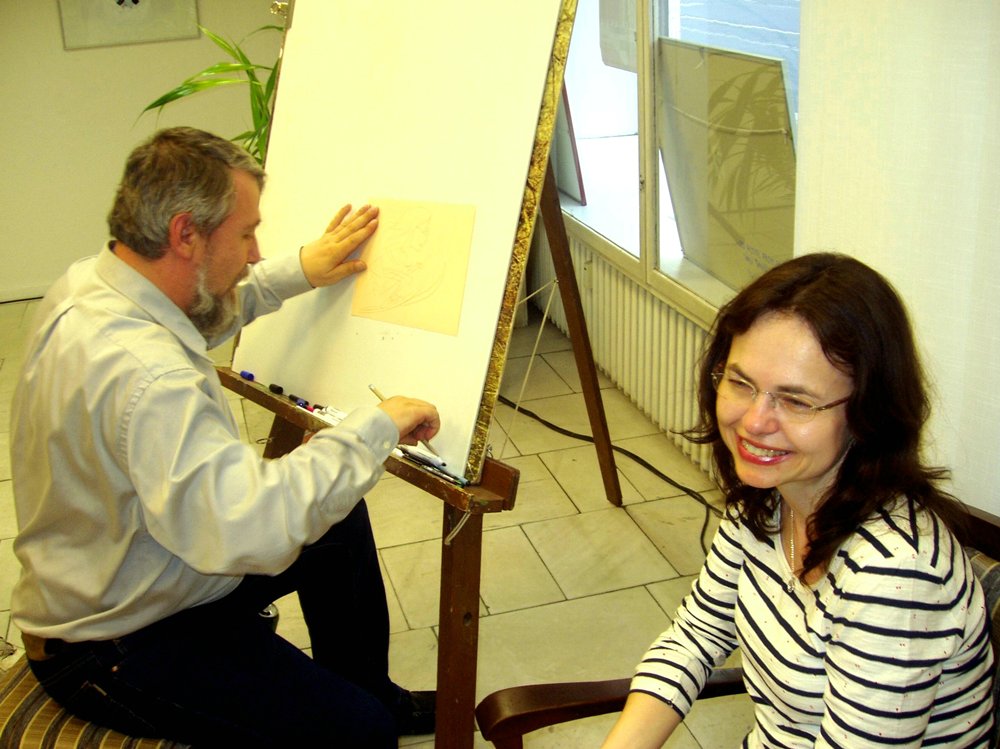 In a moment there will be created another caricature
*****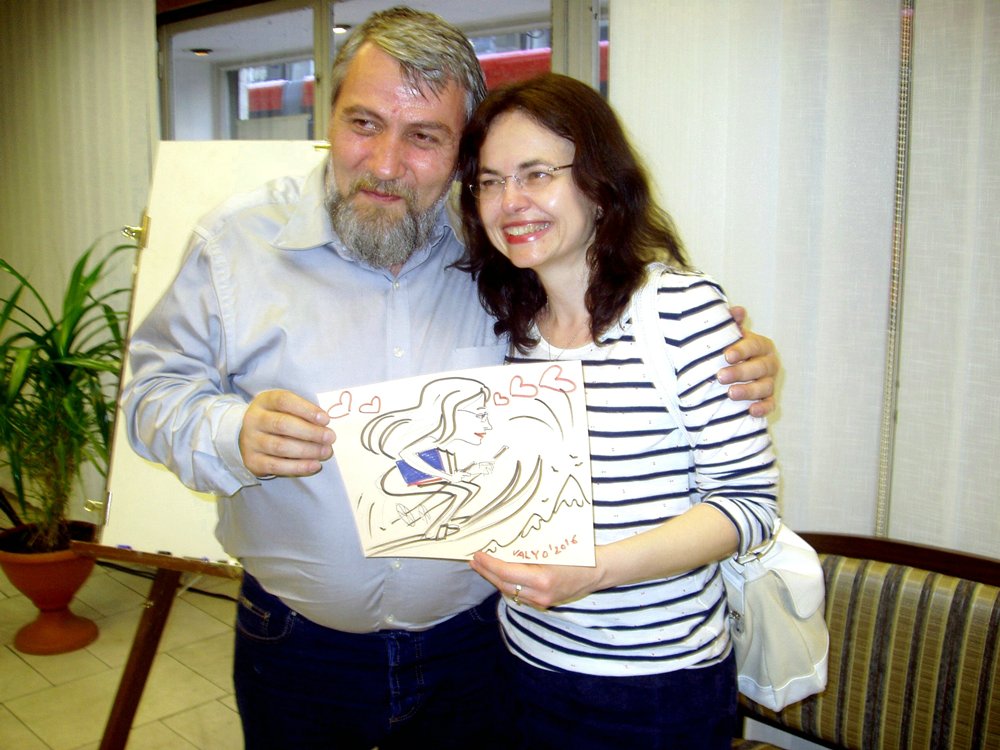 And yet a common photo with the author
*****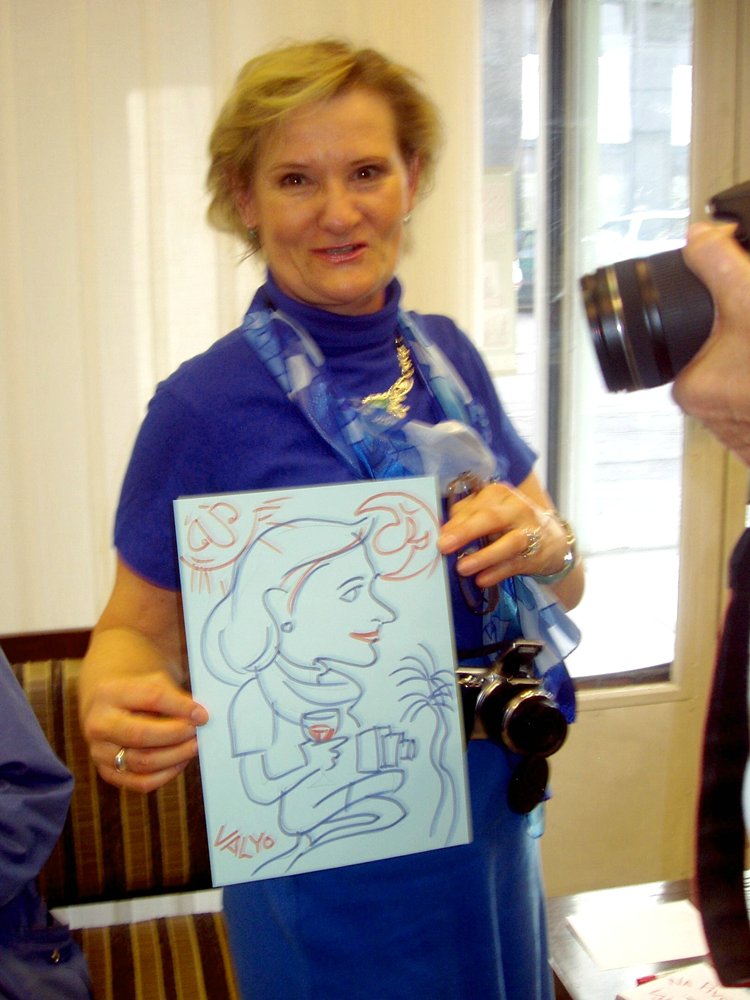 The model and the finished artwork
*****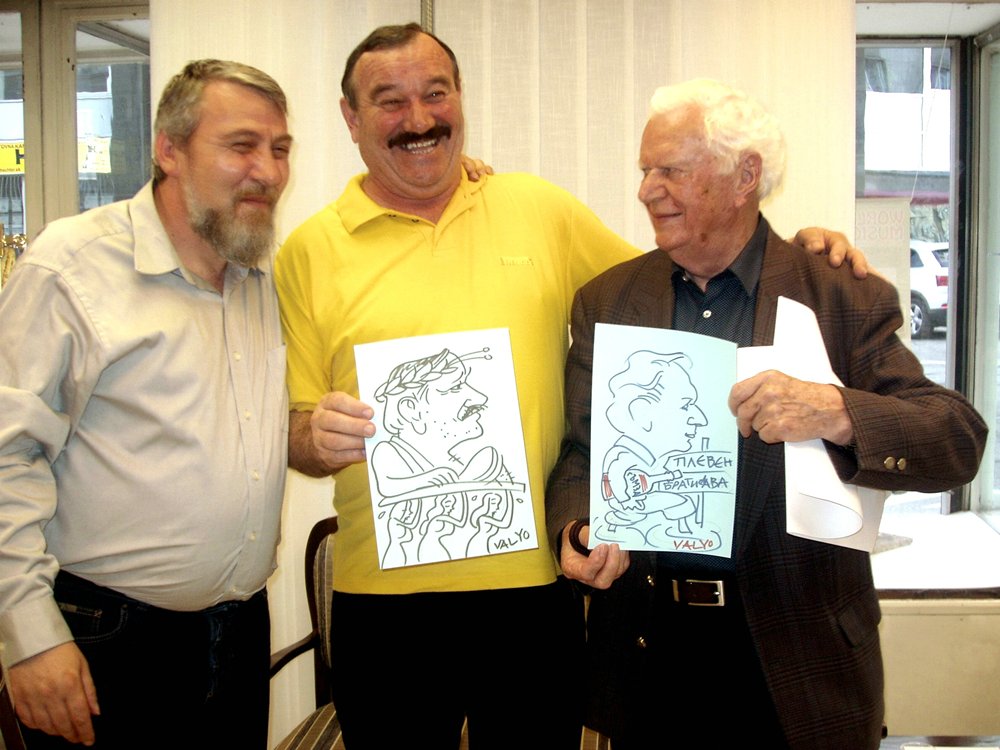 Satisfied author as well as both gentlemen – caricatures were really excellent
*****
* Source: Bulgarian Cultural Institute Bratislava (SK), photo: Karol Cizmazia (SK)

---
JIRI SLIVA – KAFKA in ESKISEHIR, TURKEY
It is estimated that in the world there are 30 to 35 cartoon museums. In Turkey, there are two of them; one is located in Istanbul and the second one in Eskisehir. It is a city with 4000 years old history, located approximately 80 km from Istanbul; today it is the city of significant universities and it has about 700,000 of inhabitants. Eskisehir Caricature Museum has been founded in 2004 by a legendary Turkish cartoonist and theorist of Cartoon Art prof. Attila Ozer, founder and director of the Center for Research and Application of Cartoon Art at the Anadolu University in Eskisehir. Over the last five years visited Eskisehir Caricature Museum more than 60,000 cartoon fans from all over the world.
*****
In the Eskisehir Caricature Museum of the Anadolu University in Turkey will be on April 13th, 2016 held the opening of the exhibition of cartoons by significant Czech cartoonist Jiri Sliva named "KAFKA in Eskisehir" . The exhibition will last until 31st May 2016.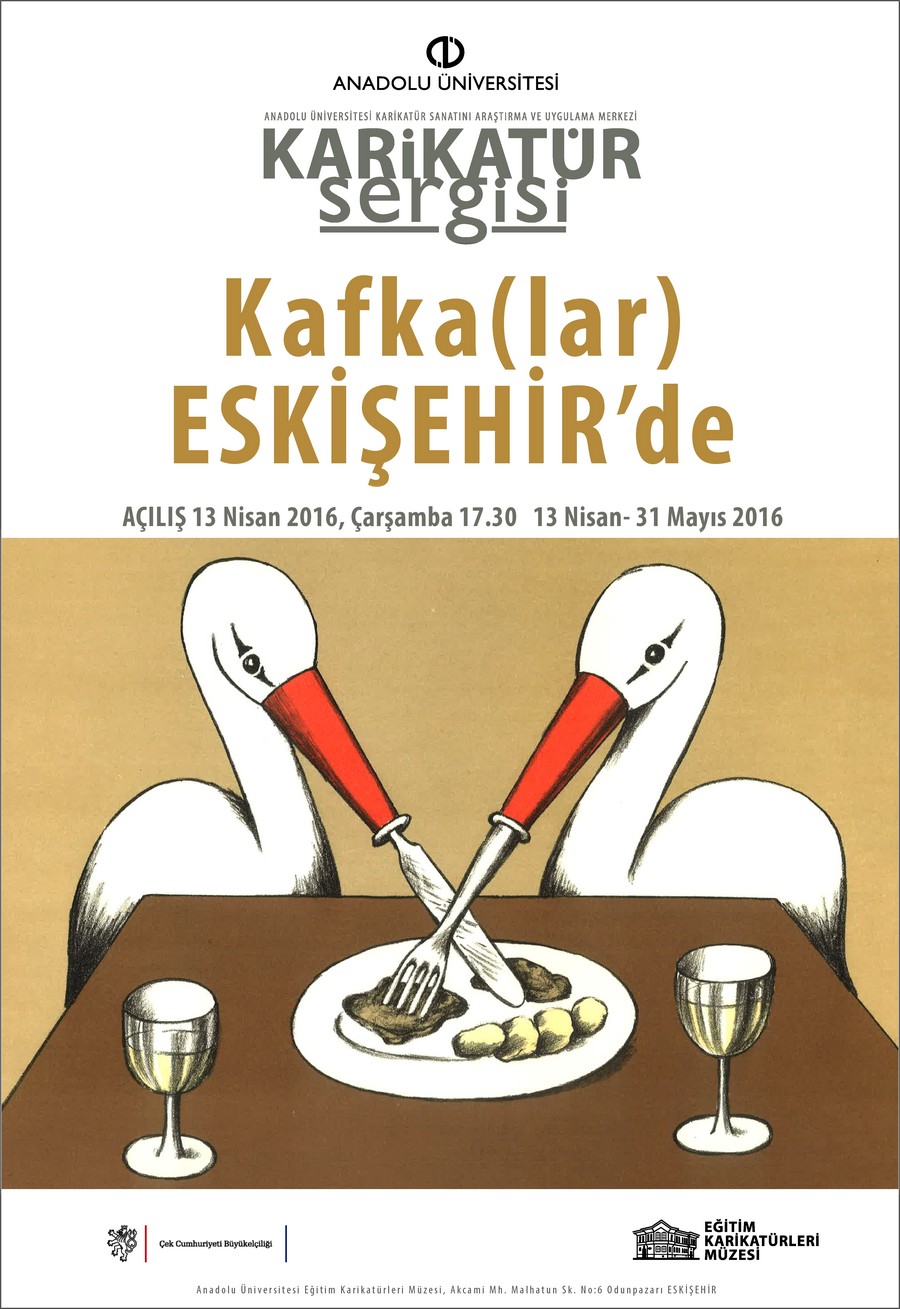 *****
* Source: Jiri Sliva (CZ)
---
CARTOON EXHIBITION in YEREVAN, ARMENIA
The Association of Caricaturists and the Union of Journalists of Armenia open *at 13:00 on April 1 at the House of Journalists* in Yerevan (Pushkin 3/1) the cartoon exhibition dedicated to the 25th anniversary of the Armenian press independence acquisition.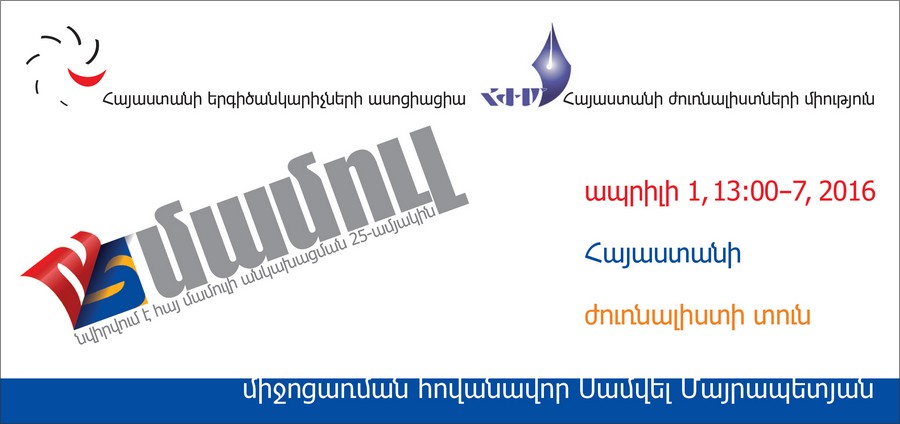 *****
* Source: Haroutiun Samuelian (AM)
---
EASTER HOLIDAYS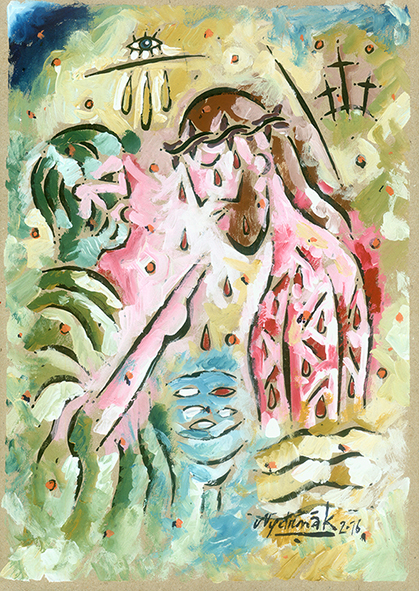 Jozef VYDRNAK (SK)
*****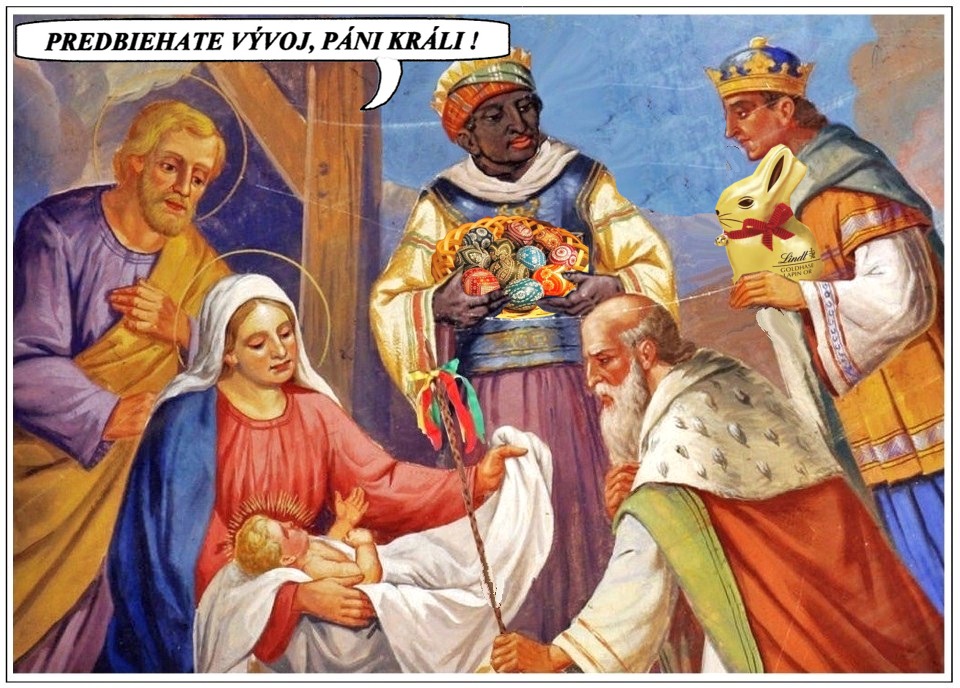 Pavel TAUSSIG (DE)
*****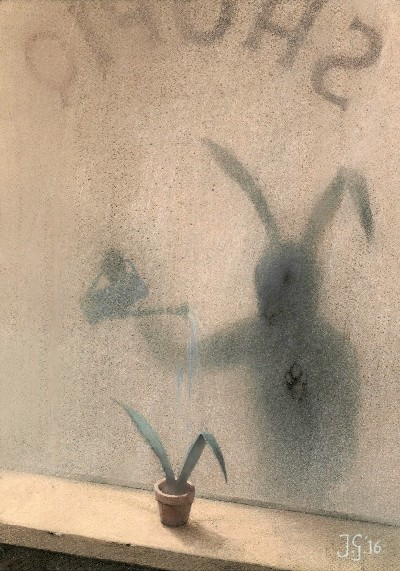 Jerzy GLUSZEK (PL)
*****
Happy Easter, dear friends!
---
CARTOON XIRA 2016, PORTUGAL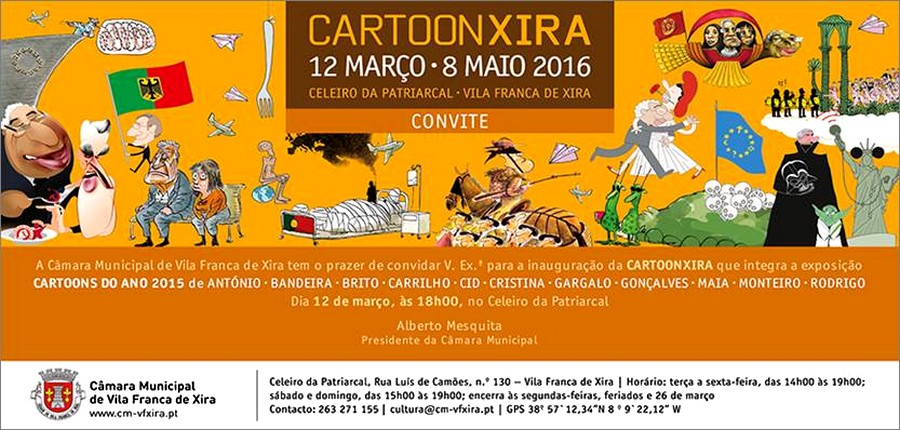 *****
Next Saturday, March 12 at 6 PM, will take place the opening of the exhibition "Cartoon Xira 2016″ showing our best cartoons of 2015.
This year the invited foreign artist is Cécile Bertrand, a fantastic Belgian cartoonist whose work is a must.
I will be pleased to see your presence in the exhibition !
Cristina Sampaio
*****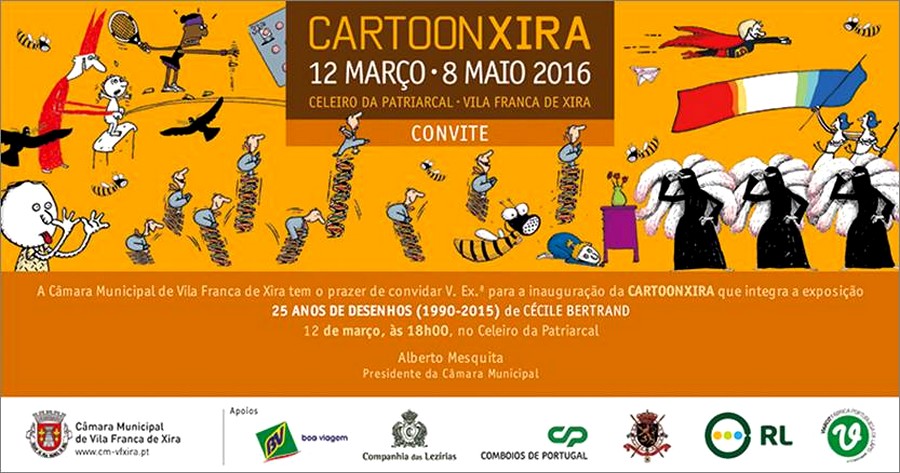 *****
Source: Cristina Sampaio (PT)
---
EXHIBITION OF MARCIN BONDAROWICZ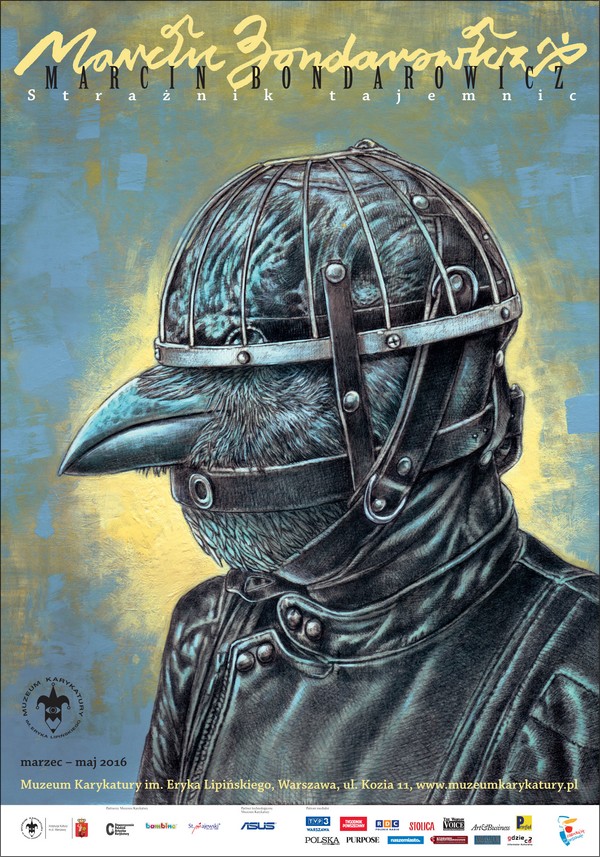 *****
MARCIN BONDAROWICZ. THE GUARDIAN OF SECRETS (EXHIBITION)
A solo exhibition of Marcin Bondarowicz's works in Museum of Caricature and Cartoon Art in Warsaw.
10 March – 15 May 2016

opening night: 9 March 2016

Exhibition curator: Katarzyna Majek

Graphic design of the catalog and poster exhibition: Paweł Osial

Organizer:

Museum of Caricature and Cartoon Art ul. Kozia 11, 00-070 Warszawa www.muzeumkarykatury.pl
TVP3 Warszawa, Tygodnik Powszechny, Polskie Radio RDC, Stolica, The Warsaw Voice, Art&Business, Przegląd, Polska The Times, Purpose, Naszemiasto.pl, Stosunki Międzynarodowe, Ambasador, Gdzieco.pl
*****
*****
Marcin Bondarowicz. The Guardian of Secrets
A solo exhibition of Marcin Bondarowicz's works, an award of the Museum of Caricature for the winner of the competition "Best of the Best. Drawings of 2014.
Marcin Bondarowicz works as illustrator and graphic designer. Graduated from the Radom Kazimierz Pulaski Polytechnic. He is considered as one of the most distinguished artists of caricature and satirical drawing in Poland. He made his debut in 2004 in the daily "Puls Biznesu". He colaborated with such magazines as: "BusinessWeek", "Fakt", "Focus", "Forbes", "Fronda", "Harvard Business Review Polska", "Le Monde Diplomatique – Polish Edition", "National Geographic", "Nie", "Newsweek – Polska", "Polska The Times", "Poland Monthly", "Przekroj", "Puls Biznesu" i "Tygodnik Powszechny", and also outside Poland in: "Cartoon Weekly" (China), "Catapult Art Magazine" (USA), "Eulenspiegel Satiremagazin" (Germany, "Fire Humor Magazine" (Turkey), "Himal Southasian" (Nepal), "Pulse" (Great Britain), "Stern" (Germany), "Yeni Akrep – New Scorpion – International Cartoon Magazine" (USA) and many others. His works are full of symbolism and metafors in the surrealist convention.
*****
* Source: Marcin Bondarowicz (PL)
---
PAWEL KUCZYNSKI in PRESOV, SLOVAKIA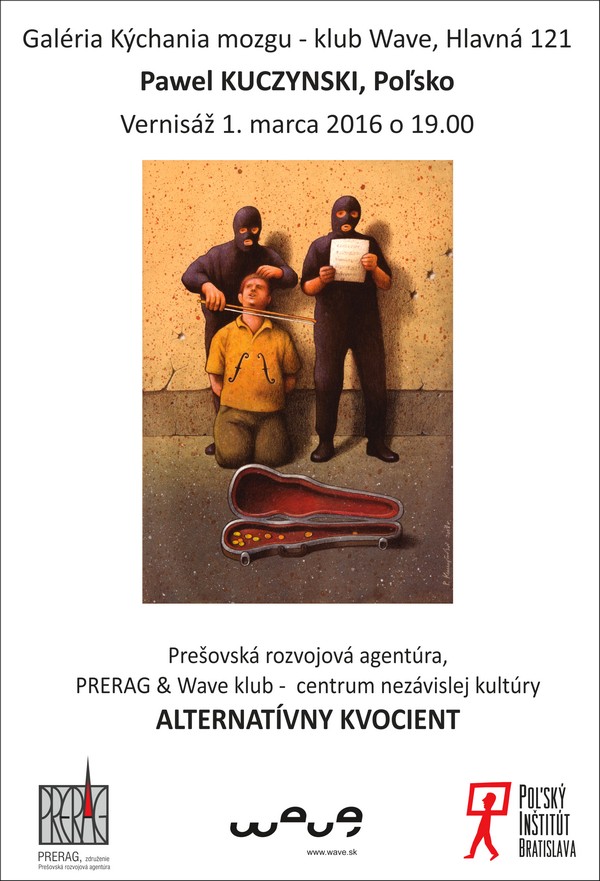 *****
An exhibition of cartoons created by one of the most successful contemporary Polish cartoonists Pawel Kuczynski you can visit from 1 March 2016 at the Wave club at 121 Main Street in Presov, Slovakia. This extraordinary event was organized by Presov Development Agency PRERAG with the support of the Polish Institute in Bratislava, the Director of which Mrs. Monika Krzepkowski the exhibition inaugurated (see photo).
*****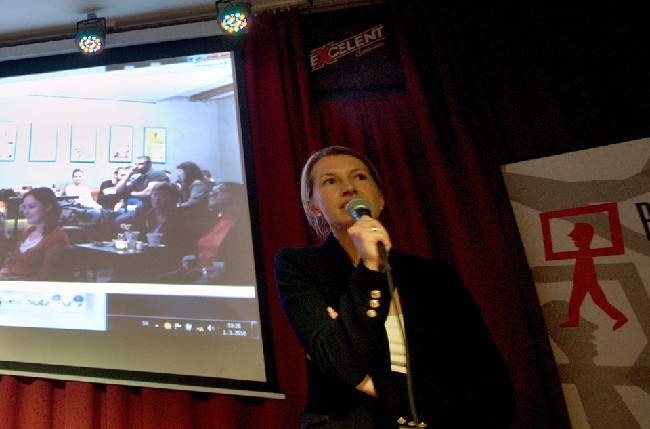 Opening of the exhibition – the director of the Polish Institute in Bratislava Monika Krzepkowska
*****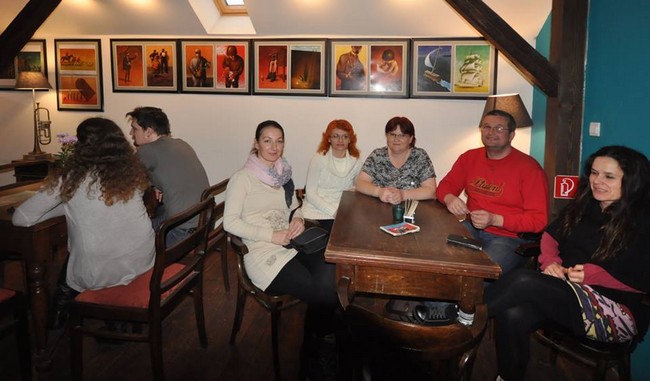 Opening of the exhibition – the audience
*****
And here is an invitation from the main organizer Mr. Peter Razus from the agency PRERAG: "If you want to see a great collection of views of the otherness of the world, definitely do not miss this great exhibition!"
*****
ARTWORKS FROM THE EXHIBITION: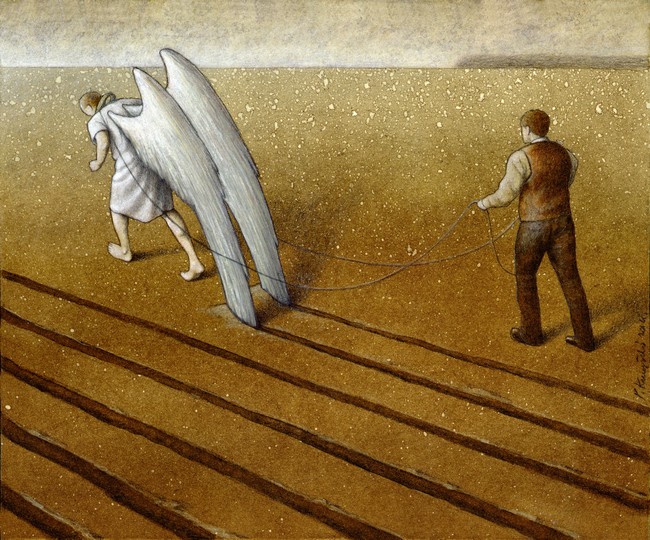 *****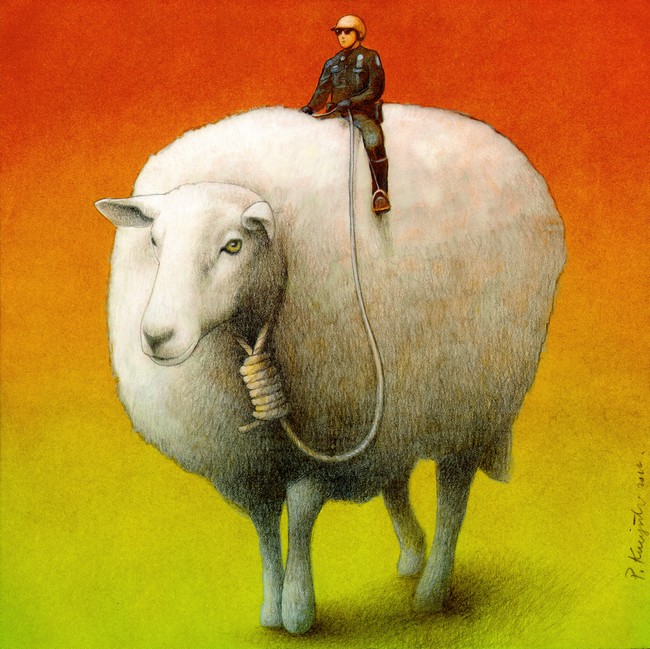 *****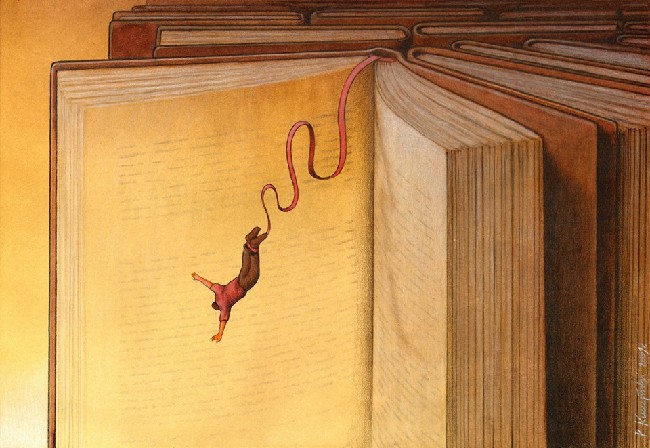 *****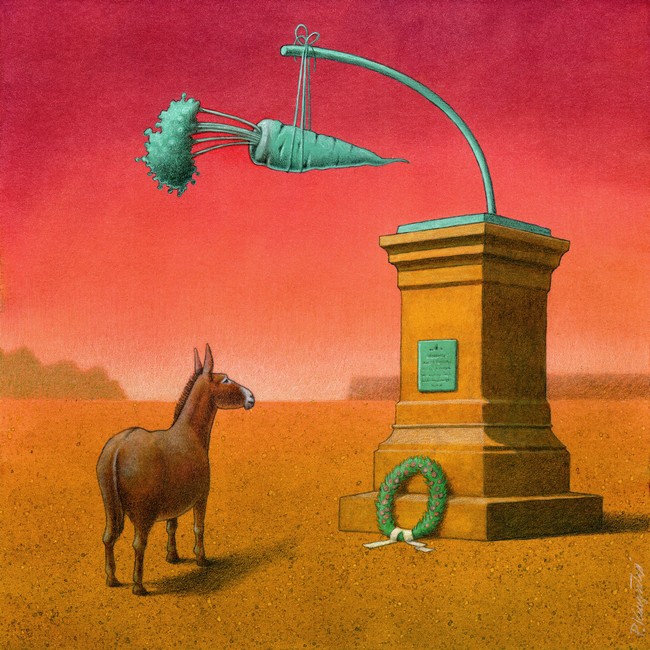 Author of the artworks: Pawel KUCZYNSKI (Poland)
*****
* Source: Peter Razus (SK)
---