---
EUROPEAN FESTIVAL OF HUMOUR AND SATIRE KREMNICA GAGS – GOLDEN GANDER AWARDS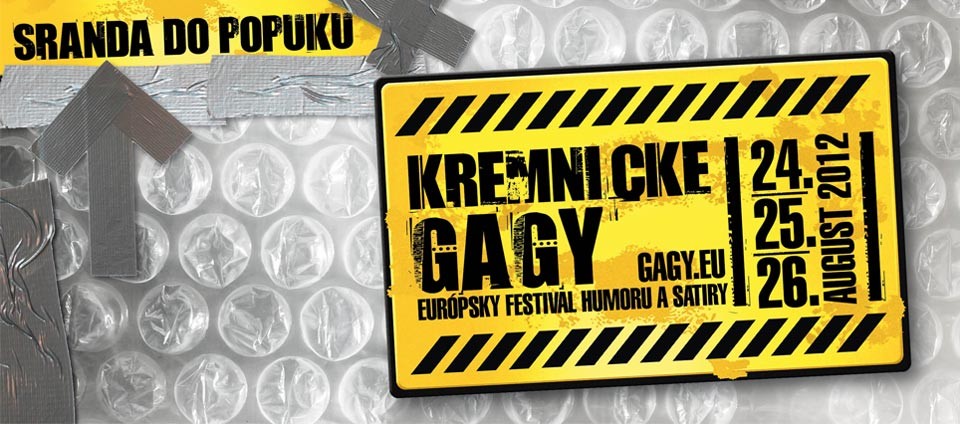 The holders of the International prize of the GOLDEN GANDER have traditionally been announced at the 32nd edition of the International Festival of Humour and Satire Kremnica Gags 2012. Awards have been given to the winning artists during the entertainment program in Kremnica by members of the Academy of Humour and its President, famous Czech actor Miroslav Donutil.
In the category that of course most interested us, ie "The cartoons and other recession artworks" was awarded the Golden Gander Award Belgian cartoonist, graphic designer, photographer and pedagogue LUC DESCHEEMAEKER, known under his artistic name O-SEKOER.
Exeptional Golden Gander Award of the Academy of Humour for Lifetime Achievement won the visual artist and writer PAVEL TAUSSIG (SK / D).
Exeptional Golden Gander Award for Permanent Benefit for the Visual Humour was awarded academic painter SVETOZAR MYDLO (SK).
---
Kremnica Gags 2012
seen through the eyes of Fero Jablonovsky
Thirty-second edition of European Festival of Humour and Satire Kremnica Gags was held on 24 – 26 August. The level of competition in all categories was high and decision-making of academicians was therefore very difficult. I will devote only to the category of Cartoon and other recession artworks, more detailed of the other categories, and the whole festival you can see at www.gagy.eu.
This year's president was Miroslav Donutil and academician for cartoon was Bobo Pernecky, who certainly should not be closer presented.
From nominated cartoonists for health, family or other reasons apologized Miroslav Bartak, Karol Cizmazia, Grzegorz Szumowski and Laszlo Dlugopolszky. Auctioned blank paper therefore this year from the present cartoonists evaluated Ivailo Tsvetkov from Bulgaria, O-SEKOER from Belgium and Jano Valter.
Saturday impromptu drawing because of foreign participation changed its name from Improkarikatura to Improcartoon Live and was the first time outdoors. This year was the theme of "The End of the World", so if at the end of this year will be really the end, so that we have equipped. The present nominated cartoonists joined last year's President Daniela Zacharová and certificated masters Ivan Popovic and Fedor Vico.
Golden Gander after a hard decision earned O-SEKOER with regard to his sovereign mastery, which showed in improvised drawing.
Special Prize The Golden Gander for Lifetime Achievement won Pavel Taussig, whose new book, "Hana" was baptized at the festival. Another special prize won Svetozár Mydlo for Permanent Benefit for Visual Humor.

So if there won't be the End of the World, the thirty-third edition of Kremnica Gags will be in the traditional time, which is the last holiday weekend.
Fero Jablonovsky, dramaturg
---
We bring you a short image recording of action and expositions of the nominated cartoonists at this year's Kremnica Gags, as well as photos from the award ceremony of prestigious awards "Golden Gander" in the category "Cartoons and other recession artworks " – the author of all photos is Fero Jablonovsky.
---
---
* For more information visit this link: http://www.gagy.sk
---