---

.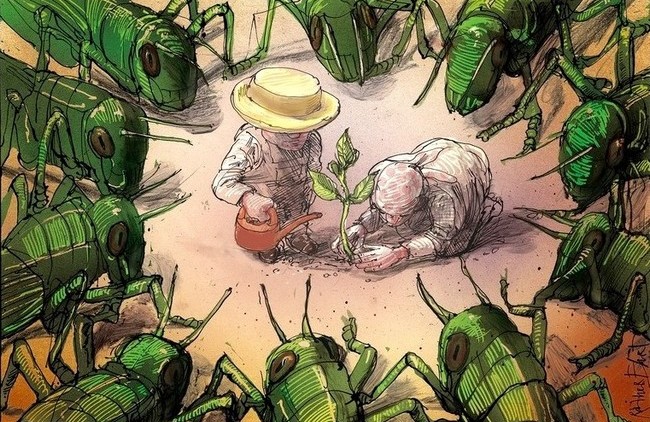 REPRESENTATIVE EXHIBITION OF OUTSTANDING GERMAN ARTIST
---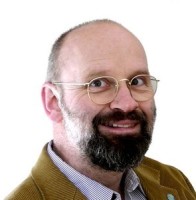 Every day in the world arises an immense amount of cartoons of very different quality. It sounds almost apocalyptically – but each passing day, this number is multiplied. Fortunately, in this gray ocean of creations of short-term consumption (that inevitably awaits sad destiny of passing to the realm of eternal oblivion) as lighthouses in the darkness are shining the artworks which by their exceptional quality highly exceed the normal gray average. The aim of the Cartoon Gallery is to present – by means of the representative exhibitions – the creative work of these genuine masters of Cartoon Art, whose artworks from the view of their ideational content and artistic rendering meet the highest criteria and have become a reference standard for determining the quality of creation of cartoons as a whole. Among such remarkable creative personalities undoubtedly and deservedly belongs a significant German artist Rainer Ehrt. Therefore, the Cartoon Gallery considers a great honor that we can introduce you today his life and creative work.
***
Rainer Ehrt was born on 13th August 1960 in Elbingerode, Germany. He spent his childhood and youth in Harz. He attended the EOS "Gerhard Hauptmann", now the Country's High School of Music of the State of Sachsen-Anhalt. After graduation and military service he followed his study by two semesters of industrial design at the Art Academy Giebichenstein in Halle. During the self-selected internship year as the typographical worker in Halle and Leipzig he laid the foundations for his future craft activity. From 1983 to 1988 he studied graphics and illustration at the College for Art and Design of Halle/Burg Giebichenstein (Prof. Gerhard Voigt and Prof. Rainer Schade). Since 1984 he is married with the designer and sculptor Julia Ehrt born Kretzschmar.
…..Rainer Ehrt began working as a graphic designer, illustrator and poster designer for the Hans Otto Theater in Potsdam, the Progress Film distribution and various publishing houses in Berlin. At the same time he created the free graphics in the original graphical techniques, etching, silkscreen and woodcut. Since 1992 is working as a freelance artist on the fields of cartoon, illustration, posters, free graphics, etching, woodcut, painting, and wooden sculptures. In 1993 he founded the Edition Ehrt for original graphic art bibliophile books.
His cartoons and satirical drawings have been published by many newspapers and magazines (we can mention at least "Eulenspiegel", "Das Magazin", "Märkische Allgemeine", "Nebelspalter" (Switzerland), "Cicero", "Manager Magazin" "Süddeutsche Zeitung", "BBC" and "Die Zeit"). His artworks have been exhibited at numerous individual and collective exhibitions. Rainer Ehrt took part in international cartoon contests and his cartoons were awarded prestigious prizes and mentions (1998 – "Best political cartoon", London Cartoon Competition, 2008 – Grand Prix World Press Cartoon Lisbon, 2010 – Grand Prix Satyricon Legnica, among many others). He published 13 original graphic artist's books, the satirical "Prussian panopticon" in 2001 and "Mozart 2006". He is also involved in numerous cartoon books and anthologies. Published by Rainer Ehrt the book "Global Krisencartoonismus" (2010) and "Prussian picture" (2011). Artworks of Rainer Ehrt are in permanent collections of many museums and galleries in Germany and abroad.
In the field of curatorial project-based artistic work he produced in 1993 the open-air documentary "Day of Potsdam" (with Bernhard Mueller), "Are you all the way" Political pictures of the state of Brandenburg, Brandenburg, Dominsel 1995 (with Matthias Görnandt) , "Good civil" Kunstverein Wernigerode 1995, "Märkische changes" Altes Rathaus Potsdam 1999 (with Matthias Görnandt), "Prussian Blue" Orangerie Potsdam Sanssouci Castle Altranft, Rheinsberg 2001 Artists Exhibition (with Silke Hollender, Angelika Euchner) "Art Brandenburg" (with Daniela Dietsche) Potsdam 2005, 07, 09, stage projections to "Myth of Europe" Palace Theatre in New Palace Potsdam – Sanssouci 2009.
Rainer Ehrt is living and working in Kleinmachnow near Berlin, Germany.
***
Let's hear the words said by the artist himself about his life and creative work:
As "natural born" East German, I'm in the biographical case between self-assertion and increasing distance: The "socialist" system consisted of constraints and opportunities alike, drove at full throttle and the handbrake on, propagated constantly accelerating and produced slowdown, imposed the duty to work and allowed the winking right to laziness, created abstract fears and had elementary (existential) abolished fears.
My parents are "little people"; worker and teacher who suffered as a teenager the war and met with him. They were satisfied with this small country. For me, read hungry, bespectacled boy from a small town in the mountains was a dream realized by Advanced high school, studying art, and an enormous potential of happiness that made someone like Icarus hover over the socialist misery.
…..The eighties I experienced as a student, liberal, passionate and leaden same time – with twenty cheerful, critical peers, including a spy of the State Security Service; – always concerned about us.
I got opportunities and constraints, turned the dream of a professional artist into reality, started a family, built studio. I arrived in this seemingly corrosive society because they suddenly disappeared.
As I am now adapting to new, existential constraints I learnt the extent of opportunities and submission, which calls for a survival as a freelancer in this new Germany: Arrived and yet alien to the "Indifference transfigured to freedom" of civil society.
Paul Valery has said: "Nothing is as deep as the surface." To be an cartoonist I must live like a flying fish. I swim through a fathomless ocean of possible motifs, symbols and associations but to snap a visual idea I must leave the water for a moment of flight over the surface – each time a new adventure, since one never knows whether the surface will be calm or turbulent, sunny or gloomy. (Rainer Ehrt)
* More about Rainer Ehrt (major group and solo exhibitions, prizes, works in collections, and referencies) – read HERE
***
We believe that you are full of expectations to familiarize yourself with unique masterpieces of the significant German artist Rainer Ehrt – you are welcome to enter into his exposure and enjoy his brilliant creative work.
(For fullscreen presentation in "Slideshow" mode click under the picture to such button

)
---
* More about Rainer Ehrt (major group and solo exhibitions, prizes, works in collections, and referencies) – read HERE
---
* See also the profile of Rainer Ehrt in the section "Gallery" – look here
---
previous exhibition

.

Home
---