---

.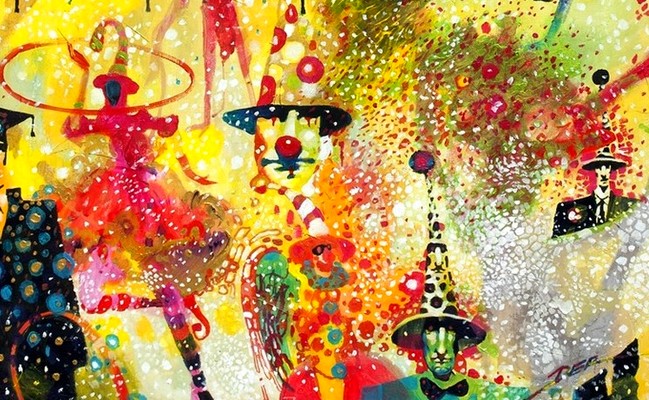 REPRESENTATIVE EXHIBITION OF EXCEPTIONAL ARTIST
---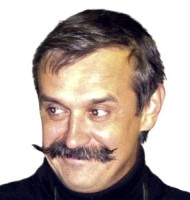 "Humor and a positive attitude heal me mentally and even physically", says Oleg Dergachov, "they help me to survive in our cruel world. I've been fighting for my spiritual territory, for my "mental space" for many years. I guess I've won. Let's be frank and witty and we'll live a long and happy life!" Oleg Dergachov is an all-round artist. He says: "I respect all graphic techniques" – etching, silk-screens, lithography. I love all materials. It is just a question of figuring out which material suits my idea and how to use it for my art." And to us remains only to say that the best test of the correctness of his way on the field of art are the great results of his creative work.
***
Oleg Dergachov was born on 18th July 1961 in Rostov-on-Don, Russia. Oleg is a real cosmopolitan – he lived 20 years in Russia, 20 years in Ukraine and from 2005 is living in Canada. He studied at the Ukrainian Academy of Fine Arts, department of Print, Graphic Art and Book Design, in the studio of Professor Yuri Charyshnikov and graduated in 1984 with a Master in Arts degree. In 1996, 1997 and 2000 he attended workshops of renowned sculptor Prof.Ph.D. Walter Kaune in Goslar (Germany). He has additional training in the field of bronze and granite sculpture from the INTEGRART workshops provided by Professor Ph.D. Andrzej Strumillo (Warszaw, Poland) in 2003-2004.
In 1990 he founded Studio DO which was commissioned to create several public art projects in Ukraine and Russia such as famous and one-of-a-kind Monument of "Smile" in Surgut (Russia), "Smiling Fish" in city of Lviv (Ukraine) and many others.
In 2005 Oleg Dergachov moved with his family to Montreal, Canada where he continued his art activity in Studio DO, managing art projects and public presentations of his bronzes and wooden objects. He is working as a freelance artist concentrated mainly to painting, all graphic art techniques (etching, silk-screens, lithography, …), cartooning, illustration, design and creation of sculptures.
Member of numerous exhibitions, author of the books, cartoons, graphics. He participated in more than 300 important both national and international exhibitions of painting, sculpture, artist's books and cartoon since the year 1985. He organized 4 international symposia of Cartoon Art in Lviv. Thrice conducted master classes of youth animation "Silver Fly" in Florence, Italy. Oleg is the founder of the UP Press publishing house, where were released more than 35 artist's unique books of visual poetry and graphics, including a book of cartoons "New characters" (1990) and "The Hand" (2005), published in the U.S. and in Ukraine.
Winner of over 70 international awards in the field of visual humour, graphics and sculpture in 25 countries such as Australia, Belgium, Bulgaria, Czech Republic, Iran, Italy, France, Germany, Holland, Korea, Mexico, Poland, Russia, Serbia, Slovak Republic, Turkey, Japan, Ukraine, USA, Canada, Portugal, Brazil and China and others. He held 35 solo exhibitions of cartoons, sculptures, graphics, design, and books in the 16 countries of the world.
His works are in permanent collections of numerous private and state museums and galleries around the world, for example – in the office charts of the Pushkin Museum in Moscow, the graphics department of the Russian Museum in St. Petersburg, the Russian State Library, the Victoria and Albert Museum in London, the Museum of Modern Art Menchehaus in Germany, the Art Museum of Padua in Italy, the library of the Centre Georges Pompidou in Paris and many others (Canada, France, Belgium, Germany, Great Britain, Holland, Iran, Italy, Poland, Russia, Spain, Turkey, Ukraine, USA, …).
Mr. Dergachov is often invited to be a member of international Juries of cartoon contests in many countries of the world. His cartoons have been published in Nebelspalter magazine, Switzerland, Itogi, Moscow, Courrier International, France and many other periodicals all around the world. Oleg Dergachov is the Cavalier of the French Academy of Humour, a member of international art associations: the Association of Canadian cartoonists, the Editorial board of the International Journal of Comic Art IJOCA in the United States, member of the Union of Artists of Ukraine, member of Pennsylvania Watercolor Society and the California Printmaker's Society, USA. Oleg Dergachov is living and working in Montreal, Canada.
More about Oleg Dergachov (selected International Prizes, the main solo exhibitions, artworks acquired by the public collections and museums and his lectures) – read HERE
***
Oleg Dergachov is an artist with an excellent global reputation and his artworks are highly valued and are sought after by his admirers, as well as by the collectors of high quality art worldwide. Enjoy the representative selection of his drawings, paintings and a few examples of his bronze sculptures. (For fullscreen presentation in "Slideshow" mode click under the picture to such button

)
---
* More about Oleg Dergachov (selected International Prizes, the main solo exhibitions, artworks acquired by the public collections and museums and his lectures) – read HERE
---
* See also the profile of Oleg Dergachov in the section "Gallery" – look here
---
previous exhibition

.

Home
---