---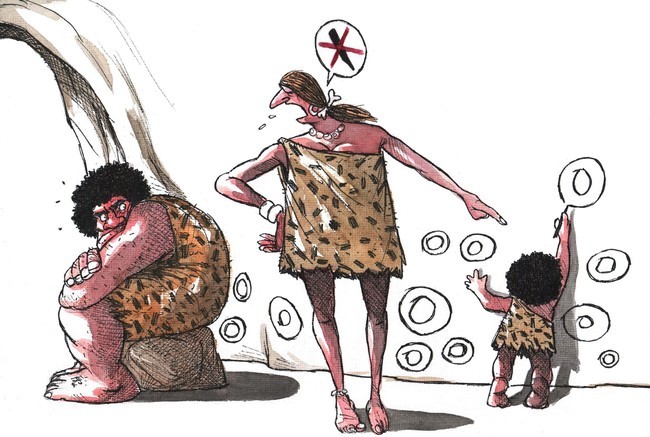 SILVANO MELLO

REPRESENTATIVE EXHIBITION OF A WELL-KNOWN CARTOONIST
---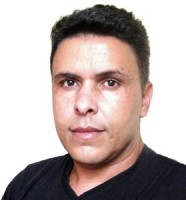 The globe has reduced into a single dimensionless point. Distances ceased to exist. It is not any science fiction – whatever happens somewhere on the other side of the world, we are immediately informed about it even with all the smallest details. In realtime we are experiencing the lives of others, whenever we can contact and communicate with anyone on the planet. Top works of art but unfortunately also miserable weak-minded rejects are instantly published and immediately affect millions of people.
We are living a very interesting era: While we grew up on different continents, in different countries and completely different natural environment and cultural background has shaped us – suddenly we find ourselves close together. We can cooperate and enrich one another, but unfortunately also destroy each other. In many spheres of life and culture arose spontaneously very fruitful exchange of experiences and mutually advantageous cooperation – it is gratifying that this is done "from below", by own free will of people striving of something meaningful. Thanks to today's revolutionary development of communication technology, a scientist, poet or cartoonist has a possibility to connect with colleagues from Iceland, Japan or Oceania, and share with them experiences, cooperate or compete …
Thanks to this development we have the pleasure to know and admire the creative work of Silvano Mello, an outstanding cartoonist from Brazil. This still relatively young and very talented artist lives and works in a peaceful town with 17 000 inhabitants, situated in one of the 26 states of the country belonging to the largest and most populous in the world, the country of impenetrable rainforests with the native tribes untouched by civilization, but also of great overpopulated megapolis with all the ultramodern conveniences. With passion of an autodidact, following the urgent voice of his huge talent, Mello gave visual form to his ideas and shared with us his views, his personal philosophy, and his ethical and aesthetic sensibility. He entered into the world of graphic humor as a mature 33-year-old man in an extremely impressive and persuasive way, and quality of his artistic work not left unnoticed by the world cartoonists community. He reached a well-deserved appreciation at many international cartoon competitions and festivals not only on home ground but also worldwide. In a short time he has built a remarkable reputation of a quality author who constantly works on himself, optimizes his means of expression and refines his original style. "I like to draw," confides Mello. He emphasizes the graphic precision of drawing, sometimes subseqently colorizes his works by watercolor. Any everyday situations, current events in the world and sometimes even his dreams serve him as inspiration for his creative work, he is able to interpret them very impressively, sensitively, always adding all the necessary ingredients in the right proportion.
"Humor and satire are very powerful tools. Thanks to them we can express our thoughts, reflect social events, cause social resonance and at the same time also perfectly laugh. Society without humor would be boring and very sad", said Silvano Mello in an interview. We can do nothing else but agree with him.
Here is a brief professional biography of the author: Silvano Rosa Gonçalves de Melo, well-known under his artistic name "Mello" was born on 5th October 1974 in a small quiet town called Jaboticatubas in the state of Minas Gerais, Brazil. Mello is a trained autodidact and he has been focused to the graphic humor since 2007, developing his work in the fields of cartoon, political cartoon, caricature and some comics. During this period, he received numerous awards and honorable mentions in national and international competitions in many countries such as Brazil, Iran, Syria, Spain, Italy, Romania, Ukraine, Turkey, Azerbaijan, Russia and USA. He still has not presented his artworks at an individual exhibition. Mello is working as a freelance illustrator and cartoonist. A number of his works have been published in the literary supplement of "Pernambuco" and "Dossiê" magazine, newspaper "Le Monde Diplomatique" Brazil, Magazine Você S/A and Journal "Efimerida Ton Syntakton", Greece. Mello was a member of jury of the Ecocartoon – 5th International Patio Brazil Environmental Humor Show and the International Cartoon Contest Haifa, Izrael. He published a book of cartoons called "Lines of Humor" in the Publishing house Cartoonark, Greece, in 2013. Silvano Mello is living and working in Jaboticatubas, Minas Gerais, Brazil.
*****
MAIN AWARDS:
2nd Prize in the 9th International Humor Exhibition of Caratinga – Brazil (2007)

Honorable Mention in Street Children International Cartoon Contest – Iran (2007)

Honorable Mention in the 3th International Don Quichotte "World Languages" – Turkey (2008)

First prize in the 1st Humor Exhibition Medplan – Brazil (2009)

Honorable Mention in the International Cartoon Contest Tourism & Travel – Russia (2009)

2nd Prize in 22th Humor Exhibition of Volta Redonda / Comics – Brazil (2009)

2nd Prize in 22th Humor Exhibition of Volta Redonda / Cartoon – Brazil (2009)

1st Prize in the 23th Humor Exhibition of Volta Redonda – Brazil (2010)

2nd Prize in the 4th International Humor Exhibition Patio Brazil on Environment – ECOCARTOON – Brazil (2011)

2nd Prize in the Anti Terrorism International Cartoon Contest – Iran (2011)

2nd Prize in the Boston International Humor Festival – USA (2011)

2nd Prize in the 11th International Humor Exhibition of Caratinga – Brazil (2011)

Grand Prize in the 5th Humor Exhibition Litoral Paulista – Brazil (2012)

1st Prize in the 5th Humor Exhibition Litoral Paulista – Cartoon – Brazil (2012)

Honorable Mention in the 4th International Fadjr Cartoon & Caricature Contest – Iran (2012)

3rd Prize in the 3rd International Humor Exhibition of Mercosur – Brazil (2012)

First prize in 25th Humor Exhibition of Volta Redonda / Comics – Brazil (2012)
International Prize in 45th Umoristi A Marostica – Italy (2013)

Special Prize in 8th International Syria Cartoon Contest – Syria (2013)

Special Prize in 5th Humor Exhibition of Juiz de Fora – Brazil (2013)

Prize in category Political Cartoon in the 21th International Humor of Press – Porto Alegre – Brazil (2013)

Gold Prize in 8th HumoDeva International Cartoon Contest – Romania (2014)

First Prize in the First international cartoon contest Maidan, Ukraine (2014)

*****
Silvano Mello is the first non-European author whose creative work is presented in the Cartoon Gallery by an extensive representative collection. We are very glad that you will enjoy his remarkable work of art together with us. (For fullscreen presentation in "Slideshow" mode click under the picture to such button

).
---
previous exhibition

.

Home
---