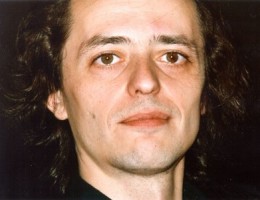 Constantin Sunnerberg (Cost) was born in 1970 in Moscow (former USSR). He grew up in an artistic environment and started to draw very young – he illustrated his first book before ten. His mother was convinced anticommunist and decided to leave the country and she married a French journalist. The family moved to Belgium when Constantin was 10. He spent his school years in The European School in Brussels and afterwards (in 1995) he finished "La Cambre" artistic University in the Grafic section. In 1998 he started creating political drawings for the belgian newspaper called Le Soir. Since then, he is working as a professional illustrator, mainly for press (Le Soir, Courrier International, Journal du Mardi, Espace de Libertés, Journaliste, Le Monde, World Parliamentarian, Imagine, Internazionale, Diplomatie Judiciaire, Synergy, etc). He is creating drawings, posters, books, etc. Constantin Illustrated several books. He painted a cow for Le Soir (Art on cows Brussels). Constantin did about 40 trips in French cities for Courrier International doing illustrated reportings. In 2001 he created drawings for the first Rwanda trial (Brussels) – some drawings are in the Musée d'Histoire Contemporaine of Paris. In 2002 he created the Giant figures for the famous Carnival of Nice (France) and in 2003 drawings for the German TV ZDF. Constantin Sunnerberg won prizes in political cartoons, in poster or writing short stories competitions as well as in Belgian chess tournements. He started drawing cartoons only in 2010 and immediately won third prize in Knokke-Heist cartoon contest. Since that time his cartoons have been awarded a number of prestigious prizes at both national and international cartoon competitions (we can mention at least: 2011 – Euro-Kartoenale Kruishoutem – Best Belgian Prize, 2012 – Palatifini Cartoon Contest Italy – First Prize, 2013 – Sinop Contest Turkey – Second Prize, etc). Constantin Sunnerberg is living and working in Brussels, Belgium.
(For fullscreen presentation in "Slideshow" mode click under the picture to such button

)
previous author


the following author
.

Home