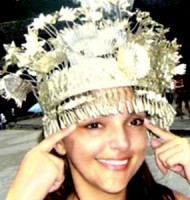 Adriana Mercedes Mosquera Soto (well known as Nani) was born in Bogota, Colombia. She graduated with Bachelor degree of "Education-Biology" at the University of Colombia. Nani has also done courses at the National School of Caricature in Bogota; "Computer graphic design" at the European Social Centre in Madrid (Spain) and an MA in "Fashion design and production" at the European Design Institute. Later she moved to Spain where works as a freelance artist concentrated mainly to creation of cartoons, illustrations, books, and to activities in the field of women's rights. As a cartoonist and illustrator she cooperates with many periodicals in Europe, North and South America. Nani presented her artworks at many individual exhibitions in Latin America and Europe and at the countless collective exhibitions around the world. Contributor to the International Red Cross in the fight against abuse of women, she has worked to make visible women cartoonists in the world. Nani Mosquera is the author of 10 books which are sold throughout Latin America and her cartoons have illustrated books to teach Spanish throughout the world. UN partners with women Nani and her character Magola Colombia is the center of her work of art. The comic strip Magola is more international, it has been published in several countries simultaneously, including Spain, Colombia, Mexico, United States and Argentina, also has been used for gender equity campaigns and text books. Among the many honors she has received, we can highlight a prestigious title of the Honorary Professor of Humor of the University of Alcala de Henares, Spain. Nani Mosquera has won a number of international awards at the cartoon contests in Cuba, Mexico, Argentina, Colombia, Portugal and Spain. Currently, she is living and working in Alcala de Henares, Spain.
(For fullscreen presentation in "Slideshow" mode click under the picture to such button

)
previous author


the following author
.

Home