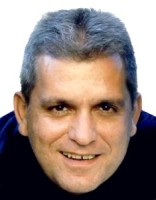 Alfredo Lorenzo Martirena Hernandez well known as "Martirena" was born on 6th october 1965 in the city of Santa Clara, Cuba. In 1984 he started to colaborate with the humoristic weekly "Melaito". In 1986 he won the Grand Prize at the competition "25 years of humour of Palante". In 1987 he published his first book "From ear to ear". He participated in many collective exhibitions, his work integrated the book of 20 contemporary Cuban cartoonists "Fumetty Cuba", edited in Italy. Martirena has collaborated with Cuban publications: "Juventud Rebelde", "Bohemia", "Palante", "Tribuna de La Habana", "Alma mater", "Habanera", etc. Internationally collaborated with "Chocarreros", "Justo Medio" (Mexico) , "Garrotazo" (Argentina), "El Jueves", "Batracio Amarillo", "Quevedos", "Sapoconcho" (Spain), "Bronkit" (Portugal), "El nuevo Diario" (Nicaragua), "Witty world" (USA). He has been a judge at the International Biennial of San Antonio de los Baños, some of his drawings were selected for "ICAIC filminutes". He created a mural in the "Hotel Colonial" in San Juan del Sur, Nicaragua. The University of Alcala de Henares in Spain awarded him the prize Quevedos 2001. In specialized publication "The 20th century 20" Martirena was selected among the most important cartoonists in Cuba. He has won more than 30 national and international awards. Martirena published three personal books (2 of them in Spain) and has participated in more than 20 collective books. His artworks have been exhibited in galleries in Italy, Brazil, Mexico, France, Turkey, Belgium, Switzerland, etc. Martirena's works appear in several digital sites daily. He is a member of the Union of Journalists of Cuba, and the Union of Writers and Artists of Cuba. Alfredo Martirena is living and working in Santa Clara, Cuba.
(For fullscreen presentation in "Slideshow" mode click under the picture to such button

)
previous author


the following author
.

Home