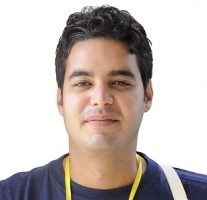 Michel Moro Gómez known under his pen name Moro was born on 27th September 1988 in Ciego de Avila, Cuba. He studied at the Provincial Academy "Raúl Corrales" from 2003 to 2007. He taught painting and drawing at the institution in 2008 and 2009. Moro published his first cartoon in 2011 in the magazine "La Calle del Medio" (supplement humoristic "Dedete") with which he still collaborates. He has created covers for "Avila editions" and the newspaper "Invasor" and also illustrations for the magazine "Videncia". He presented his creative work at four solo exhibitions and has taken part in a number of group exhibitions. Michel Moro Gómez participated in national and international cartoon competitions and his cartoons have been awarded several prizes: Grand Prix in IV National Youth Lounge Humor the Loquito and Humor Museum Award in the category of General Humor; Grand Prix in III National Youth Lounge Humor Loquito Humor Museum and three mentions in the Hall Humoranga ariguanabense San Antonio de los Baños 2012; Mention in the National Hall Juan David San Antonio de los Baños 2013. Internationally he won two awards: Honorable Mention at the World Press Cartoon Sintra Portugal 2012 and Honorable Mention in the 2nd International Exhibition of Cardboard 2013 Sinaloa, Mexico. Currently is studying Conservation and Restoration at the University of the Arts (el Instituto Superior de Arte – ISA). Michel Moro Gómez is living and working in Ciego de Avila, Cuba.
(For fullscreen presentation in "Slideshow" mode click under the picture to such button

)
previous author


the following author
.

Home