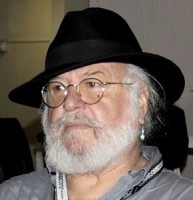 Vangelis Pavlidis was born in 1943 and grew up in Rhodes, Greece. He has been active as a political cartoonist since 1971 and has published his cartoons in some of the biggest Greek newspapers. His cartoons have often appeared in papers abroad. He also illustrates and writes books, primarily for children. Mr. Pavlidis has exhibited solo in Oslo 1978, Athens 1987, The Museum of the Order of the Knights St. John, London 1999, Rosas, Spain 2000, in Rhodes and many Greek cities. He has participated as a guest in the 8th Gabrovo Biennial 1987, in the 1992 Salon de Caricature in St. Esteve France, in Ruthdrum Ireland 1994, the "East meets West" exhibition in Gabrovo 2008 and in the 2010 Amadora International Comic and Cartoon Exhibition, in Portugal. Also, he has participated in numerous international exhibitions for cartoons and book illustrations. In 1976 in a survey by the Museum of Humour and Satire of Gabrovo, Vangelis Pavlidis was included among the "100 best contemporary cartoonists". In 1994 he was on the Honorary List for Illustration of the International Board of Books for the Youth (IBBY). In 2002, he was honored by the International Center for the Preservation of Architectural Heritage (CICOP) for his book "Rhodes 1309-1522: a Story". In 2010, on the occasion of the celebrations for the 100 years of the Portugese Republic, he was honored at the Amadora International Comic and Cartoon Exhibition as a cartoonist "representative of the oldest Democracy in the World". In 2012, the Mayor of Rhodes and the Museum of Contemporary Greek Art of Rhodes honored him for his "international artistic contribution". He is a founding member of the Association of Greek Cartoonists, member of The Union of Journalists of Greece, the Chamber of Visual Arts of Greece and the Association of Children's Books Illustrators. Prizes and Distinctions: Athens 1978, Skopje 1979, Akshehir 1979, Kragujevac 1982, Duisburg 1982, Gabrovo 1983, Istanbul 1988, Amsterdam 1989, Siauliai 1990, Amadora 2010. Vangelis Pavlidis lives and works in the village of Lachania on the island of Rhodes, Greece.
(For fullscreen presentation in "Slideshow" mode click under the picture to such button

)
previous author


the following author
.

Home