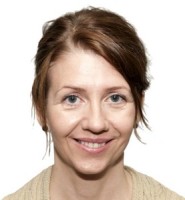 Fanney Antonsdottir was born in 1969 in Iceland. She spent her childhood and youth in Iceland, in the years 1996-2004 she lived in Copenhagen, Denmark and since 2004 is living with her family in Oslo, Norway. She studied design and art at The Icelandic Academy of Arts and Crafts in 1992 – 1996, continued at Danmarks Designskole in Copenhagen, Denmark in 1996-1997, and at the Nordic Institute of Stage and Studio in Norway in 2010-2011. Since 1998, Fanney Antonsdottir started working as a freelance illustrator and cartoonist for newspapers and media. Her artworks appeared in numerous periodicals in Iceland, Denmark and Norway. She also works on her own designproduction and art projects as an independent designer with clients from Denmark, Norway and Iceland. Fanney Antonsdottir has participated with her artworks in numerous exhibitions at galleries such as Louisiana Museum of Modern Art in Denmark, Scandinavian House in New York, The National Museum of Iceland and The National Museum of Women in the Arts in Washington and in The Kennedy Center in Washington DC. In 2008 and 2009 she was selected in Curvy 05 and 06 by Yen Magazine Australia among "The world 100 best female illustrators". Fanney Antonsdottir is living and working in Oslo, Norway.
(For fullscreen presentation in "Slideshow" mode click under the picture to such button

)
previous author


the following author
.

Home