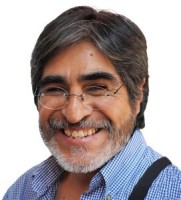 Omar Zevallos Velarde was born on 27th June 1958 in Arequipa, Peru. He studied biology and also journalism at "La Escuela de Bellas Artes Carlos Baca Flor" in Arequipa. He initiated his career in 1979 with two exhibitions of political humor. Omar Zevallos is working as a graphical humourist, cartoonist and journalist. Currently he publishes in the newspaper "El Peruano" and other magazines. He exhibited his artworks at many exhibitions worldwide (Peru, Belgium, Turkey, Cuba, Spain, Argentina, USA, Italy, Bulgaria, Japan, Cuba, Argentina, etc). Artworks by Omar Zevallos have been awarded numerous prizes at International cartoon contests (let us mention at least two of the latest: 1st Prize in DiVino in Vino Cartoons Web in Italy, 2014; 1st Prize of Caricature and Special Prize in the XIX Biennial International of Humour Graphic San Antonio de los Banos, Cuba, 2015). In 2003, he was chosen for the exhibition "100 Masters of Graphic Humor" on the theme of "Peace in the world" in Castel Gandolfo, Rome, Italy. He was invited by Harvard University, which gathers hundreds of cartoonist's graphics for a book on "The Image of America", edited by Witty World International Cartoon Center, USA, 2005. In 2007 the Cabinet of Portugal and the European Parliament invited him to participate in the book "50 years of the Treaty of Rome", along with other cartoonists from around the world. Omar Zevallos illustrated numerous books for children and published several own books: "Saves who can", "Doesn't make me laugh", "Yes, dear", "Caricatour", "Strokes and laughter, cartoonists arequipeños". He is often invited to be a member of Juries (the International Nasreddin Hodja Cartoon Contest Turkey; International Cartoon Festival "Ricardo Rendon" Medellin, Colombia; Bostoons 2010 Boston Massachusets, USA; XVIII International Biennial of Humor of San Antonio de los Banos, Cuba and others.). Omar Zevallos is living and working in Arequipa, Peru.
(For fullscreen presentation in "Slideshow" mode click under the picture to such button

)
previous author


the following author
.

Home