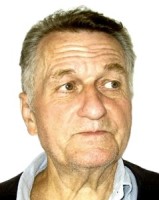 Stano Kochan was born in 1942 in a family of teachers in Slovakia. He devoted himself to drawing since early childhood, but study at an art school was impossible for him due to his "incorrect origin". He graduated from the University of Economics, but throughout his life he made his living as a cartoonist. In 1966 he exhibited his cartoons in the V-Club in Bratislava, Slovakia and then began a period of collaboration with the weekly "Kulturny zivot", which regularly published his series "Images from the history of the Slovak nation during the Turkish invasion" which have been issued also in a book. He worked also with humor magazine "Rohac". After entering the Warsaw Pact troops into Czechoslovakia in 1968 and its subsequent occupation, Stano Kochan immediately emigrated to Germany. In Frankfurt he worked for (at that time the most important) European satirical magazine "Pardon", where he was one of the eight original authors. He also cooperated with the periodicals "Der Spiegel", "Stern", "Bunte" and "Die Zeit". He published several books in Germany, England, Italy, the Netherlands and Japan: "Darling, You are a devil!" (1971), "Teuflische Positions" (1983), "The entgültige deutsche Geschichte" (1986), "Was schreibt die Maus dem lieben Gott?" (1993), etc. His book "The Bible for the Communists" is enjoying great popularity. After a very popular book "Diabolic positions" in several countries, he drew a loose sequel titled "The most diabolic positions of world history." He also illustrated dozens of other publications. In 1992, the Italian writer Luca Novelli wrote the book "Professione Cartoonist", which examines the work of eight world-famous authors: Altan, Cavandoli, Johnny Hart, Quino, Mordillo, Ro Marcenaro, Ziraldo and Stano Kochan. After 1989, Stano Kochan returned to Slovakia and he is still tirelessly focused on creative work. In 2014, the Academy of Humor of the European Festival of Humor and Satire "Kremnica gags" (Slovakia) awarded him the prestigious "Golden Gander Lifetime Achievement Award".
(For fullscreen presentation in "Slideshow" mode click under the picture to such button

)
previous author


the following author
.

Home