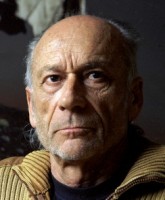 Gerhard Gepp was born on 1940 in Pressbaum near Vienna. He was trained as polygraph. He worked as a photographer in the area of advertising. Currently he works as painter, illustrator, print maker and satirical drawer. He is a self-taught artist. For many years he contributed to many newspapers and magazines in Austria, Germany, Swiss,… (among others we can mention at least Der Standard, Cosmopolitan, Stern, Nebelspalter,…). Since 1989 he has been working at a project entitled "Poetical Satire". Gerhard Gepp's artworks have been exhibited wordwide and obtained many prestigious awards at Cartoon competitions in many countries (among others we can mention at least Grand Prix at the famous cartoon festival Satyrykon Legnica). His works are in the collections of many European museums. In 2001 Gerhard Gepp obtained a title of a honorary Professor given by the President of Austria to distinguished artists. He lives and works in Pressbaum, Austria.

)
---
* See also the great representative exhibition of Gerhard Gepp – click here
---
previous author


the following author
.

Home