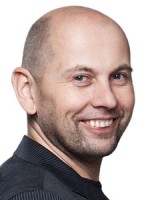 Urmas Nemvalts was born on 4th August 1968 in Estonia. He has been a student, an apprentice, a sailplane pilot, a soldier, a locksmith, a welder, a security guard, and a builder. He learned how to hold a pencil in his fist for the first time at about two years old, and has been doing so ever since. His first cartoon appeared in 1986 in the Tartu periodical Edasi ("Onward"), after which he began considering himself a cartoonist. Since 1994, he has worked as a cartoonist for the newspaper Postimees, where he draws the daily cartoon. In 1998, he added the "Un-Bearable" ("Mürakarud" in Estonian) comic strip to his portfolio. Beyond the newspaper, he has illustrated several books, a few of them children's books that he personally authored. He has also designed advertisements and written a few sketches for TV shows. His drawings have been published in more than 20 countries. Urmas Nemvalts presented his artworks at several individual exhibitions in Estonia and Finland. He participated at both national and international cartoon competitions and has been awarded a number of prestigious prizes. Urmas Nemvalts is living and working in Tallinn, Estonia.
(For fullscreen presentation in "Slideshow" mode click under the picture to such button

)
previous author


the following author
.

Home