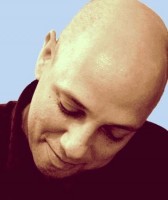 Aristides Esteban Hernandez Guerrero better known under his artistic name "Ares" was born on 2nd September 1963 in Havana, Cuba. His education included the study of Medicine (graduated in 1987) and Psychiatry (graduated in 1993). His first cartoon was published in 1984 and since that time his artworks have been published in many periodicals around the world. Ares currently works as a freelance artist and illustrator. He has published 18 own books and has illustrated more than 70 books. Ares has made oil paintings and worked in TV and Film making short animated films (Filminutos) based on his artworks. He participated in many international cartoon competitions and has been awarded about 130 prestigious prizes. Ares also served as a jury member in a number of international cartoon contests (Mexico, Italy, Brazil, Turkey, Cuba, Iran, etc). He has given lectures on the subject of cartoon and comic art in Cuba, Iran, Mexico, Colombia, Turkey, Canada, Spain, Venezuela and Finland. Ares was nominated by Witty World Magazine (USA) to be included in the list of the best cartoonists of the world, nominated in Cuba for the Quevedos Iberoamerican Cartoon Award and was included in the Memory Book project as one of the most relevant visual artists of Cuba in the 20th Century. He is included in the survey of the Twenty Most Outstanding Cuban Cartoonists Of The 20th Century. In 2002, Ares received the National Culture Medal from the Cuban Cultural Minister. He is the Vice-president of the Visual artist association of the Cuban Artists and Writers Union (UNEAC) and Vice-president of the Comic and Cartoon cathedra of the Jose Marti International Journalism Institute. Ares is living and working in Havana, Cuba.
(For fullscreen presentation in "Slideshow" mode click under the picture to such button

)
previous author


the following author
.

Home