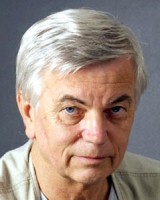 Pavel Matuska was born in 1944 in Trebechovice p. Orebem, Czech Republic. In 1962 he graduated from the Secondary School of Mechanical Engineering in Rychnov n. Kneznou. He started working in 1967 as an artist of promotion in Fotochema Hradec Kralove and gradually in several other companies. Between 1976 – 1979 he graduated from the six semestral Study of theory and practice of graphics of periodicals at the Faculty of Journalism of the Karlova University in Prague. In 1984, Pavel Matuska has become a freelance artist in the field of advertising graphics, illustration and graphic humor. In the past he published his cartoons in local newspapers and magazines and also illustrated a number of books. His drawings have been published over the years in a famous Swiss comic magazine Nebelspalter. Works of Pavel Matuska are represented in collections of the organizers of numerous international cartoon competitions and festivals in the world, at which he has won numerous awards. Among the most important awards let's mention: 1980 – Prize of Excellence Tokyo (Japan); 1986 – Gold Medal Varazdin (Yugoslavia); 1986 – Prix du graphisme Anglet (France); 1988 – 3rd Prize Montreal (Canada); 1989 – Prize of the Press Jury Knokke-Heist (Belgium); Grand Prix Riga (Latvia); 1989 – 2nd Prize Kragujevac (Yugoslavia); 1990 – Press Prize Beringen (Belgium); 1991 – Prize of Town Harelbeke (Netherlands); 1993 – Prize of Sincan Municipality of Istanbul (Turkey); 2012 – 1st Prize Bursa (Turkey); and others. He has won many awards also at the domestic competitions and shows. In 1990, he released a book of cartoons "I live, I have a permition", and in 2006 a large monograph of visual humor "Pavel Matuska: Smiling – drawing / painting / carving". In the Czech Republic he held so far more than 75 solo exhibitions and regularly participates in numerous group exhibitions. He is a member of the Union of Artists in Hradec Kralove. Pavel Matuska is living and working in Trebechovice p. Orebem, Czech Republic.
(For fullscreen presentation in "Slideshow" mode click under the picture to such button

)
previous author


the following author
.

Home