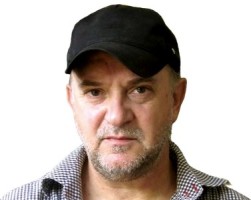 Darko Drljevic was born on 28th February 1962 in Kolasin, Montenegro (in the former Yugoslavia). Since 1997 he works as a freelance artist. He is devoted mainly to painting, illustrations, graphics as well as to animated films and amateur dramatics. He currently works as an editor for humor and cartoons in newspapers – he is the founder and editor of the comic magazine "Tus" (Shower). His cartoons appear regularly in many national and international magazines and newspapers as wel as on television shows. He presented his artworks at 43 individual and over 450 collective exhibitions. Darko Drljevic is a regular participant in national and international cartoon competitions and festivals and has won 112 prestigious international awards, over 60 of them were first, second and third prizes (we can mention at least some of them: Tokyo 1995, 1997-1999 – Medal; Tolentino, Italy 1998 – Special Award; Pljevlja 2004 – Grand Prix; Teresina, Brazil 2006 – 1st Prize; Tehran, Iran 2008 – Special Prize "Oscar"; Seoul, Korea 2008 – Award for the best cartoon; and many others). Many of his artworks are in the permanent collections of various international museums and galleries. He illustrated numerous books and school textbooks. In 2010 he published a book of cartoons and short stories. Darko Drljevic was included in the "Anthology of world famous cartoonists". He participated in organization of many art colonies and colonies of cartoonists, including: Zajecar 2000, Krusevac 2002, Vrsac 2000, Crikvenica 2002-2008, Zemun 2006, Ploiesti (RO) 2001, Busteni (RO) 2004, Pula (CRO) 2010, Bijeljina (RS), and others. He was the organizer of the first edition of the International Cartoon Festival Kolasin in 2007. Darko Drljevic is the President of the Association of Cartoonists of Montenegro and FECO Montenegro. He lives and works in Podgorica, the capital of the Republic of Montenegro.
(For fullscreen presentation in "Slideshow" mode click under the picture to such button

)
previous author


the following author
.

Home