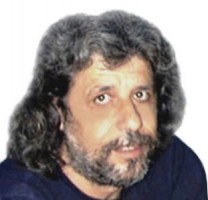 Stefan Despodov (Despo) was born on 2nd October 1950 in Kyustendil, Bulgaria. He graduated in Poster Design at the National Academy of Fine Arts in Sofia in 1974. He is concentrating to the creative work in the field of cartoons, illustration, painting and poster. Currently he works as poster designer in the National Theatre "Ivan Vazov" in Sofia. Stefan Despodov is also author and art director of three animated films. He issued three his own cartoon albums (Vissage a la parole, Postmodernism and other Nonsense, Faces). He took part in numerous international exhibitions (over 200) all over the world and was awarded more than 50 prestigious prizes (among them are: Grand Prizes at International Black Humor Festival, Bucharest 1998, the International Festival "Porto Cartoon", Porto 1999, the International Cartoon Festival "Karluka", Poltava 2003 and many others). He presented his creative work at 15 individual exhibitions. His artworks have been published in renowned magazines in many countries (Bulgaria, Russia, Poland, Slovenia, Serbia, Macedonia, Turkey, Italy, Portugal, Switzerland, Germany, Cuba). Stefan Despodov lives and works in Sofia, Bulgaria.

)
---
* See also the great representative exhibition of Stefan Despodov – click here
---
previous author


the following author
.

Home