---
INKING WOMEN at THE CARTOON MUSEUM

The world of cartoons and comics is often considered to be a predominantly male domain. Therefore, many admirers of Cartoon art are often asking the question: "Why are there no women – cartoonists?" However, the answer may be quite surprising for many: "Well, actually, there are – lots of them!"
Evidence of this fact is the latest exhibition named "The Inking woman", which was recently inaugurated in the renowned The Cartoon Museum in London. This unique exhibition, the largest of its kind, represents the creative work of 100 British artists and shows a wide variety of female humor in the perspective of the past 250 years. It brings an extensive collection of female works of art from the 18th century to the present day: original prints, cartoon humor, editorial cartoons published in newspapers and magazines, postcards, comics, graphic novels as well as various other artifacts.
*****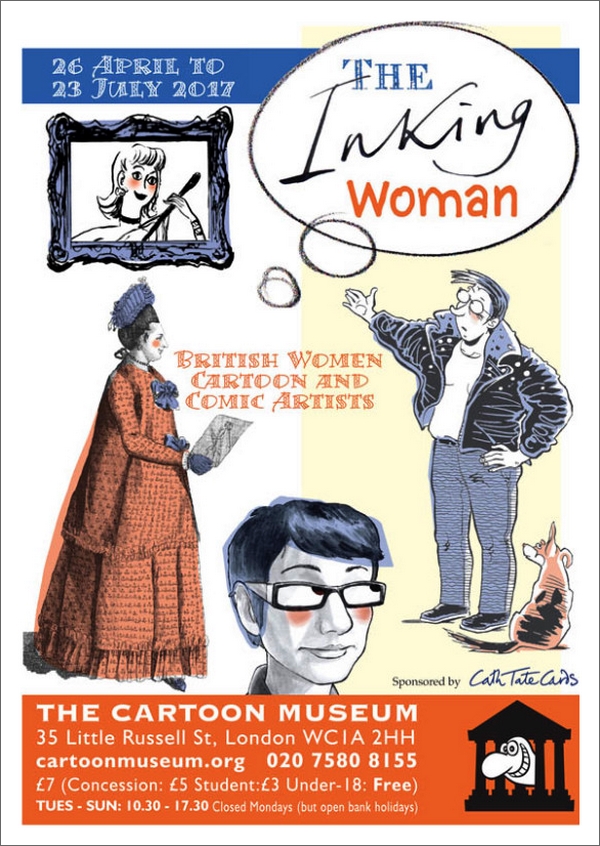 *****
The exhibition very clearly demonstrates that women throughout history always carefully and with a distinctive sense of humor perceived and reflected the world and important events around them. They created the cartoons of previously unseen topics, such as the questioning of the division of roles in society, the unsustainability of the patriarchy, the need for equality of rights, the subject of sexuality and the education of children. Of course, besides these specific topics, their creative work always included all the "classical" thematic areas: literature, history, politics, nature conservation, health, life and death, but also very current topics such as today's refugee crisis and so on.
This extensive exhibition maps the chronology of the evolution of the creative activities of British women-artists in the area of humor, satire, and artistic story-telling, and leads us step by step through the whole history of the British female cartoon, starting with Mary Darly, often called "the mother of pictorial satire," who in 1762 wrote and illustrated "A Book of Caricatures" – the first cartoon book published in England, through the fighting cartoons used by various feminist movements in their campaigns, presenting the drawings of female authors for magazines such as Lilliput, Punch, Eve, Daily Sketch and Daily Herald, continuing with the regular contributors of periodicals such as Private Eye, The Spectator, New Statesmen and The Oldie, up to the youngest generation of artists, publishing their work primarily on the Internet.
*****
List of artists included in the exhibited collection:
Carol Adlam, Sally Artz, Ros Asquith, Mabel Lucie Attwell, Angela Bailey, Charlotte Bailey, Rachel Ball, Henny Beaumont, Margaret Belsky, Hannah Berry, Marie Brackenbury, Jess Bradley, Lucy C. Byatt, Kate Charlesworth, Gemma Corell, Mary Darly, Riana Duncan, Victoria Davidson, Caroline della Porta, Jean de Lemos, Wallis Eates, Hannah Eaton, Kate Evans, Annie Fish, Jacky Fleming, Karrie Fransman, Janis Goodman, Sophie Grillet, Grizelda, Katie Green, Isabel Greenberg, Ottilie Hainsworth, Merrily Harpur, Gill Hatcher, Rozi Hathaway, C. Headley Charlton, Rachel House, Laura Howell, Cath Jackson, Nicola Jennings, Lee Kennedy, Paula Knight, Kathryn Lamb, Nicola Lane, Annie Lawson, Simone Lia, Sarah Lightman, Maggie Ling, Sue McCartney-Snape, The Surreal McCoy, Liz Mackie, Cinders McLeod, Angela Martin, Jessica Martin, Ernestine Mills, Jo Nesbitt, Sofia Niazi, Danny Noble, Edie Op, Corrine Pearlman, Phyllis M Purser, Viv Quillin, Elizabeth Querstret, Agnes Richardson, Carolyn Risdale, Teresa Robertson, Christine Roche, Karen Rubins, Lesley Ruda, Alison Sampson, Fiona Scott, The Suffrage Atelier – several unknown artists, Posy Simmonds, Ginny Skinner, Zara Slattery, Erica Smith, Jackie Smith, Snowy Lake, Nicola Streeten, Carol Swain, Annie Tempest, Mary Tourtel, Fanny Tribble, Matilda Tristram, Myf Tristram, Una, Suzy Varty, Emma Vieceli, Judith Walker, Flora White, Bev Williams, Women's Social and Political Union artist, Antonia Yeoman a Paula Youens.
*****
Do not miss this extraordinary exhibition! We recommend!
*****
USEFULL INFORMATION:
Exhibition title: The Inking Woman

Venue:

The Cartoon Museum,

35 Little Russell Street,

London, WC1A 2HH,

Tel: 0207 580 8155

Duration of the exhibition

: from April 26 to July 24, 2017

Opening hours: Tuesday – Sunday, 10:30 am – 5:30 pm, on Monday closed
Admission: £7, £5, £3
*****
SOME ARTWORKS BY BRITISH WOMEN-ARTISTS: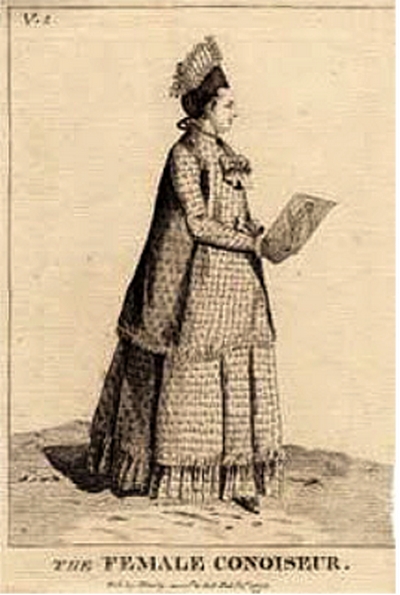 Mary DARLY – The Female Conoiseur, 1771

*****

Mary DUVAL – Judy, 1874


*****

Annie FISH – The Tatler, 1915


*****

Sally ARTZ – Punch, 1972

*****

Posy SIMMONDS – The Guardian, 1981

*****

Rozy HATHAWAY – Njalla, 2016


*****

* Source: The Cartoon Museum, London (GB)

---

100 FACES OF MIGUEL DE CERVANTES


There is no doubt that Miguel de Cervantes Saavedra is one of the greatest personalities not only of the Spanish but also of the world literature. He has enrolled in the cultural memory of mankind mainly as the "father" of the ingenious nobleman Don Quixote de la Mancha, who, together with Sancho Panza, is leading an uncompromising struggle in the name of romantic ideals. This Renaissance novel was in its time the second most published book in the world after the Bible.

*****

Miguel de Cervantes died on April 22, 1616 and therefore this days we commemorate 401 years since his death. In addition – on September 29, 2017 will be the 470th anniversary of the birth of this giant of the world literature – he was born in 1547 in Alcala de Henares near Madrid.

*****

Poster of the exhibition "100 Faces of Cervantes"

*****

Where elsewhere, if not directly in the birthplace of the genius, could be initiated the project of the "100 Faces of Cervantes", the aim of which is to pay tribute to this great Castilian writer and playwright of the Golden age of the Spanish literature, by means of the caricatures by 100 authors from 20 countries of the world (list of authors see below). The exhibition has been prepared by the Quevedo Institute of Humor of the Foundation of the University of Alcala, Spain (El Instituto Quevedo del Humor de la Fundacion Universidad de Alcala, Espana), and the curators of the exhibition are caricaturist David Pugliese and Juan Garcia Cerrada.

*****

The exhibition "100 faces of Cervantes" was inaugurated on April 7 in El Antiguo Hospital de Santa Maria la Rica in Alcala de Henares, Spain and will run until 7 May 2017.
Opening hours: Tuesday to Saturday from 11:00 am to 2:00 pm and from 5:00 pm to 8:00 pm, Sunday from 11:00 am to 2:00 pm.

*****

The opening ceremony of the exhibition in Alcala de Henares – Maite del Val and the commissioners of the exhibition Juan Garcia and David Pugliese (photo: Jose Fernandez)


*****

100 PARTICIPATING AUTHORS:

Ricardo Ajler/Argentina, Aina Albi (Aina Alb)/Spain, Joaquin Aldeguer (J.)/Spain, Santiago Almarza Caballero (S. Almarza)/Spain, Jose Manuel Alvarez Crespo (Napi)/Spain, Andre Alvez (Alvez)/Uruguay, Angel Dario Banegas (Banegas) /Honduras, Eduardo Baptistao (Baptistao)/Brazil, Cristian Bernardini (Bernardini) /Argentina, Jose Luis Cabanas Onsurbe (JL Cabanas)/Spain, Francisco Cajas (Pancho Cajas)/Ecuador, Ricardo Camara Lastras (Sir Camara)/Spain, Jose Cano (Jkno)/Spain, Jaume Capdevila (Kap)/Spain, Sebastian Cast/Argentina, Sebastien Chevriot (Seb)/France, Joe Ciardiello (Ciardiello)/USA, Jesica Cichero/Argentina, Walter Cortinas (Checho)/Uruguay, Bertrand Daulle (Daulle)/France, Walter Davenport (W.R.Davenport)/Argentina, Cheryl de los Reyes Cruz/USA, Cesar Deferrari (Deferrari)/Argentina, Xavier Denia Valls (Xavi Denia)/Spain, Christophe Faraut (Faro)/France, Luiz Carlos Fernandes (Fernandes)/Brazil, Miquel Ferreres/Spain, Juan Ignacio Fichetti (Naco)/Argentina, Omar Figueroa Turcios (Turcios)/Colombia, Walter Fornero (Fornero)/Argentina, Elise Fossoux (Elise)/France, Ruben Franco (Franco)/ Mexico, Alex Gallego (Alex)/Spain, Simon Garcia (Simon)/France, Raquel Garcia Uldemolins (Raquel Gu)/Spain, David Garcia Vivancos (DGV)/Spain, Anthony Garner (Ant)/UK, Marina Gerosa (Gerosa)/Argentina, Jordi Gines Soteras (Gin)/Spain, Cau Gomez (Cau Gomez)/Brasil, Jose Julio Gomez Sanz (Jose Julio)/Spain, David Goytia (D. Goytia)/Spain, Marcelo Guerra (Marcelo Guerra)/Argentina, Ramon Gutierrez Díaz (Ramon)/Spain, Frank Hoppmann (F. Hoppmann)/Germany, Angel y Francisco Idigoras (Idigoras y Pachi)/Spain, Aleksei Kivokourtcev (Lexaxa)/Russia, Jerihely Leal (Jota Leal)/Venezuela, Pablo Lobato/Argentina, Jose Lopez Rivera (Pepe Farruqo)/Spain, Carlos Martinez Nieto (Mancha)/Spain, Ricardo Martinez Ortega (Ricardo)/Spain, Angel Menendez Menendez (Kalikatres)/Spain, Arturo Molero (Art Molero)/Spain, Pedro Molina (Molina)/Nicaragua, Adriana Mosquera Soto (Nani)/Colombia, Marilena Nardi (Nardi)/Italy, Antonio Neri Licon (Nerilicon)/Mexico, Alfonso Ortuno Salar (Ortuno)/Spain, Elena Ospina (Elena)/Colombia, Rafael Osuba (Osuba)/USA, Abilio Padron (Abilio)/Venezuela, Jaime Pandelet (Pandelet)/Spain, Emanuel Pascual (Pascual)/Argentina, Omar Perez (Omar)/Spain, Maria Picasso I Piquer (MP)/Spain, Ernesto Priego/Spain, Claudio Francesco Puglia (Claudio)/Italy, David Pugliese (Pugliese)/Argentina, Diego Puglisi (Puglisi)/Argentina, Mariagrazia Quaranta (Gio)/Italy, Fernando Quesada Porto (Quesada)/Spain, Ezequiel Quines (Quieze)/Argentina, Jimena Ramírez/Mexico, Jorge Restrepo (Restrepo)/Colombia, Roman Rivas (Roman)/Mexico, Patricio Rocco (Pat)/Argentina, Jorge Rodriguez Martíinez (Lloyy)/Venezuela, Carlos Romeu Muller (Romeu)/Spain, Jose Rubio Malagon (Malagon)/Spain, Carlos Ruiz Moisa (Ruz)/El Salvador, Hermenegildo Sabat (Sabat)/Uruguay, Pablo San Jose García (Pablo)/Spain, Angelines San Jose Sainz (Angelines)/Spain, Momo Scacchi (Momo)/Argentina, Polaco Scalerandi (Scalerandi)/Argentina, Agustin Sciammarella (Sciammarella)/Argentina, Pedro Silva (Pedro)/Portugal, Alberto Sintes (Sintes)/Spain, Tony Sobota (Bota)/USA, Elena Stanescu (Elena)/Romania, Bertrand Thiriet (L'Amiral)/France, Martin Tognola (Tognola)/Argentina, Andrea Luz Toledo (Toledo)/Argentina, Miguel Villalba Sanchez (Elchicotriste)/Spain, Carlos Villanueva Nieto (Carlos)/Spain, Bernd Weidenauer (BW)/Austria, Gilberto Zappa (Zappa)/Brazil, Omar Zevallos (Omar)/Peru, Jesus Zulet Izura (Zulet)/Spain.

*****

SEVERAL ARTWORKS FROM THE EXHIBITION "100 FACES OF CERVANTES"

David PUGLIESE / Argentina

*****

Fernando Quesada Porto (QUESADA) / Spain


*****

Angel Dario Banegas (BANEGAS) / Honduras

*****

Omar Figueroa TURCIOS / Colombia


*****

Alfonso Ortuno Salar (ORTUNO) / Spain


*****

Angel Menendez Menendez (KALIKARES) / Spain


*****

Angel y Francisco Idigoras (IDIGORAS Y PACHI) / Spain

*****

* Source: Francisco Punal Suarez (ES); Instituto Quevedo del humor, El Fundacion General Universidad de Alcala(ES) – https://iqh.es/agenda/exposicion-100-caras-cervantes/

*****

---

THE WORLD ACCORDING TO ROLAND TOPOR

On 16th April 2016 we will commemorate already the 2Oth anniversary of the death of a famous French cartoonist, filmmaker and writer Roland Topor, whose original work was crucial to the history of world art. In the case of Roland Topor we definitely can not use the conventional euphemism that "he left us forever" because this exceptional artist has left here such a significant footprint that he is actually still here with us, and without any doubt he still remains. This author, often called the "disturber of generally accepted views, master of ridicule, virtuoso of black humor and incorrect thoughts" is today considered one of the most important artists of the 20th century.

As we have been informed by our friends from France – the French National Library "Bibliotheque nationale de France" in Paris prepared in honor of this genius of black humor a representative exhibition aptly named "Le Monde selon TOPOR" (The World according to Topor).

Ceremonial opening of the exhibition was held on March 28th, 2017 in the Bibliotheque nationale de France, site François-Mitterrand, Quai François Mauriac, Paris XIII e. This unique exhibition will run until 16th July 2017.

*****

Poster of the exhibition "LE MONDE SELON TOPOR"

*****

PRESENTATION OF THE ORGANIZERS

A tireless creator, Roland Topor (1938-1997) put his pencil at the service of an unbridled imagination: humor drawings, illustrations for press and publishing, posters, animated films, television shows, sets and costumes. theater. Topor was also the author of novels, short stories, plays, songs and film scripts. His work finds its culmination in publishing, as he considered that his audience should not be limited only to collectors and art lovers.

Organized twenty years after his disappearance, this retrospective exhibition proposes to make discover the variety of the artistic production of Topor. It will show a large number of original drawings, mainly from private collections, and editions kept in the funds of the BnF.


The exhibition will pay tribute to the outsized artist, the graphic genius and the man of wit with the subversive humor as was Roland Topor.

(BnF)


*****

Enormous interest of people in the exhibition of Roland Topor

*****

Beginning of the exposition

*****

Exhibition "The World according to Topor" – view 1

*****

Exhibition "The World according to Topor" – view 2


*****

Exhibition "The World according to Topor" – view 3


*****

Drawings by Roland Topor on the front pages of the famous humor magazine HARA-KIRI

*****

PRACTICAL INFORMATIONS


Place: Bibliothèque nationale de France, site François-Mitterrand, quai François Mauriac, Paris

Open: Tuesday – Saturday: from 10:00 am – 7:00 pm
Sunday: from 1:00 pm – 7:00 pm
Closed in Mondays and holidays
Full price: 9 € (combined ticket for two exhibitions: 11 €)
Reduced price: 7 € (combined ticket for two exhibitions: 9 €)
Reservation: 0892 684 694 (0,34 € TTC / min) and FNAC www.fnac.com

*****

*****

* Source: http://www.bnf.fr/fr/evenements_et_culture/exposition/f.monde_topor.html

*****

ROLAND TOPOR


*****

A SHORT BIOGRAPHY OF ROLAND TOPOR

Roland Topor (January 7, 1938, Paris – April 16th, 1997, Paris) was a French artist, painter, cartoonist, humorist, poet, writer, playwright, lyricist, screenwriter, filmmaker, actor, musician, etc. He came from a family of Polish immigrants which during WW2 had to hide from Nazi persecution in Savoie. His father Abram Topor was a painter and sculptor and his son Roland inherited a great artistic talent. In 1955 he enrolled at the Academy "Ecole nationale supérieure des beaux-arts" in Paris. During his studies he published his first drawing, which appeared in 1958 on the cover of the magazine "Bizarre". After successfully completing his studies Topor began to work as a cartoonist for well-known humor magazine "Hara-Kiri" which was founded in 1960 by Cavanna and Georges Bernier called Professor Choron. Along with artists like Reiser, Fred, Lob, Cabu, and Gebe he declares a "joyful war" to all the "monsters" such as Stupidity, Lie, Vanity, Injustice and Conformism. Characteristic feature of his cartoons became a realistic drawing in a classic style but always with provocative content and generally with drastic humor and black poetry. In 1961, Roland Topor was awarded black humor prize "Prix de l'humor noir" for his book of drawings "Anthologie". Along with Fernando Arrabal, Alejandro Jodorowsky, Oliver O. Olivier, and Jacques Sternberg founded in 1962 "Mouvement Panique" (Panic Movement) which prepared a shocking performances in the style of "The Cruel Theater" of Antonin Artaud. The first novel by Roland Topor has been "Le Locataire chimérique" (chimeric tenant) issued in 1964, which was filmed in 1976 by director Roman Polanski. He also wrote a number of theater plays, e.g. "Child of Mr. Lawrence", "Joko Birthdays" (which won the Prix des Deux-Magots), "Winter under the table". Topor created also the song lyrics for French singer of Japanese origin Megumi Satsu. He illustrated classic children's book "The Adventures of Pinocchio", the novels of Marcela Aymé (about 120 illustrations) and many other publications. Topor also designed posters for films such as "Le Tambour" (directed by Volker Schlöndorff 1978), which was projected around the world, "L'Empire de la passion" (director Oshima), "L' Ibis rouge" (directed by Jean-Pierre Mocky). In 1976 he created a poster for the Amnesty International. As an artist and screenwriter he collaborated with a film director René Laloux, with whom in 1965 created an experimental animated film "Les Escargots" (Snails). With René Laloux collaborated Topor also on the animated feature-length science fiction film "La Planète Sauvage" (Wild Planet), which won the Special Jury Prize at the Film Festival in Cannes (1973). He also created the animated sequences for the film "Viva la Muerte" (directed by Fernando Arrabal, 1971) and collaborated with Federico Fellini on his film "Casanova" (1976), for which he drew the images projected during the sequence of magic lantern. Topor is also an actor – he played a smaller roles in the film "Sweet Movie" (Dusan Makavejev, 1974), alongside Isabelle Adjani and Klaus Kinski in the film "Nosferatu, the Vampyre" (Werner Herzog, 1979), "Ratataplan" (Maurizio Nichetti, 1979), "Swann in love" (Volker Schlöndorf, 1984) and "Three lives and only one death" (Raoul Ruiz, 1996). Roland Topor is a co-author of the screenplay for the absurd comedy "Marquis", which was directed by his close friend from Belgium Henri Xhonneux in 1988. The film adaptation of the life of the Marquis de Sade was unveiled to the public in 1989 in honor of the 200th anniversary of the French Revolution. Actors played their roles in the masks of animals – the piece was then adopted with significant embarrassment, but today it is already considered a "cult" film. Together with Henri Xhonneux created a children's television series Télechat" (Bodies), which reached an immediate success and subsequently they filmed 234 episodes. For television he wrote along with Jean-Michel Ribes "Thank you Bernard" (1982-1984), and later "Palace" (1988). For theater they created "Les batailles" (1983); and for the film "La Galette du roi" (1985). On the radio France Culture was Topor one of the protagonists of the program "Des Papous". He also cooperated with Jerome Savary (The Adventures of Zartan, from Moses to Mao) and in 1992 he was signed under the direction, decorations and costumes of the play "King Ubu" at the National Theater of Chaillot in Paris. In 1992 along with Giacomo Carioti and Jean-Louis Colas in order to encourage cooperation of the Italian and French artists founded the Company of free talents ROMALIAISONPARIS and Topor became its first president.
Roland Topor died of a stroke on April 16th, 1997. Posthumously he was appointed the Satrap of the College of the Pataphysics.

*****

BOOKS BY ROLAND TOPOR

Roland Topor is the author of a number of his own books and countless others he illustrated. Topor's books are still very popular and demanded – many of them were published in various languages, were issued in many countries, several of them were published in multiple editions and are continuously issued until this days. To demonstrate this fact, we offer you the covers of some of them..

*****

VIDEO

Roland Topor and his work remained also preserved in film and video form – for preview we bring to you at least three short videos.

TRIBUTE TO HIS FATHER BY NICOLAS TOPOR

*****

TOPOR

*****

ARTWORKS BY ROLAND TOPOR

.

*****

---

BILL LEAK PASSED AWAY

It was with deep sorrow when we learned of the death of Bill LEAK, a great Australian cartoonist. He had died in Gosford hospital of a suspected heart attack on Friday, March 10, 2017 at the age of 61.


REST IN PEACE !

*****

*****

Bill Leak, a well known Australian cartoonist, caricaturist and portraitist, was born on 9 January 1956 in Adelaide, Australia. After finishing high school, he studied for 2 years at the Julian Ashton Art School. He began drawing cartoons professionally in 1983, first for The Bulletin and then for The Sydney Morning Herald. In 1994 he moved to The Daily Telegraph Mirror, and then to The Australian. Since 1987 to 2002 he won 9 Walkley Awards for the best cartoon or best illustration, 19 Stanley Awards and in 2015 and 2016 News Corps' Award for best cartoonist of the year. Bill Leak published 4 books of his editorial cartoons: Drawing Blood 1998; Moments of Truth 2005; Un Australian of the Year 2012; Trigger Warning 2017. He had died in Gosford hospital of a suspected heart attack on Friday, March 10, 2017 at the age of 61.

*****

FEW CARTOONS BY BILL LEAK:


*****

*****

*****

*****

*****

---

PLANTU: DEBOUT !

When a new book by world-famous French cartoonist Plantu is published, it's always a great event. We have the honor to introduce to you the latest one, which was published only very recently.

*****

Cover of the book "Plantu: DEBOUT!"

*****

The book is titled "DEBOUT!", what could be translated as "Upright!" or "Standing!" and brings the best drawings by Plantu published during the year 2016 on the pages of the world respected periodicals Le Monde and L'Express.


Publication in handy softback edition consists of 192 pages and is divided into several thematic chapters (Preface, Terrorism, Fragilised Europe, International, Waiting for the presidential elections, Society, Index). In the preface Plantu emphasizes the importance of the freedom of expression – because as he says: Freedom is everything!


The author is asking: What will remain of 2016? And then in the individual chapters of the book Plantu through his drawings, which dominated in 2016 on the title pages of newspapers Le Monde and L'Express, analyzes just at that time current affairs and searches for answers to the most pressing questions of our contradictory world full of tensions and paradoxes. He covers all the burning issues such as unemployment, disunited Europe, Brexit, migration, war in Syria, elections in the US and in France, terrorist attacks in Paris, Nice, Brussels … He is never satisfied with merely superficial humorous look at key events, he always goes in depth, giving things into context, dissecting them to the very marrow, looking for solutions, teaches us to see, think and survive…


The book "DEBOUT!" through accurate cartoons transfers us through the events of past year 2016 much better and more clearly than any detailed word retrospective. And of course, through the whole historical-artistic excursion will accompany us omnipresent author's favorite beings: the mythical Marianne – French national symbol of freedom, democracy and reason (as opposed to any form of dictatorship or oppression), butterflies in the colors of the French tricolor, dove with twig or Plantu's playful little mouse.


*****

Plantu with his characteristic little mouse

*****

The main data of the book:

Title : Debout!

Binding: Softback

Weight: 542 g

Dimensions: 17 cm X 24 cm

Pages: 192

Publisher: SEUIL, Paris, France

Collection: SEUIL/HUMOUR

Release Date: 3rd November 2016

Price: 18 €

EAN: 9782021334050

*****

SEVERAL ARTWORKS FROM THE BOOK "PLANTU: DEBOUT!"

*****

*****

*****

*****

*****

*****

BOOKS BY PLANTU:

Plantu is the author of more than 60 books and a large number of other books he illustrated – we can present to you a view to the covers of some of them :

*****

* See also the profile page of the famous French cartoonist Plantu in the Cartoon Gallery – click HERE

*****

---

NEW BOOK "LA CARICATURE, 1830-1835"


Beaux Arts sent us a very interesting publication notice from Alan Wofsy Fine Arts of San Francisco, California – we are very glad to mediate it to you:


*****

Publication notice from Alan Wofsy Fine Arts LLC

*****

Cover of the book "La Caricature, 1830-1835"

*****

DESCRIPTION OF THE BOOK CONTENT

La Caricature was the 19th Century equivalent and the precursor of Charlie Hebdo. The editor Charles Philipon employed the major satirical artists of the mid-19th Century notably Daumier, Grandville, E. Forest, Charlet, Bellangé, Traviès, Raffet and Gavarni. It appeared for five years, between 1830-1835.


The main subjects of the caricatures were Louis-Philippe and his entourage of July Monarchy politicians. Louis-Philippe, son of the Duke of Orléans, came to power after the 1830 Revolution as the Citizen King. However, he was not amused by the caricatures and once put Daumier in prison for 6 months, before suppressing the whole publication in 1835. He became more and more authoritarian and was finally forced to abdicate during the 1848 Revolution.


The plates are numbered 1-524, but approximately 62 are double sheets so there are actually 462 separate prints.


Georges Vicaire catalogued the 251 issues and 524 plates in 1895. However they have never been reproduced in a catalogue, nor has there been an English language discussion or catalogue of the corpus of prints


Alan Wofsy Fine Arts of San Francisco (www.art-books.com) will be publishing the first illustrated catalogue of all the lithographs that were published in La Caricature, 1830-1835 in the Spring of 2017.


All of the works are described in French and English and are arranged in the order they appeared in the original publication. There is an index by artist and the catalogue by Georges Vicaire from 1895 is also included. Many of the artists contributed anonymously and were not identified by Vicaire but are now identified. Where there were not descriptions of the plates in the original publication (about 60 of the 462), this new edition now provides descriptions in French.


There are essays in English are by Gordon Norton Ray and Edwin De Turck Bechtel and in French by Henri Beraldi and Georges Vicaire.


The general editor and designer is Corine Labridy-Stofle, a PhD candidate at the University of California, Berkeley.


Melissa Bender, PhD, a lecturer at the University of California, Davis, and Joanna Oseman, a professional translator, have provided insightful English language descriptions of each of the caricatures.


Alan Hyman, the editor of many catalogues raisonnés, is the Lektor.


*****

SOME ARTWORKS PUBLISHED IN THE BOOK

Jean-Jacques GRANDVILLE – Fun and games at the Champs Elysees

*****

Honore DAUMIER – Good God! What a squalid scene!

*****

Auguste BOUQUET – The people making the Kings dance

*****

* Preview of the book "La Caricature, 1830-1835″ in PDF format you can see HERE

*****

This unique book can be ordered at the above e-mail address of the Publisher Alan Wofsy Fine Arts LLC, San Francisco, California.

   We highly recommend to all lovers of caricatures and cartoon art !


*****

* Source: Beaux arts

---

FRANCE CARTOONS – MAGAZINE No. 1


Colleagues from France sent us a message on the foundation of a new magazine for cartoonists of the Francophone press:

*****

THE WEB-MAG OF FRANCE-CARTOONS No. 1 IS ONLINE

The Web-Mag of France-Cartoons n°1 is online, with: Le Fecxit, greeting cards, Castelnaudary, Tomi Ungerer, Gotlib by Kichka, Mix and Remix, Angelo Di Marco, Tassuad, welcome to Red , The books of Chimulus, Cambon, Large and Tignous, the Schlingo of Gab and the Retroscopy of Professor JMB.

It is online at http://www.france-cartoons.com/le-webmag-de-france-cartoons-n-zero/. You can also click on the cover.


To see the magazine in full page, click on the small square in the bottom right (next to ISSUU)

If you prefer, you can download the magazine:
2 versions to download: the first more accurate, but longer to download, the second lighter but a little less precise.
On this link you can also browse the previous issues …

Good reading !

Pierre BALLOUHEY                                                                                     President of France-Cartoons

*****

The cover of the new magazine of cartoonists of the Francophone press "FRANCE-CARTOONS"

*****

* Source: Pierre Ballouhey (FR)

---

EUROPE CALLING !

In 2017, it will be 25 years since the signing of the Maastricht Treaty: the birth certificate of the European Union and the euro. The City of Maastricht and the Province of Limburg celebrate this great historical event organizing in the period from July 2016 to

September 2017

a wide range of activities

under the general title

"EUROPE CALLING!"

What is most interesting for us, several international cartoon exhibitions will take place there reflecting the history and life of the European Union seen through the eyes of many outstanding European cartoonists.

*****

OPENING OF THE EXHIBITION SERIES
2 December 2016 – 24 February 2017

The exhibitions 'Scherts', 'Vrijmoedig' and 'Ontgrensd' consist of cartoons and photographs that take the changing face of Europe as their subject. The three exhibitions will run from 2 December 2016 to 24 February 2017 in Maastricht. This exhibition series, entitled 'Vastgelegd & Getekend' ('Snapped and Drawn'), is being organised as part of the 'Europe Calling! Maastricht Treaty 25th Anniversary' programme. On Friday 2 December at 11 a.m., King's Commissioner Theo Bovens will conduct the official opening ceremony at the Provincial Government Buildings in Maastricht, the place where it all began 25 years ago.

*****

SCHERTS (JEST- from Maastricht to Brexit)
2 December 2016 – 24 February 2017

"Scherts" (Jest) covers the entire period from the signing of the Maastricht Treaty in 1992 and the founding of the European Union to the Euro crisis and Brexit. The cartoons in 'Scherts' show how the European project was subjected to ridicule from the very start. 'Big ideas' are often grounded in controversy, special interests and misunderstandings. The exhibition will be held in the Provincial Government Buildings.

*****

VRIJMOEDIG (CANDID)
2 December 2016 – 24 February 2017

"Vrijmoedig" (Candid) will be held in Centre Céramique and features a selection of cartoons from the Four Freedoms 2016 Cartoon Competition, organised by the Federation of Cartoonist Organisations on behalf of the Roosevelt Foundation. Limburg-based cartoonist Ruben L. Oppenheimer received second prize in the competition. The exhibition consists of one hundred cartoons by 25 international cartoon artists. The Roosevelt Foundation is making the works available free of charge.

*****

ONTGRENSD (BORDERLESS)
2 December 2016 – 24 February 2017

"Ontgrensd" (Borderless) presents photographs of 20 exceptional situations along Limburg's border, both past and present. Limburg is, after all, where the Netherlands joins the rest of Europe. The elongated shape of our province means that we share 351 kilometres of border with Belgium and Germany and 'only' 113 kilometres of border with the rest of the Netherlands. The collection was assembled under the supervision of the Impact Foundation and will be exhibited at the Theater aan het Vrijthof.

*****

SOME WORKS FROM THE CARTOON EXHIBITION "SCHERTS"


Pawel KUCZYNSKI (Poland)

*****

Agim SULAJ (Italy)

*****

Oliver SCHOPF (Austria)

*****

Niels Bo BOJESEN (Denmark)

*****

RUBEN (The Nederlands)

*****

* More info find here: http://www.artof-museumprojecten.nl/work/international-cartoonexhibition/

*****

* Source: ARTOF museum projects, Europe Calling (NL)

---

TRIBUTE TO STEFAN DESPODOV

Although there already passed more than a year and a half since our friend Stefan Despodov, an outstanding artist from Bulgaria, passed away, his excellent work of art remained with us and always strongly reminds him to us.

Stefan's friends and admirers of his work in his native Bulgaria, but also in many countries in Europe and worldwide are recalling him frequently and with great respect.

Therefore we were very happy when hearing the information on the latest exhibition events in honor of Stefan Despodov mediated to us by Mrs. Elena Arnaudova, the former Director of the Bulgarian Cultural Institute in Bratislava, who is a close friend of Stefan's wife:

EXHIBITION IN SOFIA, BULGARIA

In the Bulgarian capital Sofia, in the Ivan Vazov Theatre a few days ago was inaugurated the exhibition "Hommage à Despo" which presents artworks created by many leading Bulgarian artists specially in honor of Stefan Despodov. Here are a few samples from this remarkable exhibition.

*****

Poster of the exhibition "Hommage à Despo"

*****

*****

*****

*****

More information about the exhibition "Hommage à Despo" can be found on the website vesti.bg – click HERE

*****


EXHIBITION IN ZURICH, SWITZERLAND

Another important event is an exhibition of theatrical posters by Stefan Despodov from the collections of the "Zürcher Hochschule der Künste" in cooperation with the "Museum für Gestaltung" in Zurich, Switzerland. The exhibition features an extensive selection of Stefan Despodov's posters, and it is a confirmation of the worthy place of the artist's work in the European and global context and his artistic contribution to the European theatrical poster creation. Here are several samples of Despodov's posters:


*****

*****

*****

More info on the exhibition of theatrical posters by Stefan Despodov find on the website of eMuseum – click HERE

*****

MEMORIES FROM KREMNICA, SLOVAKIA

Finally, we add a photo of Stefan Despodov as we remember him from Kremnica Gags 2013 where the Humour Academy of the festival granted him the prestigious "Golden Gander Award" for his creation of cartoons, which is the field where Stefan made the same significant footprint as in the postermaking.

Stefan Despodov with the Diploma and the Golden Gander Award

*****

*****

* Source: Elena Arnaudova (BG/SK), eMuseum (CH), Vesti (BG), Archive of the Cartoon Gallery (SK)

---

EXHIBITION "FACING THE CLIMATE"  BRATISLAVA, SLOVAKIA

These days comes to Bratislava an extraordinary artistic-environmental project initiated by the Swedish Institute in Stockholm – an exhibition of cartoons entitled "Facing the Climate", which aims to draw attention to the urgent climate changes issues and the need for sustainable development. This exhibition since 2009, travels through many countries (see map below), Over 370 000 people have visited the exhibition and many more have connected to it using digital channels.


Map of the tour of the exhibition "Facing the Climate" around the world

*****

Poster of the exhibition "Facing the Climate" in Bratislava

*****

Swedish Institute in Stockholm and the Swedish embassy in Vienna in cooperation with the Slovak Institute in Vienna, the Austrian Cultural Forum in Bratislava, the Caricature Museum in Krems and the University of Applied Arts in Vienna present the exhibition "FACING THE CLIMATE" in the building of the Austrian cultural forum on Hodza square in Bratislava. The exhibition is bringing except of the works of five established Swedish and five Austrian cartoonists also artworks of five Slovak cartoonists on the theme of climate changes.

EXHIBITING AUTHORS:


SWEDEN:

Love ANTELL

Magnus BARD

Riber HANSSON

Helena LINDHOLM

Karin SUNVISSON

AUSTRIA:

Andrea Maria DUSL

Jeffrey GUAN

Bruno HABERZETTL

Nicolas MAHLER

Janina WEGSCHEIDER

SLOVAKIA:

Karol CIZMAZIA

Kazo KANALA

Vojtech KRUMPOLEC

Bobo PERNECKY

Laco TORMA

Opening of the exhibition: 31st May 2016 at 17,30 p.m.

Duration of the exhibition: 1st – 30th June 2016

Looking forward to your visit!

*****

CATALOG OF THE EXHIBITION

<<< To open the catalog, click on the cover >>>

*****

PHOTO REPORT FROM THE OPENING OF THE EXHIBITION        "FACING THE CLIMATE"

Austrian Cultural Forum Bratislava, Slovakia

*****

Entrance to the building of the Austrian Cultural Forum in Bratislava decorated with a poster of the exhibition "Facing the Climate"

*****

Exhibition opening was honored by the visit of a great amount of special guests

*****

    Before the opening – from left: H.E. Helen Eduards – Ambassador of the Kingdom of Sweden,                  H.E. Helfried Carl – Ambassador of the Austrian Republic, Mr. Wilhelm Pfeistlinger – Director of the Austrian Cultural Forum

*****

Opening ceremony of the exhibition "Facing the Climate"


*****

Ambassador of the Kingdom of Sweden H.E. Helen Eduards


*****

Austrian Ambassador H.E. Helfried Carl

*****

Director of the Austrian Cultural Forum Mr. Wilhelm Pfeistlinger

*****

Receptive audience

*****

To the participating viewers spoke also a Slovak cartoonist Kazo Kanala

*****

A pleasant atmosphere by their music created Zuzana Mikulcova and Michal Selep


*****

The common photo of the exhibiting Slovak cartoonists – from the left: Vojtech Krumpolec, Kazo Kanala, Karol Cizmazia, Bobo Pernecky, Laco Torma

*****

In front of a panel with the creative work by Bobo Pernecky – from the left: Kazo Kanala, Karol Cizmazia,  Bobo Pernecky

*****

Vojtech Krumpolec and his exposition

*****

Karol Cizmazia in front of his exposition panel

*****

Visiting the exhibited artworks

*****

Opportunity for many interesting conversations

*****

         From the left: Karol Cizmazia, Daphne Springhorn (Swedish Embassy in Vienna), Kazo Kanala,             Bobo Pernecky, Vojtech Krumpolec

*****

With Mgr. Marcela Mokranova from the Austrian Cultural Forum in Bratislava

*****

Photo with a musician and singer Zuzana Mikulcova

*****

Pleasant atmosphere of the vernissage continues…

*****

* Photo: Austrian Cultural Forum (No. 1, 2), Maria Krumpolcova, Vojtech Krumpolec, Karol Cizmazia

---

DUSAN POLAKOVIC PASSED AWAY


With great sadness we learned that on 12th May 2016 at the age of 65 died our friend, a prominent Slovak graphic artist, illustrator and cartoonist Dusan Polakovic. His unexpected passing is a great loss for the entire Slovak culture.

The funeral will be held on Friday, May 20th, 2016 at 3.00 pm at the Bratislava crematorium.

Rest in peace, dear friend! You will be greatly missed.


Dusan POLAKOVIC


1st October 1950 - 12th May 2016


R. I. P.





*****

Academic painter Dusan Polakovic was born 1st October 1950 in Bratislava, Slovakia. In the years 1966 – 1970 he studied at the School of Applied Arts in Bratislava, Department of Graphics, in 1970 – 1972 at the Academy of Fine Arts in Warsaw and from 1972 till 1976 at the Academy of Fine Arts in Bratislava, Department of illustration and book creation in the studio of the famous Professor Albin Brunovsky. He worked as a freelance artist, was involved in painting, prints, book illustrations and cartoons and in each of these areas achieved extraordinary results. He was a popular illustrator, his illustrations are the pride of large amount of book titles. His works he exhibited throughout the world and has been awarded numerous important awards.

*****

ARTWORKS BY DUSAN POLAKOVIC:


*****

*****

*****

*****

*****

*****

Several cartoons by Dusan Polakovic can be seen here:


(For fullscreen presentation in "Slideshow" mode click under the picture to such button )

*****

---

FACING THE CLIMATE

The international climate is one of the biggest challenges of the 21st century, one of the vital questions of our time. The environment can be protected only through global cooperation.

Artwork by Riber HANSSON (SE)

*****

Sweden is internationally known as a country that takes environmental issues and sustainability seriously. But taking something seriously doesn't necessarily mean viewing it without humour. To illustrate the commitment to climate and environment, the Swedish Institute in Stockholm initiated the exhibition "Facing the Climate", which is touring since 2009 around the world and in each country is always organized in collaboration with local cartoonists and partners. The project, which aims to encourage the discussion of sustainable development, is constantly growing as local cartoonists add their contributions. The exhibition has already been shown in many countries of the world including Serbia, Malaysia, Syria, Greece, Ukraine, Brazil, Albania, Izrael, Austria, Czech Republic, Latvia, South Africa, and many others (see the map). Over 370 000 people have visited the exhibition and many more have connected to it using digital channels.

The map of the "Facing the Climate" exhibition tour around the globe (incomplete)


*****

The Swedish Embassy in Vienna in cooperation with the Slovak Institute Vienna and the Austrian Cultural Forum Bratislava, presents the exhibition "FACING THE CLIMATE" at the Slovak Institute (Wipplingerstr. 24 – 26, 1010 Vienna). The exibition shows in addition to the work of five established Swedish and five Austrian cartoonists, also the work of five Slovak cartoonists on the theme of climate changes.

Exhibition opening speakers:

Helen EDUARDS, Ambassador of the Swedish Embassy in Austria

Juraj MACHAC, Ambassador of Slovakia in Austria

Musical accompaniment:

Milos BIHARY, Jazz-Pianist

EXHIBITING ARTISTS:


SWEDEN:

Love ANTELL

Magnus BARD

Riber HANSSON

Helena LINDHOLM

Karin SUNRISSON

AUSTRIA:

Andrea Maria DUSL

Jeffrey GUAN

Bruno HABERZETTL

Nicolas MAHLER

Janina WEGSCHEIDER

SLOVAKIA:

Karol CIZMAZIA

Kazo KANALA

Vojtech KRUMPOLEC

Bobo PERNECKY

Laco TORMA

Duration of the exhibition: 7th April – 6th May 2016

In collaboration with the Swedish Institute in Stockholm, the Swedish Embassy Vienna, the Caricature Museum Krems, the University of Applied Arts and the Bundesgymnasium 18 "Klostergasse".

We are happy about your visit!

*****

Poster of the exhibition "Facing the Climate" at the Slovak Institute in Vienna, Austria

*****

Photo-report from the opening of the exhibition "FACING THE CLIMATE"

On 6th April was in the Slovak Institute in Vienna, Austria held the opening of the exhibition "Facing the Climate" which presents the works of Swedish, Austrian and Slovak cartoonists related to environmental protection.

We were there and bring you from this extraordinary event the following photo report:

Slovak cartoonists Karol Cizmazia, Kazo Kanala and Vojtech Krumpolec next to the building of the Slovak Institute in Vienna, Austria


*****

Presentation of the exhibition "Facing the Climate" in the window of the Slovak Institute in Vienna

*****

Numerous prominent guests welcomed by the Director of the Slovak Institute in Vienna PhDr. Alena Heribanova

*****

On behalf of the main organizer and initiator of the project "Facing the Climate" spoke to the audience the Ambassador of the Kingdom of Sweden in Austria Mrs. Helen Eduards

*****

On behalf of the Slovak Republic spoke Slovak ambassador in Austria Ing. Juraj Machac

*****

With his virtuos playing the piano accompanied the opening an excellent jazz pianist Milos Bihary

*****

Group photo – right to left: Ambassador of Slovakia in Austria Ing. Juraj Machac, Director of the Slovak Institute in Vienna PhDr. Alena Heribanova, Ambassador of Sweden in Austria Mrs. Helen Eduards, Slovak cartoonists Kazo Kanala, Karol Cizmazia, Vojtech Krumpolec

*****

Kazo Kanala in front of the panel with his artworks

*****

Vojtech Krumpolec in front of his exposition


*****

Karol Cizmazia in front of his panel


*****

Great atmosphere at the opening: Karol Cizmazia, Kazo Kanala, Vojtech Krumpolec

*****

FACING THE CLIMATE – EXHIBITED ARTWORKS:

Love ANTELL (Sweden)

*****

Magnus BARD (Sweden)

*****

Riber HANSSON (Sweden)

*****

Helena LINDHOLM (Sweden)

*****

Karin SUNVISSON (Sweden)

*****

Andrea Maria DUSL (Austria)

*****

Jeffrey GUAN (Austria)

*****

Bruno HABERZETTL (Austria)

*****

Nicolas MAHLER (Austria)

*****

Janina WEGSCHEIDERIN (Austria)

*****

Karol ČIZMAZIA (Slovakia)

*****

Kazo KANALA (Slovakia)

*****

Vojtech KRUMPOLEC (Slovakia)

*****

Bobo PERNECKÝ (Slovakia)

*****

Laco TORMA (Slovakia)

*****

---

OTON ANTON REISINGER PASSED AWAY

On Wednesday, 6th April 2016 at the age of 89, died Oton Anton Reisinger, a legendary Croatian cartoonist and a big name of the European and world cartooning.

HRVATSKO DRUŠTVO KARIKATURISTA
THE CROATIAN CARTOONISTS ASSOCIATION

Oton Anton REISINGER


  4th October 1927 - 6th April 2016


R. I. P.



*****

Oton Anton Reisinger was born in Rankovci, Murska Sobota on 4th October 1927. He was a graduate architect and his first cartoons were published even during his study at the high school in the weekly "Silo" in 1942. Later he drew cartoons for Studentski list and Kerempuh until 1950, and then transferred into the daily Vjesnik, in which has everyday sharply commented current affairs trough the main characters of his drawings – Peru, Klara and Stefek. Cartoons by Reisinger have been published also outside of Croatia – e.g. in the German Quick, Dutch Panorama and Swiss Nebelspalter. Reisinger published also several books (Amor, amor; Rat i mir; Pero; Stefekove pustolovine). He was awarded the Vladimir Nazor Lifetime Achievement Award in 1984. Oton Anton Reisinger was the laureate of numerous prestigious awards from cartoon competitions and festivals wordwide. A number of his works we can only guess – apparently there are more than 70,000 arftworks. Oton Anton Reisinger passed away on 6th April 2016.


*****


SEVERAL CARTOONS BY OTON ANTON REISINGER:

*****

*****

*****

* Source: Croatian Cartoonists Association (HR)


---

TAMAS CSASZAR PASSED AWAY

Just now we heard the sad news that on 12th March 2016 at the age of 68 years passed away a great personality of Hungarian and world cartooning Tamas Csaszar. Rest in peace!


Tamas CSASZAR


1948 - 2016


R. I. P.





*****

Memories of his friend Tamas Csaszar sent us Dr. Geza Halasz, outstanding Hungarian cartoonist and the President of Cartoonists Department of the National Union of Hungarian Journalists:

On 12th March Tamas Csaszar passed away in a serious illness. He was a determining person of the caricature section of the Association of Hungarian Journalists and the founder of KOKSZ Group (Satirical Art Section of the Association of Hungarian Fine and Applied Artists).

Even if he was never willing to take an official position, in fact he was a leading figure in every event concerning caricature.

Starting in Ludas Matyi at a very young age he renewed and he brought a fresh aspect in the Hungarian satirical life. In his works he represented a strict and high quality and he expected the same from his fellow artists. His firm consistence was not always welcome by his collegues and often led to offense. In hospital, when he was already aware of the fact that his illness was terminal, he joked that many people would be happy to hear about his death. On the other hand those who appreciated his critics and found them rewarding, those who had the patience to discuss about art and caricature, become his true friends. There are many of us.

The root of his life-long debate was well expressed in a famous quotation by Karinthy: "The only thing I take seriously is humour." Tamas did not tolerate either superficial jokes, witless and meaningless gags or poor quality of drawings. He always expressed his opinion openly and ruthlessly to his collegues. He was passionately against every form of cheap political propaganda, racist cartoons and all kinds of disrespectful mentality towards human sense. He was passionately against to the creators of these as well.

After working for Ludas Matyi he published in some magazines but in the last few decades his publishings were getting rarer. At the same time he was getting to be involved more and more in organizing, most of the time just from the background. He organized different exhibitions from Rackeve, Vienna, Rome, Budapest, or in the middle of the street to his rooftop terrace of his own flat. He had been collecting materials and writing essays on caricature for many years… Unfortunately he couldn't finish his book. But his work became the basis of the lecture series called "Caricature Academy" where he invited the most leading cartoonists to share their "tricks" in public.

Caricature was a passionate commitement for Tamas and he would have expected the same from all of his collegues. His nickname "Stalker" refers to Tarkovski's character who guides the adventurers, the escapists or just the curious ones to dangerous and banned zones. The journey to the zones is full of strange phenomena and traps and they threathen not only the passenger but the guide as well. For Tamas caricature's role in the society was a kind of guidence, a "stalker" which leads us to understanding, to laugh and gives us the relief not to take ourselves so seriously. Tamás was a kind of guide who tried to lead us to this secret.

His last guide was to greet the 95-year old Tibor Kajan with an exhibition but finally he didn't manage to get there. He followed the events from his hospital bed. And its success made him happy…

Tamas, we don't forget you! Rest in peace!

Dr. Geza HALASZ


*****

Tamas CSASZAR (photo: Geza Halasz)

*****

Portrait of Tamas Csaszar by Ferencz Sajdik (HU)

*****

CARTOONS BY TAMAS CZASZAR

*****

*****

*****

More cartoons by Tamas Czaszar see here:









(For fullscreen presentation in "Slideshow" mode click under the picture to such button)

*****

* Text, photo and cartoons provided by: Dr. Geza Halasz (HU)

---

TRIBUTE TO TIBOR KAJAN


*****

*****

Tibor Kajan, who has turned 95 this year, is one of the leading cartoonists in Hungary. Conceptually, in its choice of expression, style, and expressive power his art was a notable accomplishment in the second half of the 20 th century. Through his cartoons one understands the world and how it works. A single illustration makes its key features stick. His philosophy as an artist is evident in the title of one of his books, "I Think, Therefore I Draw." To him cartoons uncover hidden correlations. His philosophy is that cartoons look behind the surface of things to expose the inevitable laws of life.

Tibor Kajan survive the forced labor in the war, than captured an army deserter escapes can dodging the expected death sentence, that after the war "casually" on admission of the then organized spiritual and cultural mainstream, perform the college and will be during the "Ludas Matyi" (Hungarian satiric paper) employee until that due to an otherwise random caesura 1964 weekly newspaper the Tukor (Mirror, later New Mirror) by holding a twenty-five years' bonus game will receive a second possibility: a more valid than ever lifetime achievement, confidence, freedom to the creation and experimentation. All this is an unfortunate era when journalism, including the cartoons – the most liberal arts! – the
political propaganda and top dictated by borniert intentions device's considered.

* The photos: (see below) 03.03. 2011 we celebrated his 90 birthday on the street in front of his flat. Now we are organizing an exhibition: "Hommage a Kaján Tibor"

Dr. Geza HALASZ                                                                                                       President of the Cartoonists' Department of the National Union of Hungarian Journalists

*****

*****

*****

*****

TIBOR KAJAN CARTOONS:














(For fullscreen presentation in "Slideshow" mode click under the picture to such button)

*****

* Source: Geza Halasz (HU)

---

JOE SZABO PASSED AWAY

We have just heard with profound regret the sad news that on 2nd Febuary 2016 at the age of 65 years passed away our friend and colleague, a great personality of the world cartooning Joe Szabo. Rest in peace, dear friend!

JOE SZABO


  4th February 1950 - 2nd February 2016


R. I. P.





*****

Memories of Joe Szabo has shared with us his long-time close friend Joe Bekesi, excellent cartoonist and caricaturist from Budapest, Hungary:

Joseph George Szabo, 65, of North Wales, PA, passed away Tuesday, February 2nd, 2016 at his home, just two days shy of his 66th birthday. Joe was born February 4th, 1950 in Budapest, Hungary. He graduated from the Academy of Journalism in 1974. On July 19, 1975 he married. The couple took the brave leap in fleeing the communist country in search of freedom. He was a passionate risk taker, boundless world traveler, and world-class debater. He never once lost an argument. Joe's friends described him as having an infectious personality with a continuous thirst for knowledge. He had a life-long love affair with politics, swimming and collecting artifacts from the various countries he'd visited. Joe has launched a variety of print and electronic publications, mostly dedicated, but not limited, to the fine and diverse representation of cartoon art. The former editor, art director, and cartoonist with reputable European and U.S. national newspapers and magazines, was the organizer and chairman of an international cartoon festival that drew professionals to Budapest, Hungary, from over thirty countries. Among Szabo's cherished works is "The Finest International Political Cartoons of our Time" series that showcases socio-political cartoons from nearly 60 countries by many world-renowned cartoonists, including fourteen recipients of the Pulitzer Prize. His most widely recognizable publication, *WittyWorld International Cartoon Magazine*, reached 103 countries for over a decade. Szabo is the recipient of twelve international awards, including an International Press Prize from Belgium and a Lifetime Achievement Award from Mexico.

R. I. P.

*****

Joe Szabo as a lecturer promoted cartoon art worldwide

*****

Joe Szabo published numerous books on cartoon art

*****

Joe Szabo for many years published the famous magazine Witty World

*****

* Source: Joe Bekesi (HU) – text, Huseyin Cakmak (CY) – pictures: lecturer, books, Witty World


---

GERHARD HADERER: THINK BIG !

The Caricature Museum in the Austrian city of Krems an der Donau is preparing an exclusive exhibition of artworks by leading Austrian artist and cartoonist Gerhard Haderer (see photo).

Karikaturmuseum Krems, unique in Austria, will present the world premiere of the most extensive exhibition of satire and critical humor of a famous Austrian cartoonist Gerhard Haderer. At the exhibition there will be possible to admire the new, never to the public exposed works. Haderer's brilliant cartoons are created not on a paper as it is usual, but on canvas of a large format painted perfectly in a style of the old masters.


Cartoons by Gerhard Haderer in a sophisticated way react to various taboos and moral ambiguity, they set uncompromising mirror to all human shortcomings and imperfections. Author without unnecessary respect touches even very sensitive topics such as politics or religion – using eminently artistic means he expresses in his artworks even the things that many people think but are afraid to speak openly about.


Curator of the exhibition – the Karikaturmuseum director Gottfried Gusenbauer will present an exhibition of 140 originals and a number of sketches by Gerhard Haderer, which are an impressive chronicle of our times..


*****

*****

Opening of the exhibition "Gerhard Haderer: Think Big!" will be held on February 27, 2016 at 11:00 am. at Karikaturmuseum in Krems an der Donau. The exhibition will last until 20th November 2016. More info: www.karikaturmuseum.at


We strongly recommend this unique exhibition to all admirers of high-quality cartoons!

*****

As an invitation to visit this great exhibition we offer to you a look at some of the exhibited artworks by Gerhard Haderer:

*****

*****

*****

Author of the artworks: Gerhard Haderer (Austria)

*****

* Source: Gerhard Haderer (AT)

---

CARTOONING FOR HUMAN RIGHTS in STRASBOURG

On the occasion of this year's awarding of the Sakharov Prize for Freedom of Thought, which the European Parliament since 1988 grants every year to a person with the most significant contribution to the global fight for human rights, the NGO Cartooning for Peace organized in French Strasbourg an important event entitled "Cartooning for Human Rights".

The NGO Cartooning for Peace was founded in 2006 in New York on the initiative of the former UN Secretary-General, Nobel Peace Prize laureate Kofi Annan and the outstanding French cartoonist Plantu and its task is to promote freedom of expression for cartoonists around the world.

The event "Cartooning for Human Rights" in Strasbourg in December 2015 teamed together cartoonists from all 28 European Union member countries in order to support through their artworks and thoughts the idea of democracy, human rights and freedom of expression.

The invitation of the organizers accepted and individual member countries of the European Union at the event represented the following authors:

Gerhard Haderer (Austria), Nicolas Vadot (Belgium), Ivailo Tsvetkov (Bulgaria), Damir Novak (Croatia), Mustafa Tozaki (Cyprus), Bretislav Kovarik (Czech Republic), Kamilla Wichmann (Denmark), Hillar Mets (Estonia), Adam Korpak (Finland), Jean Plantu (France), Miriam Wurster (Germany), Michael Kountouris (Greece), Joep Bertrams (Holland), Gabor Papai (Hungary), Richard Chapman/Serg (Ireland), Alessandro Gatto (Italy), Gatis Sluka (Latvia), Vladimiras Beresniovas/Vlaber (Lithuania), Florin Balaban (Luxembourg), Steve Bonello (Malta), Jerzy Gluszek (Poland), Cristina Sampaio (Portugal), Florian Doru Crihana (Romania), Karol Cizmazia (Slovakia), Marko Kocevar (Slovenia), Nani Mosquera (Spain), Riber Hansson (Sweden), Steve Bell (United Kingdom).


Cartoonists completed a rich two-day program, which included the following agenda:

Opening of the exhibition "28 Cartoons for Human Rights" at the European Parliament. The exhibition was ceremonially opened by the President of the European Parliament Martin Schulz and the President of the NGO Cartooning for Peace French cartoonist Plantu.

Launch of "The Book of Sakharov Prize Laureates"


Panel debate in the European Parliament on the theme "Freedom of Expression: Building Bridges and Fostering Tolerance". Introduction by the Vice-President of the European Parliament Ulrike Lunacek

Screening of the film "Cartoonists – Foot Soldiers of Democracy" with a foreword by the film's director Stephanie Valloatto

Debate with the participation of the film director, cartoonists and the viewers

Participation in the award ceremony of the Sakharov Prize at the European Parliament

Drawing of cartoonists on the occasion of awarding of the Sakharov Prize

Visit to the Museum of Tomi Ungerer – International illustration center in Strasbourg

Debate with cartoonists at the Museum on the theme "Europe and Human Rights Protection: Desire and reality" in the presence of journalists

Debate in the auditorium of the Ecole des avocats on the theme "Youth and Freedom"

Reception on the occasion of awarding the Sakharov Prize in the Strasbourg City Hall

with the participation of the Vice-President of the European Parliament Ulrike Lunacek, the Sakharov Prize Laureate's wife, representatives of the city of Strasbourg, journalists and cartoonists

We have to highly appreciate the excellent organizational work of the NGO Cartooning for Peace which allowed the realization of this unique international event and focused attention to a wide spectrum of topics relating to human rights seen through the eyes of outstanding cartoonists from across the European Union.

*****

SEVERAL PHOTOS FROM THE EVENT:

Cartoonists from 28 member countries of the European Union at the European Parliament in Strasbourg

*****

Opening of the cartoon exhibition in the European Parliament

*****

Panel debate on the theme "Freedom of Expression"

*****

Award ceremony of the Sakharov Prize at the European Parliament

*****

Cartoonists drawing in the auditorium during the award ceremony

*****

Cartoonists in front of the Tomi Ungerer Museum in Strasbourg

*****

Reception at the Strasbourg City Hall

*****

Photo: Cartooning for Peace

---

BRITISH POLITICAL CARTOON OF THE YEAR

Cartoon by: Peter Brookes (GB)

*****

The Syrian drowned child is the subject of the best English political cartoon of the year

.

Written by: Francisco Punal Suarez (Spain) for the e-magazine "Mundiario"

.

The Ellwood Atfield Gallery, London, with the support of several sponsors, performed by popular vote on a website the selection of the best political cartoon of the year.

A horrible image, an image of shame, an unbearable image: a Syrian child of three years drowned in Turkish waters trying to get with his family to the Greek island of Kos, fleeing from the war raging in their country.

His name was Aylan Kurdi. His photo was a scream of warning to the world; but the worst is that children are still dying in the attempt to cross the sea, and thousands of refugees are rejected in Europe.

The artist Peter Brookes, the British newspaper The Times; the story became a critical message to show how late was a European lifeguard at the edge of the beach where the child lies drowned.

His work won by popular vote on a website, among the proposed 28 works as a best political cartoon of 2015 in Britain. At the Awards ceremony, organized by the Ellwood Atfield Gallery, London with the support of several sponsors, attended by hundreds of cartoonists, cultural figures and politicians, in an act that confirms the value of caricature, its social criticism and impact on the thinking of society.

The second place went to Bob Moran of the Daily Telegraph with a drawing entitled "Labour is not working", which shows a long line of unemployed where former leaders of the Labour Party appear.

The selection of the best cartoon of the year is an initiative that could well be carried out in Spain, as a stimulus to the work of cartoonists, very affected by the dismissal of thousands of them of the means in which they were working in this country and where it is increasingly difficult to make a living with that job.

Francisco PUNAL SUAREZ                                                                                          (author of the article is Spanish journalist and photographer)

*****

More info: http://www.ellwoodatfieldgallery.com/

*****

* Source: Francisco Punal Suarez (Spain)

---