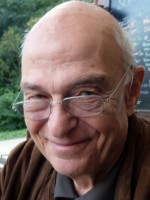 Pavel Taussig was born on 24th November 1933 in Bratislava, Slovak Republic. In the sixties he worked as an editor of humour magazine "Roháč", after entering the occupyig troops to Czechoslovakia, he emigrated to Frankfurt, Germany. There he was acted in the satirical magazines "Pardon" and "Titanic", and later in the journal "Artzte zeitung". Till these days he is still living in Frankfurt. His main domain is creation of collages, which he firstly published in Czechoslovak émigré press and after the collapse of communism in Czech and Slovak periodicals. His collection of collages came out in Germany and Canada. He exhibited his artworks in individual and collective exhibitions in Europe and Canada. He holds several awards.
(For fullscreen presentation in "Slideshow" mode click under the picture to such button

)
.
previous author


the following author
.

Home