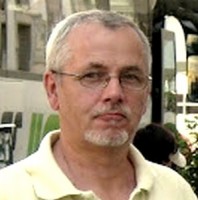 Viliam Zivicky was born on 3rd November 1954 in Bratislava, Slovakia. He graduated from Polygraphic Technical School. He worked as a technical and graphics editor in various Slovak magazines (Rohac, Zivot, Film a divadlo, Kamarat, Mlade rozlety, Zralok, Tabu, …). He is concentrated mainly to painting, graphic art, illustration and cartooning. During his professional career has created many posters, comic strips, cartoons and illustrations. Graphically edited many publications and catalogs. Viliam Zivicky publishes his works since 1981 in the Slovak and international press. His artworks have been exhibited in numerous individual and collective exhibitions at home and abroad. For his creative work he has won numerous major awards in national and international cartoon competitions. He is co-founder of the Foundation and the International Cartoon Festival "ARCHIKATURA" in Bratislava, Slovakia. Since 1985 he is a member of the Slovak Union of Artists, since 1986 member of the Bratislava Club of Cartoonists and since 1993 of the Slovak Union of Cartoonists. From 1991-93 he served as the President of the Czechoslovak branch of the Federation of European Cartoonists Organisations (FECO) and from 1993 to 95 as the President of the organization FECO Slovakia. He lives and works in Bratislava, Slovak Republic.
(For fullscreen presentation in "Slideshow" mode click under the picture to such button

)
previous author


the following author
.