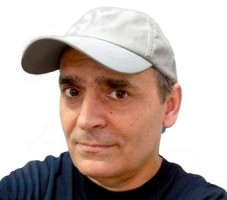 Trayko Popov was born in 1955 in Sofia, Bulgaria. He started drawing professionally in 1972. Many years he has worked as a concept artist with U.S. software companies. Currently he works as a freelance cartoonist and illustrator mainly across Europe for both large and small clients in the editorial, advertising and publishing sectors. He illustrates books, magazines and produces cartoons and short animated cartoons. Trayko's works appear in several digital sites daily. His artworks have been exhibited in many individual and collective exhibitions at home and abroad (USA, Canada, Italy, Brazil, Mexico, France, Turkey, Belgium, Switzerland, etc). He participated in national and international cartoon competitions and his works have been awarded numerous prizes and honorable mentions worldwide. Trayko Popov is the Vice President of FECO (Federation of Cartoonists Organizations) – Bulgaria. He is a founder of the web site for cartooning www.cartoonart.eu. Trayko Popov is living and working in Sofia, Bulgaria.
(For fullscreen presentation in "Slideshow" mode click under the picture to such button

)
previous author


the following author
.

Home