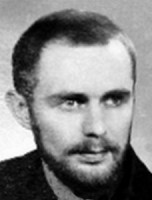 Tibor Platzner (1939 – 2000) painter, scenographer, teacher. After studying at the University of Education in Nitra, Slovakia (art and painting under the leadership of doc. Ludovit Jelenak) he taught aesthetics at the high school in Komarno. Since 1965, he created for the Hungarian regional theater (today Jokai Theatre) in Komarno scenographic and costume designs for more than 220 dramatic works. He also collaborated with several domestic and foreign theaters. In addition to painting he was also focused on the assemblage, collage, poster and cartoon creation.
(For fullscreen presentation in "Slideshow" mode click under the picture to such button

)
.
previous author


the following author
.