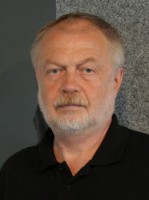 Bohuslav "Bobo" Pernecky was born on 8th June 1950 in Liptovska Osada, Slovak Republic. He graduated at the Faculty of Architecture of Slovak Technical University in Bratislava. He worked as a designer at the Centre of Urbanism and at Stavoprojekt in Piestany. Currently operates his own architectural studio in Piestany, Having only thirteen he published his first drawing, at his sixteen he published his first cartoon and at his seventeen he has had his first individual exhibition. Since then he had 50 individual exhibitions and about 200 collective exhibitions at home and abroad. Besides his architectural work he is devoted mainly to cartooning (he obtained for his works about 20 different awards) and book illustration (he illustrated about 25 books). In the year 2010 was published his own representative profile book Clovekopis (Mandescription).

)
---
* We recommend also great representative exhibition of Bobo Pernecky – click here
---
previous author


the following author
.