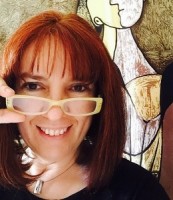 Elena Maria Ospina Mejia is a painter, illustrator and cartoonist from Colombia where she was born in 1963. She began working as an illustrator of the newspaper El Espectador. She has worked on creating and illustrating innumerable editorial and publicity projects in Europe and Latin America. Elena Ospina has taken part in individual and collective worldwide exhibitions and her work has been published in books, newspapers and magazines. She has been awarded several international and national contest prizes and honourable mentions in graphic humour and illustration. She has been International Juror of competitive tendering worldwide. Elena was the only woman-cartoonist integrated in 80's in the famous group of artists, cultural managers and cartoon researchers called "El Cartel de Humor". She also iniciated and has participated in world exhibition "Creative Women and the Art of Caricature" including 43 women from 22 countries, which is still travelling around the museums and galleries of the planet. Elena Ospina generated through her drawings a pedagogical process that transformed the stage of children's publications in Colombia. The magazine "Artefacto" in Peru designated Elena Ospina as the most versatile artist of Latin America. She participated in various projects in Colombia, Spain, USA, Puerto Rico, Argentina, Panama, and England. She is a member of the World Federation of Cartoonists FECO – Argentina and of the Professional Association of Illustrators of Madrid APIM. Elena Ospina currently develops illustration projects for Europe and Latin America.
(For fullscreen presentation in "Slideshow" mode click under the picture to such button

)
previous author


the following author
.

Home