---
WITH RIBER HANSSON, FROM SWEDEN
An interview of Francisco Punal Suarez / Spain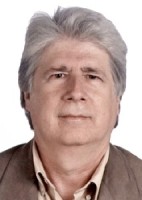 I have personally known the great Swedish artist and illustrator Riber Hansson, a valuable representative of satirical humor, with an internationally recognized career. Hansson is editorial freelancing cartoonist and illustrator for the Swedish daily newspapers. His work even appears in several newspapers over the world. Represented in the National Museum of Art in Stockholm, the Swedish Library of Parliament, Newseum in Arlington USA and the International Museum of Cartoon Art, Boca Raton, Florida, USA. Museo della Satira e della Caricatura, Forte dei Marmi, Italien and Musée d'histoire contemporaine in Paris, France. He has illustrated several textbooks. Three books with his own political cartoons are published. In 2007 he won the first prize in the World Press Cartoon, held in the Portuguese town of Sintra, with a picture of Putin, and in 2012, the third prize, with a caricature of Berlusconi.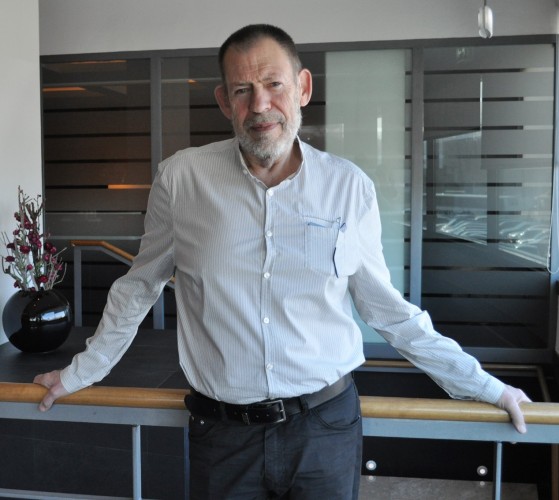 Riber Hansson / Sweden
Then, I offer my conversation with Riber Hansson, for readers of the Cartoon Gallery:
Since when do you like to draw?
I started to draw cartoons late in my life. Before my artist profession I was as a technician with specialization to draw perspective for architects and construction companies. (This was before the computer time). In a regression for the building industry I had to find a new job and there was a newspaper, which offered me one. Against my will I suddenly was involved in what I later find out was my dream profession. I count my carrier as a cartoonist from 1990 when I get employed at one of the leading Swedish newspaper "Svenska Dagbladet" in Stockholm. The cartoons were only part of the job, it also included ordinary illustrations and travelling reports. I even wrote articles illustrating them with my own drawings.
Why do you draw cartoons?
Basically, it was simply that I like to draw. And then, I find it was a stimulating challenge for my creativity to draw cartoons. As a bonus I got a more complex and interesting view of the world, because I had to read more about the political, human and religious conflicts. Shortly after I started my cartoonist carrier I met the great artist Sokol, during a cartoon festival in Rathdrum in Ireland. He was the special guest, who had a lecture showing some of his drawings. I never met or heard of Sokol before, but I immediately get very, very impressed. One thing he repeated saying was: "

I never try to entertain!" He meant his only goal was

to hit the point, that

's

enough. It was

n't

necessary to have any intention to amuse or be satirical. If you hit the point, such qualities might appear in the mind

of the reader when interpreting the cartoon.

I

adopted

and

made Sokol's

thoughts

as mine,

because I felt they confirmed my attitude on editorial cartoons. Since that moment

I've been

working the same way – more or less, of course – at least I have the same approach, without using

his words

as a jail. I hope of course also that the cartoons makes people thinking, and make them less angry, by finding them hitting the head of the nail and maybe giving them an surprising angle on small and big problems.
What studies have you done?
I've learned art the hard and long way, making all the mistakes myself. I studied drawings by the great masters, looking in books with works by Rembrandt, Picasso, Dürer, Hokusai and hundred other artists.

Later I bought all books I could find containing old illustration masters, like Daniel Vierge, Joseph Clement Coll and a long list of other names. First after that I started look for caricatures and cartoons. The most important influence for my drawing technique comes from David Levine. For modelling the ideas the Swedish master cartoonist EWK has been very important.

I exercised my drawing technique in thousands of hours croquis drawing. Later I started to paint using the same method. I decided to be as good as my late discovered talent allowed me to be, so I stopped smoking and drinking and started even to exercise physically.
What social and human aspects of the country appear in your drawings?
As a country citizen I think it is difficult to get a clear view of how and which ones of your own countries local aspects influences you. But I think I can guess of a couple: Sweden is known as a country that takes environmental issues and sustainability seriously, which I also do personally.

This subject appears naturally in my cartoons, as in other Swedish cartoonists. It has also lead to a good result. After the Summit in Copenhagen 2009, a group of five Swedish cartoonists was invited by the Swedish Institute to, in collaboration with Swedish embassies around the world, show our cartoons in a travelling exhibition called Facing the Climate. This collaborations has until today resulted in 150 articles related to the Facing the Climate collaborations. The estimated number of readers is more than 4 million! I

also choose to belong to conscious Swedish cartoonists who do not draw stereotypical images that objectify women, images that were previously common even in Sweden, and I still can often find outside Sweden. My attitude has nothing to do with morality, sexuality or nudity. It is simply a rejection of the stereotype claiming that a cartoon is humorous when obviously the only point in the drawing is that it degrades a woman.

The Swedish women's movement and the feminism had affected me in this matter. And of course it should. As a satirical artist I should have my ears open to new voices that tells about inequality.
What draws international characters and themes political in his cartoons?
Generally it is more interesting to draw cartoons about the powerful people, which usually are same as the leaders of the superpowers, Obama, Putin and Xi Jinping but also other people who are dangerous like Ahmadinejad and Kim Jong Un and even terrorist leaders like Bin Laden used to be. All people with strong colour or personality – good or bad – are good targets for a cartoonist. One reason for this is also that those people are well known for the readers, or other who looks at the cartoon. Especially this is important when it comes to cartoons like mine without captions.

The same is applicable for the themes in the cartoons. Generally you have to draw things the readers of the paper knows about or can understand very fast. I use to say that as a cartoonist you have two to five seconds to catch the interest of the busy reader.
Why is it important to the humor and satire on society?
As I mentioned

before, I don't try to entertain in my cartoons, I'm just happy if people react at all. But in spite of that I think humour is a good thing in a cartoon, because if you laugh at the powerful and dangerous people you are in some way disarming them. That's why despotic leaders and fundamentalists hate caricatures and cartons showing them in funny situations.
Today I'm retired, and work as a freelancing cartoonist and I have only one agreement with a newspaper for one cartoon a week. If my cartoon is dealing with international stuff I'll send it to CagleCartoons Syndicate, and also to Cartooning for Peace. Not so much work, which means I have time to read, paint and write what I like. But actually, in later times, I've got a lot more of invitations to exhibitions than before, both in Sweden and in other parts of Europe, so sometimes I find I'm a little busy anyhow.
How do you apply the line and color your cartoons? Do you draw by hand or on the computer?
Today I sketch, draw and paint most cartoons in the computer. When I'm in my studio at home I'm using a Citiq 24 HD. When I'm travelling or stay in my country house I'm using a ordinary Wacom pad.

Sometimes, but not very often I go back to pen and ink or aquarelle just for fun.
Does the Swedish press give prominence to the humor?
Yes I think so, but unfortunately (for me) not so much to the traditional political satire that I'm representing. Tody the prominence is given to the new generation artist who usually like to draw comic strips in combination with satirical text. Many – I think most of them – are young women which have been very successful using a sharp and personal satire.
Where are your cartoons being published now?
In Sweden I'm published in Sydsvenskan, the leading newspaper in the south of Sweden. Via CagleCartoons I'm published in several international newspapers.
*****
Please enjoy some of the great cartoons by Riber Hansson from Sweden: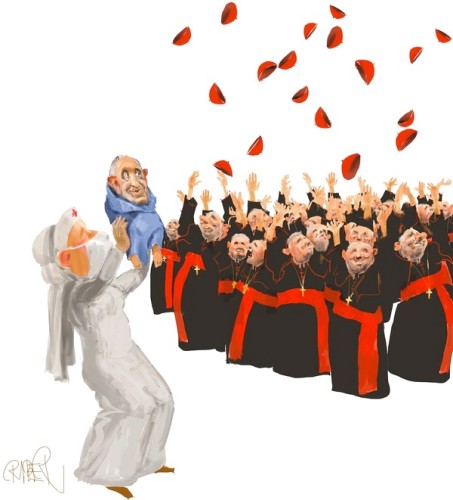 *****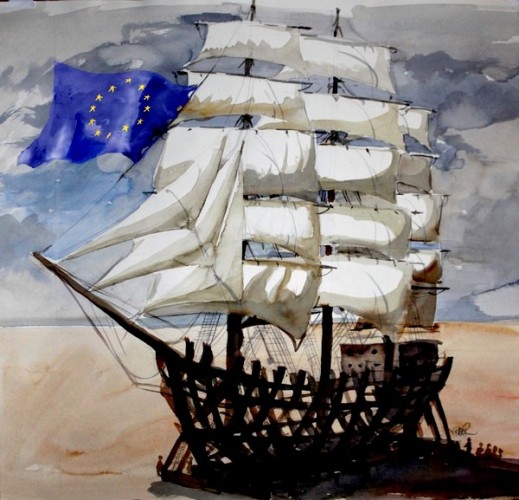 *****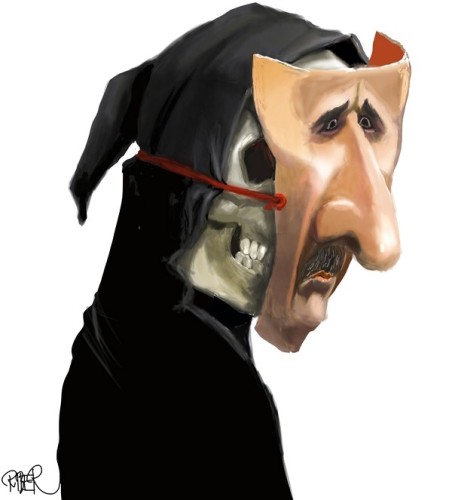 *****
*****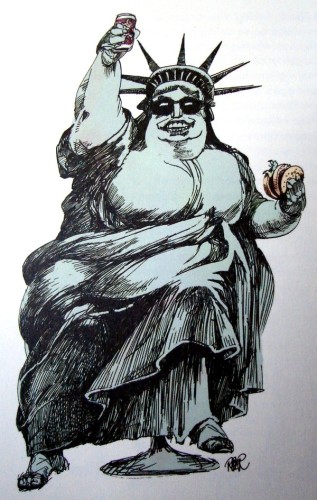 *****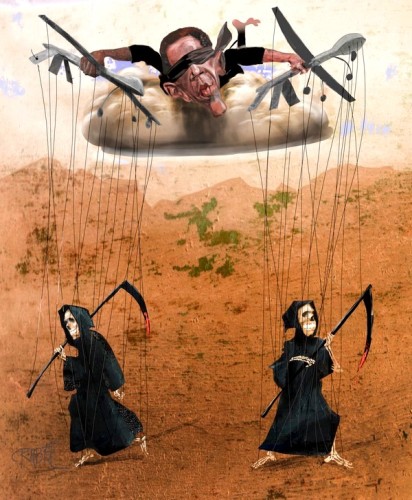 *****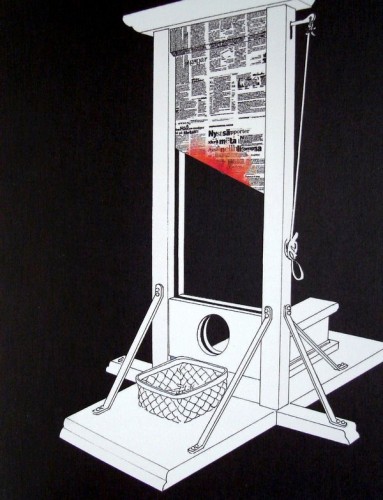 *****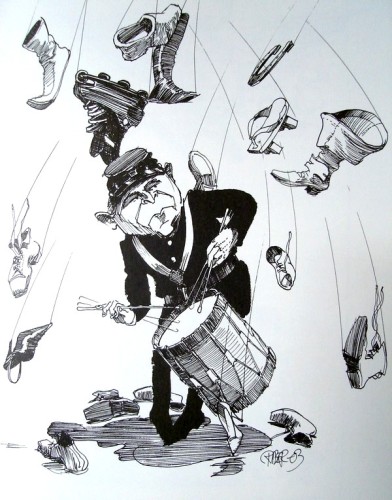 *****
* (author of the interview Francisco Punal Suarez is renowned Spanish journalist)
---