---
SMALL REMEMBRANCE TO VIKTOR KUBAL
by Ladislav SZALAY / Slovakia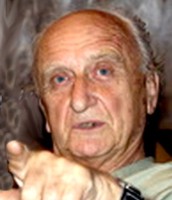 In the mid-fifties moved printing of our magazine Rohac from Bratislava to Martin. It meant that every week for two and a half day we had to go into the printer for proofing and then sign the agreement with printing number. We've been two for that, Viktor as a technical editor and myself as responsible for the texts. Over time, it was routine – night in a hotel Polom in Zilina, morning transfer to Martin, work in the printer, off by noon, night in Zilina, morning back into the printer, off by lunchtime. We tried to make these roads as more pleasant as we could, we did mini-trips to surroundings – Rajecke Teplice, Martinske hole, Terchova, Lubochna, Tatras (we had free tickets).
Once, we waited again to express from Zilina to Bratislava. As the locomotive came to the platform, Viktor pointed out – Look at the star!
Locomotives had ahead big red five-pointed star.
– Dismantling this regime will be very simple, it will be enough to dismantle the matrices which hold the star and it will be the end of socialism.
After November, after thirty-five years, I reminded him that idea.
He remembered that.
– Truly, it was not difficult to remove the stars, but what about those who preached to mount them and even to polish them … How to remove those?
LADISLAV SZALAY
(author was pre-standardization editor of Slovak humor magazine ROHAC)
---