---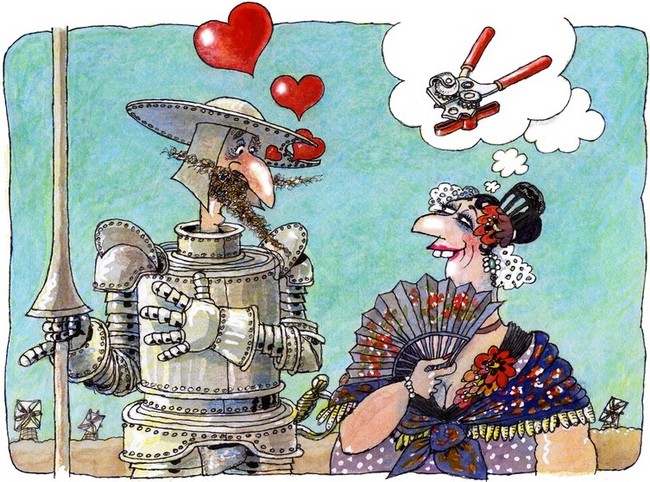 REPRESENTATIVE EXHIBITION OF OUTSTANDING CARTOONIST
---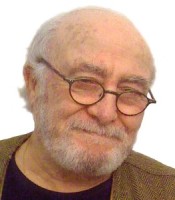 Already since ancient times, man was looking for the optimal way of orientation in the complexity of the surrounding world, which would allow him the fastest possible analysis of unexpected situations, in order to face the possible threats, and increase the chance of survival. The reaction speed was therefore vitally important; this, however, required its toll – it was necessary to reduce the assessment of each situation in only two limit values. This "well-established" way of thinking had been stabilized through the ages and found its scientific expression in the so-called "Aristotelian" logic, which uses only two truth values: 0-1, yes – no, true – lie, the presence – absence, black – white, etc. This logic is still used by mankind until these days. Of course, for the bare survival is this entirely sufficient, but we all feel that real life can not be fit into such narrow boundaries, the real life is characterized by all possible shades of the entire color spectrum; human feelings can not be described just as 0 or 1, because they include all of the infinite range of values between these limit points. We all feel that for capturing the infinite diversity of the surrounding world, our binary, bivalent logic is totally insufficient.
However, where are logic and other exact disciplines completely powerless, there begins an irreplaceable role of the arts. Artistic prose, poetry, and especially non-verbal disciplines such as music or visual arts are able to portray this infinite variety of the world without any problems and even thousand times more accurately than mathematics, physics or psychology. As it is well known, the organ of sight is not the eye – this is only the receptor which captures light impulses falling on its retina; actual organ of seeing is the brain which gives the meaning to everything we see. The greatest artists are endowed with an exceptional gift of seeing which allows them intuitively recognize the essence of life, so to speak – to glimpse the ideas in the Platonic meaning of the word, and subsequently interpret them in a creative way. Among such artists who have the ability to make visible numerous invisible secrets of existence through artistic means belongs the world-renowned French artist and cartoonist Robert Rousso. Extensive work of this classic author of the world cartooning gives us not only a deep artistic experience as well as cognition and in particular – and this we especially appreciate very much – the cleansing and healing laughter. His work of art is extensive and diverse, but never lacks a deep intellectual immersion and high professional quality. We feel extremely honored that we can on the pages of the Cartoon Gallery bring a large collection of his admirable artistic work.
We have the privilege that master Robert Rousso himself will tell us about his life and creative work:
I was born in Sète, a small harbor on the Mediterranean. This place is not unimportant: It saw the birth of the poet Paul Valéry, the theater stage director Jean Vilar, the singer Georges Brassens, the gipsy guitarist Manitas de Plata, the painter Hervé di Rosa (creator of the MIAM, International Museum of Modest Arts). The painter Soulages lived there for a long time. A secret influence is linking this place to art. To be born there makes you feel a sense of commitment! As far as I can remember, I see myself with a pencil in hand. My first victims were the Walt Disney's characters. Later on, my teachers were equally treated and found themselves officially cartooned in the College newspaper. Ironically, my attendance to the drawing courses was nothing but exemplary. I was supremely bored. I used to catch up by making drawings during all other classes. On completion of my High school certificate (Baccalauréat) I then decided to become a drawing teacher, mainly because of the long holiday period. That's how, with some offhandedness, I started my studies in Art history at the Art University, together with those at the Fine Arts school of Montpellier. But my encounter with masters like Camille Descossy (catalan painter) and Jean-Raymond Bessil (painter from Sète) left a permanent impact on my way of drawing and painting. I also discovered with amazement Albert Dubout's original lead mine drawings, he was a pupil of this school before me. Again, new commitments! To finance my studies, I decorated lampshades, I illustrated medical thesis (such as stomach ulcer gastrectomy), I made drawings on ceramic and every year-end I was requested to decorate the student's ball festivals where I could pour out my taste for humor – licentious style. In 1963, back to civil life after 3 years in the army, I went up to Paris, with my head full of dreams that I cooked up at the Fine Arts School. Then it was a series of odd jobs just to survive. By chance, my application as a trainee for a cartooning drawing course was accepted by ORTF (French broadcasting television), where I became freelance. I enthusiastically produced some animated short films, the track of which, unfortunately, was lost. In may 1968, I became the official drawer of INRA (Agronomical Research National Institute). Then started a long series of drawings and paintings devoted to plant diseases: Mildew, powdery mildew, "court-noué", "tavelure", rust fungus… My survival in such an environment, was secured by a number of merciless caricatures of the research scientists, and the sneaking of my graphic humor into the labs. Despite some isolated allergic reactions of dissent, I soon was in charge of illustrating the "Courrier de l'Environnement " (Environment Messenger) where my drawings were meant to balance the reading of somewhat stodgy scientific papers. Immediate success. An enquiry discloses: "Robert Rousso, a drawer in the INRA's Environment Messenger has left his mark in this messenger's life; his talent broke out of his humoristic cartoons. One may even suspect that some of the addressees of the Courrier would have applied only to get them…" From 1969 on, I started to collaborate with a number of titles of the French press: "Le petit echo de la Mode", "Science et Vie", "Les 4 saisons du Jardinage", "Nature & Progrès", "La gazette de l'Environnement", "Passages", "Biba", "Témoignage Chrétien", "Kamikaze", "Siné Hebdo", "La Mèche", "Barricade", etc. Currently: "Zélium", and "Siné Mensuel".
Below is a timeline of my activities in France and Europe:
1989 : Award in Galati (Romania)

1992 : 1st Prize in Lussac St Émilion on the subject of Environment

1995 : Participated in the Rathdrum Festival (Ireland), invited by Terry Willers

1996 : Rathdrum Festival (Ireland)

1997 : Rathdrum again (and reception at Phoenix Park, Dublin, by Marie Robinson,

president of the Irish Republic )




Member of the jury at Knokke-Heist (Belgium)

1998 : Participation at the Skibbereen Festival (Ireland again )




Birkenhead Festival (UK)




Press Prize at St Hubert (Belgium)

1999 : Participation at Skibbereen Festival (still Ireland)




Issuing of «Le Livre blanc de la Recherche Agronomique»




The white book of agronomical research (black as a matter of fact) sold out

2000 : 1st prize « Anti-mal-bouffe » (anti-junk-food) in St Just le Martel (Haute-Vienne)

2001 : Participate in the Ayr Festival (Scotland) and in Langnau (Switzerland)

2002 : Attendance Prize at the Louviers Festival (Eure)




Creator of the french branch of the FECO (Federation of Cartoonists Organizations)

2003 : Member of jury at « Eurohumor », Borgo San Dalmazzo (Italy)

2005 : Attendance award at the Castelnaudary Festival (Aude)




Organizes the exhibition « The Best of French Cartoonists » à Shrewsbury (UK)




Displays at Aschaffenburg (Germany) with the cartoonist Henning Studte




Represents France at Patras (Greece) european capital for culture in 2005,




together with Plantu and Pancho

2006 : Prize I-Expo du dessin d' Humour (Paris) Exhibition of humoristic drawings




2nd Prize « Eurohumor » at Cuneo (Italy)




3rd Prize « Greekartoon » in Athens

2007 : Attendance award at St Just le Martel (Haute-Vienne)




3rd Prize « Dutchcartoon » in Bergen op Zoom (Netherland)

2008 : Award at « Aydin Dogan Vakfi » (Istanbul)




Trophy « Beppe Maiolino » at Fossano (Italy)




Participes in the exhibition « l'Europe des 27 » à Athens




Award « Nasreddine Hodja » in Bakou (Azerbaïdjan)




Attendance award at Jonzac (Humor and grapevine)

2009 : Member of jury at « Dutchcartoon » Bergen op Zoom (Netherland)




Attendance award at the Castelnaudary festival de (2nd time)




« Caretoon contest award » at National Liberty Museum à Philadelphie (USA)

2010 : Award at Zielona Gora (Poland)




Award at Zagreb (Croatia)




Award at Vianden (Luxembourg)

2011 : joins « Cartooning for Peace » Plantu's association




1st prize « les Crayons du Nord » in Tourcoing




Poster prize at « Cartoons in Tavagna » (Haute-Corse)

2012 : Signs the poster of « Festival des Humoristes » at Tournon-sur-Rhône

2013 : 1st prize at the international Vianden contest (Luxemburg)




2nd prize «Gag Cartoon » at «World Press Cartoon » in Sintra (Portugal)




2nd prize «25ème Olense Kartoenale » in Belgium




http://www.iconovox.com




http://inra.fr/dpenv/al.html
ADDENDUM:
The famous cartoonist SOLO (François Solo 1933-2008) author of the "DICO SOLO" taking the inventory of the cartoonists and press designers has devoted to ROUSSO in december 2008, the last issue of his magazine "Caricatures et caricaturistes" (Cartoons & cartoonists).
He wrote :
"Rousso gives priority to the idea first, overly simple as it stems from a basic reality (but one should have given a though to it before!), surprising, hilarious, efficient. Hence, his precise drawing, through which he expresses himself without vain adornments, but with no lack of construction nor sharpness of details and perfect precision.
Finally a consistent whole, sharpened, with as many elements that may be regarded as simple incidental items of a comic drawing, but which may open paths for reflection…
Yes, humoristic drawing could raise serious questions, with no pretentiousness nor absurdity, under the evident condition that it is properly elaborated.
And Rousso, without seeming to, knows how to pack up a number of questions inside an easy-going sketch… And that's Rousso: simplicity born from refinement, or refinement hidden under the make-up of simplicity, it's up to the reader to make up his mind…
Rousso designs his drawings like paintings, with convergence lines, successive visual fields, framing, lighting, following a truly classical build-up…
Our man is knoledgeable, educated, and uses his culture with high glee, in a more or less parading way…
In his cartoons, Rousso gives the impression to catch a flying expression and to freeze it as with a magic stick."
*****
We invite you to a tour through the great exhibition of arftworks outstanding cartoonist Robert Rousso from France whose work of art is appreciated all over the world. Since we would like to introduce you the creative work of Robert Rousso in the greatest extense, we have included in this selection (without special arrangement) in addition to cartoons also some examples of his posters and also several botanical illustrations. We wish you a great artistic experience!
(For fullscreen presentation in "Slideshow" mode click under the picture to such button

)
.
---
previous exhibition

.

Home
---