---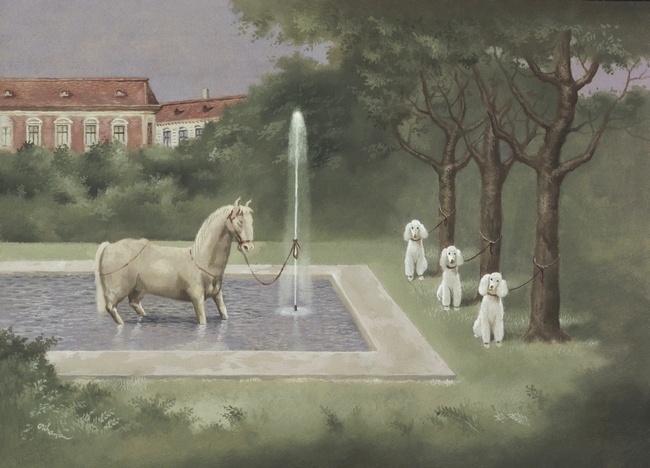 FLORIAN DORU CRIHANA

GREAT REPRESENTATIVE EXHIBITION OF A WORLD-FAMOUS CARTOONIST
FROM ROMANIA

---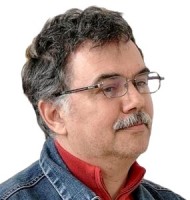 On the bank of the river Lethe, the omnipotent ruler of the time – mythological Chronos is sifting all creations of the human race. Only the biggest "pieces" don't pass through the huge meshes of his sieve and will be preserved in the memory of generations. The other ones will disappear forever into the dark waters of the mythical river of eternal oblivion.
A terrible vision? For many people undoubtedly yes. But only this, ultimately merciful mechanism of time protects mankind from the influx of cultural waste. It filters out all the average, small and trivial, it separates the imaginary high-quality wheat from the redundant chaff. There will survive only works far exceeing all others. Works of those creators who see more and to farther distance. Those who captured the breath of eternity and dimension of infinity.
A wonderful example of the work that will pass to the future with honor is the creative work of an exceptional artist Florian Doru Crihana from Romania. His images are the pride of each exhibition and adornment of any gallery or museum. His work is a proof that the Cartoon Art in the works of top representatives of the genre can reach the level of the greatest artists of all times. After all, Crihana's artworks were frequently and deservedly exhibited in renowned exhibition halls together with paintings by major giants of world art and most respected masters of cartooning.
According to one of the many definitions of genius – it means the ability to see the most ordinary things in an extraordinary way. It's a high above-average in certain abilities of a person, exceptional level of talent, the highest level of creative potency and originality that predetermines him for exceptional performance. Typical properties of such a personality are rich fantasy, imagination, intuition and abstract thinking, usually accompanied by significant will power, diligence and endurance.
Looking at the creative work of Florian Doru Crihana we must conclude that this exceptional artist almost ideally meets these conditions. Where the average person sees just an ordinary, gray banality, Crihana finds there miraculous artifacts. Where we see just simple buildings, he finds palaces and temples; the trees bear the golden apples and ordinary carps at the moment turn into the charming mermaids. In his works he offers us an extraordinary aesthetic value, full of imagination and visual poetry. His cartoons are definitely not any ephemeral creations even from a formal point of view – they are created a solid painting technique worthy of masterpieces – oil on cardboard.
Admiring his paintings we urgently realize how richer and more beautiful is our world with fantasy, imagination and with the creative work of great artists such as Florian Doru Crihana.

*****
Chronological overview of the professional life of Florian Doru Crihana:
1958 He was born on 7th April in Galati, Romania as Aries, sign which strongly influenced his life and activity.

1978 Military service of 9 months in Marine – Mangalia the Black Sea

1984 Graduated of Naval Architecture Institute finishing the collection of humorous portraits of all his colleagues and few professors.

1985 Debut in cartoon competitions in the "Summer Salon" Braila Romania

1986 Debut in press at Rebus Magazine. He meets the journalist Tudor Octavian and received from him the main advices to make good cartoons. He meets the cartoonist Pavel Botezatu with whom during a few years had long discussions about art, cartoon, competitions, festivals, associations.

1989 He won the first international prize. It was an Honourable Mention in the Aydin Dogan Competition Ankara, Turkey and Grand Prix Novi Sad, Yugoslavia

1990 He won the "Dieter Burkamp" Prize in Satyrykon Festival Poland and 1st Prize in Santa Cruz de Tenerife, Spain. He met the journalist Dieter Burkamp and started a long collaboration and friendship. Burkamp organized in Germany solo exhibitions for Crihana in Sennestadt, Lemgo, Celle, Goslar, Oerlinghausen.

1991 He resigned of the engineer occupation becoming cartoonist and painter. His works were included in the exhibition "Europaische Kunstler der Gegenwart" at the Wilhelm Busch-Museum Hannover, Germany. His works were exhibited near famous artist of all time like Pablo Picasso, Salvador Dali, Gustave Dore, William Hogarth and also near artists who changed cartoon history like André François, Loriot, Ronald Searle, Ralf Steadman, A. Paul Weber, Sempé, Roland Topor, Adolf Born and other great personalities of the World Arts.


1992 He starts a campaign of taking part in international competitions, winning several prizes all over the world

1999 He starts making a cartoon collection especially with Romanian works. He is being rejected to join the Romanian Artists Union. The local newspaper "Viata libera" publishes several articles about his activity – all signed by the journalist Angela Ribinciuc. He is member of the jury in competitions of Kragujevac, Serbia and Istanbul, Turkey.

2000 He publishes series of cartoons in the Romanian news paper "Curentul". He became employed of D&D International Company only to make the series of cartoons with the theme "Envelopes". The cartoons were bought by GPV France.

It is the year he start building cartoons galleries in Galati: Gallery Paradox, Gallery "1stFloor", Gallery "At Emergency" and the Cartoon Gallery of the Galati University

2001 Six of his drawings are included in the book Alles ist Spaβ – a monography of the sweedish baritone Ingwar Wixell. He organizes two exhibitions in the memory of the Romanian cartoonist Alexandru Clenciu.

2002 The cartoonist Viorel Baciu displayed his works about drugs consuming, family violence, criminality, environment in several exhibitions in Romania. His private collection is displayed during two years at the Cultural Centre "Dunarea de jos" Galati.

2004 He started with his wife Juliana the magazine "Buletin informativ" and the English variant "Romanian News Report".

2005 Included in the exhibition "Spuren des Don Quijote" displayed in Museum im Schloss Bad Pyrmont – Germany. The exhibition have been displayed before in 2004 at Monchehaus Museum Goslar and later in Kunsthalle Dominikanerkirsche Osnabruck.

2006 He is being awarded with the Annual Prize of Culture by the Cultural Centre Galati.

2007 He is being received to be member of UAP – The Romanian Artist Union.

2008 Exhibition "Nudes" in Galati. Exhibition in Musee de la Caricature Vianden, Luxembourg.

2009 Monograph "Satirische Idyllen" by Dieter Burkamp was published in Kerber Verlag. Exhibition "Portraits" in Galati and "Naked Satire" in Boechout – Belgium.

2010 Exhibition "Venice" in Galati. Exhibition in Gallery RomArt Braunschweig – Germany.

2011 Exhibition "Titanic" in Galati, Braila. Exhibition "Venice" Ring Gallery Legnica in Poland. Exhibition "Titanic", "Venice" and "Snowman" in Kruishoutem – Belgium. Exhibition "Valore della poverta" Sapienza University Rome.

2012 Exhibition "Giornata in Ricordo di Federico Caffe" Sapienza University Rome. Exhibition "Tour Eiffel" in Galati.

2013 Exhibition "Brugge – een satirische impressie" in Brugge – Belgium, "21 Centuries and the End of the World" in Art Gallery in Galati – Romania

2014 Exhibition "La Tour Eiffel" at House of Humour and Satire Gabrovo – Bulgaria, "Florian Doru Crihana Legnica Satyryczne Impresie" in Legnica – Poland, "Sacile – un'impressione satirica" in Sacile – Italy and "Venezia – un'impressione satirica" in Venice.

2015 Exhibition "Galati – the Adventure of a Century" at Galati University, "Potsdam – a satirical impression" in Potsdam – Germany, "Pordenone – un'impressione satirica" in Pordenone – Italy, "Strasbourg – a satirical impression" in Strasbourg – France, "Berner impressionen" in Bern – Switzerland,

Exhibition "Cartooning for Human Rights" Strasbourg – France – together with 27 cartoonists from all European Union member countries

Florian Doru Crihana is the winner of over 70 international prizes, and owner of many honor distinctions (some of them see below).

He is often invited to be a member of juries of International cartoon competitions worldwide (see below).

Florian Doru Crihana is famous for his long series of satirical works. He is considering himself as a satiric artist, a creator of surrealistic and poetic images.

He displayed solo exhibitions in the Cartoon Museum Warsaw, Poland; the House of Humor and Satire Gabrovo, Bulgaria; Bruder Grimm Haus Steinau, Germany; the European Cartoon Centre in Kruishoutem, Belgium; Sapienza Universita di Roma; Art Gallery Legnica, Poland; Town Hall Brugge, Belgium; among many others.

Florian Doru Crihana is living and working in Galati, Romania.
*****
LIST OF ACHIEVEMENTS (incomplete):

*****
Let us express also through this exhibition our admiration for exceptional work of Florian Doru Crihana. We bring you an extensive collection of 153 artworks from a unique creative work of this world-famous artist. A strong artistic experience is guaranteed.
---
(For fullscreen presentation in "Slideshow" mode click under the picture to such button

)
.
---
previous exhibition

.

Home
---