---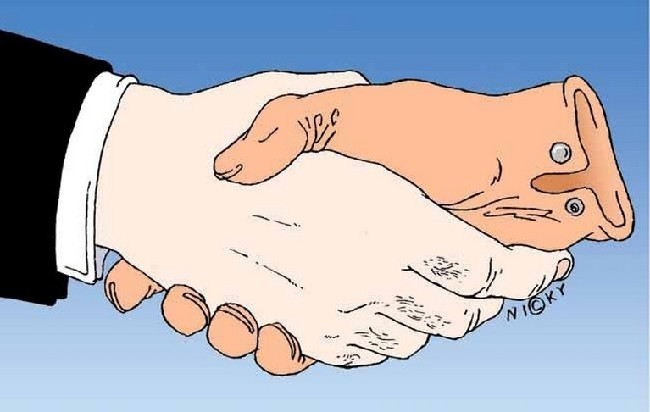 NICOLAY PECAREFF

REPRESENTATIVE EXHIBITION OF SIGNIFICANT ARTIST
---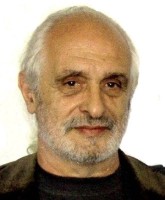 In the so-called high or serious visual art we often achieve satisfaction already due to its aesthetic effect, but for the caricature or cartoon it would definitely be not sufficient. The aesthetic effect is of course desirable, but cartoon is by its nature the medium which has to be a bearer of meaning, of the idea that forces us to think, even in the ideal case is able to induce laughter, bringing us relaxation and cleansing of the mind. Creation and perception of caricatures and cartoons therefore requires from the author as well as from the recipient diametrically different demands – it is very well known and scientifically proven that it activates completely different brain centers.
Maybe this was the reason why many of the world's leading artists in addition to painting, drawing, sculpture, or architecture focused themselves also to the creation of caricature or to similar creative methods – let us mention such big names as Leonardo da Vinci, Albrecht Durer, Gian Lorenzo Bernini, Annibale Carracci, Hieronymus Bosch, Francisco de Goya, or William Hogarth – and we mention only the most famous of them.
Of course, even contemporary artists continue in this praiseworthy tradition – we could name many artists who have succumbed to the charms of cartooning – this difficult, though often not fully appreciated artistic discipline.
And we have the honor immediately introduce to you an excellent example of such a versatile creator – excellent artist from Bulgaria Nicolay Pecareff, who is not only a great painter, graphic artist, illustrator, designer, … but he achieved remarkable results and achievements even in the field of cartoons. Let's say something more about his life and work of art.
Nicolay Pecareff was born on 5th January 1951 in Sofia, Bulgaria. In 1977 he graduated at the Academy of Fine Arts in Sofia in Professor Alexander Poplilov's class of applied graphics and posters. He also studied typeface and calligraphy in the class of Professor Vasil Yonchev. Since 1966 he published cartoons and illustrations. From 1971 he works also in the field of book design and publishing, illustration, posters, typeface and typography, trademarks and logos, applied graphics, industrial and commercial advertising, packaging, painting, B&Wgraphics, and spatial layout. Since 1972 Nicolay Pecareff participated in numerous exhibitions, biennials and competitions for cartoons, posters and applied graphics in Bulgaria and other countries in Europe, the Americas, Asia and Africa. His works have won awards at exhibitions and competitions in Bulgaria, Belgium, Italy, USA, Canada, Holland, France, Japan, Turkey, Poland, Macedonia (Yugoslavia), Slovenia (Yugoslavia), Korea, Germany, Algeria and others. Some of his artworks are in museums and galleries in Bulgaria, France, Belgium, Holland, Switzerland, Germany, Italy, USA, Canada, Turkey, Korea, Poland, Czech Republic, Slovakia, Slovenia, Macedonia, Greece, Denmark, Finland, and in private collections in Bulgaria and abroad. Nicolay Pecareff presented his creative work at personal exhibitions in Sofia, Varna, Pernik, Prague, Bratislava, Budapest and Vienna. There are several publications of his cartoons, posters, applied graphics and trade marks in almanacs and catalogs in the Bulgaria, USA, Canada, Japan, Switzerland, Poland, Germany, Turkey and others. Many of his cartoons were published in reputable humorous journals in Europe, USA and Canada. In 1984 he contracts with the Cartoonists & Writers Syndicate in New York, through which some of his works were published in national and regional issues in the U.S. and presented by TV channels of NBC, CBS, ABC. Nicolay Pecareff has participated in several international juries of exhibitions and competitions for cartoons and books' design in Bulgaria, Belgium, Czechoslovakia, East Germany, Hungary, the former Soviet Union. Between 1971-1972, he worked as an artist-designer for the production version on the national television. In 1979 he started working as the art editor of Narodna Kultura Publishers and in 1986 -1999 he was chief artist of the publisher. From 2000 he worked as artist in Bulvest 2000 Publishers. In 2014 he was one of the top cartoonists nominated for the prestigious Golden Gander Award at the multi-genre European Festival of Humour and Satire Kremnica Gags, Slovakia, where he had on this occasion also a personal representative exhibition of his artworks. Nicolay Pecareff is living and working in Sofia, Bulgaria.
*****
We invite you to explore the exhibition of artworks by outstanding cartoonist Nicolay Pecareff from Bulgaria. Have a nice experience!
(For fullscreen presentation in "Slideshow" mode click under the picture to such button

)
.
---
previous exhibition

.

Home
---