---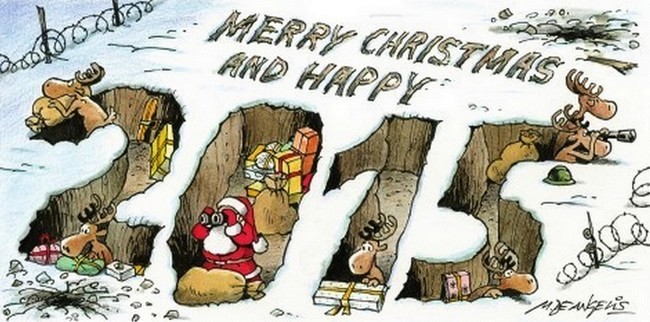 MERRY & HAPPY

NEW YEAR'S AND CHRISTMAS GREETINGS

---
Philosophical reflections on the existence or absence of the time phenomenon we now gratefully cede to the other people and in the framework of popular personification we imagine that on a notional time border once again met the old year with the new one. We don't know whether they shook hands – probably they have just submitted one another a relay race baton and the old tired year slowly limped somewhere into the past. The new year, still spotless, inspite of the arctic frost full of enthusiasm and hope, stepped briskly forward into the unknown future.
While summarizing the past year, we would be properly sweating – there have happened too many horrifying things. Into sweet sounds of bells and carols there are often admixed sounds of detonations and plaintive wailing of suffering people. Many of us are always carefully measuring whether these disquieting noises are still at a safe distance from our hearing and conscience, we secretly prepare earplugs, even though we know that they cannot help us.
A cartoonist already by his nature simply can't stand outside of real life – his susceptible sensors don't permit it to him. His secret desire to be powered only by the sources of unadulterated artistic inspiration will remain forever unfulfilled. The cartoonist in fact can never loose hope – having lost it, he would cease to exist.

Fortunately, in 2014 happened also some wonderful and uplifting things which still hold us above the water.
There were positive events, but also the negative ones, which in the past year prompted the European and world authors to create artworks of extraordinary quality and impressiveness, many of which undoubtedly enter into the history of the world's cartooning. We are extremely proud to have had the honor to publish some of them on the pages of the Cartoon Gallery.
We must express our cordial gratitude to all authors and cartoon fans for their year-round favor and cooperation – we highly appreciate it. We believe that our cooperation in the beginning year will bring again beautiful fruit which will cause a lot of joy to people all over the world.

We wish to all creators of Cartoon Art that the world around us would be evolving such a way that we will have many reasons for the creation of humorous cartoons and much less reasons for creating the satirical works. And to all people we wish much more happiness, love and humor.
Pleasant and successful 2015, dear friends!
*****

Many thanks to all authors and supporters who honored us with a large number of wishes and greetings – some of them we bring in the following collection.
(For full screen presentation click under the image to such a button

)
---
previous exhibition

.

Home
---