---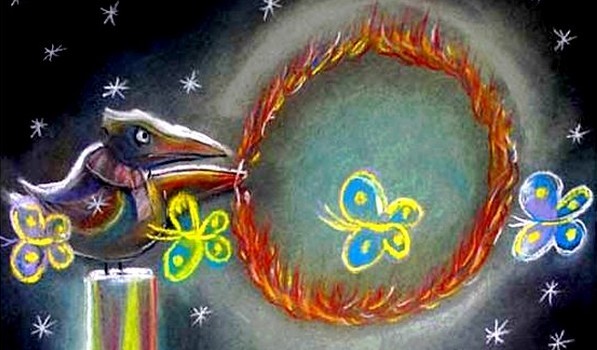 REPRESENTATIVE EXHIBITION OF EXEPTIONAL RUSSIAN CARTOONIST
---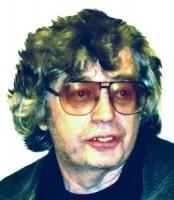 Extremely interesting and original personality of the contemporary European and world Cartoon Art is undoubtedly the famous Russian cartoonist Victor Bogorad. He certainly does not belong to a well known type of jovial guys who immediately assail you with dozens of lascivious jokes. His world is not a world of hilarious and unbounded fun, the heroes of his artworks not only constantly struggle with adversity of fate but they also fight vehemently against their own inner demons – but these battles seldom finish with a happy end. In the cartoons of Victor Bogorad, in a causal symbiosis coexist light and darkness, faith and hopelessness, decisiveness and resignation, birth and death. But Victor Bogorad as a poet of images shows us all this tragedy of life so suggestively and poetically that the reality appears to us although still as cruel, but not without certain grace and beauty.
Let us say a few words about the interesting life of Victor Bogorad: He was born in 1949 in Leningrad. Graduated at the Leningrad Electrotechnical Institute (LETI). For the first fifteen years he worked as a radio technician, first in a plant of defense, and then in a factory producing equipment for theaters. Every free moment, however, he used for drawing. In 1970 Victor Bogorad participated with the celebrities of avantgarde in an underground exhibition in private apartments in Leningrad, where he presented his oil paintings, created in the bathroom of his small apartment. In 1974 he left oil painting and began to concentrate fully on the cartooning. His first drawing was published in 1973 in the magazine Aurora and already in 1974 he won his first award at an international cartoon contest in Skopje in the former Yugoslavia. Since then his artworks have been awarded numerous prestigious prizes and recognitions at international cartoon competitions and festivals (Italy, Poland, Belgium, Turkey, etc). In the period from 1975 to 1985 Victor Bogorad held the position of the manager of the Leningrad Club of Cartoonists. For several years he worked also as an artist of famous carnival in Nice (France).
In 1989, Victor Bogorad finally abandoned his permanent employment in the field of electrotechnical engineering and became a full time cartoonist in the Leningrad newspaper Perekryostok. In the period from 1990 to 1991 he worked also for newspaper Smena, creating every day a cartoon for the front page. Continued in publication in newspapers and magazines, including periodicals as Literaturnaya Gazeta and Komsomolskaya Pravda. Until 1990, however, he did not send his works to "Krokodil"- the best known satirical magazine in the Soviet Union, which had a bad name among the artists. Redactors pushed the cartoonists to draw specific, desired topics, not given them the opportunity to express their own ideas. During the Soviet era, cartoonists such as Bogorad worked in underground circles while officially approved cartoonists mocked ideological enemies in the official satirical magazine "Krokodil". "It would be shameful for me to work for them", said Victor Bogorad, who under any circumstances did not change his beliefs and has never been willing to serve to any regime. In 1996 he began working for independent media, drew cartoons for The St. Petersburg Times, The Moscow Times and for their version in Russian language – newspaper Vedomosti. Currently he works as the main art director in the newspaper SPb Vedomosti and also as an artist-cartoonist for The Moscow Times. His artworks were published in numerous newspapers and magazines in Russia, Estonia, Germany, Israel and USA.
In the period from 1980 to 1985 Victor Bogorad issued in samizdat 5 own book publications. Later he published other books: "Bitte recht freundlich" 1987, 1990, Eulenspiegel, Berlin, "Such affairs" 1991, "Lyres", "Nuance" 1996, "Ford" in the Publishing house SPb. He presented his artworks at several individual exhibitions: 1989 – "Gallery 10-10" Leningrad, 1990 – Zurich 1991 – Schwyz (Switzerland). As a member of the group of cartoonists participated Bogorad in the exhibitions "NJET PROBLEM!" in Munich (1995) and Berlin (1996). He was a participant in an exhibition of cartoons "Confrontations" in the Russian State Museum in 1996. In the recent 10 years, he is regularly invited to be a member of juries of international cartoon competitions. In the recent years he also organized 4 international exhibitions of cartoons in St. Petersburg. In 1992 Victor Bogorad became the laureate of the national professional award "The Golden Ostap". Many of his artworks are in private collections in Switzerland, Germany and USA. As one of the leading Russian cartoonists gave Bogorad interview for CNN and BBC. In 2005 the BBC made a film about Victor Bogorad. He lives and works in St. Petersburg in Russia.
Means of expression of Victor Bogorad are very varied and diverse – he draws by pen and ink, paints, but in the recent years he has delighted especially the technique of pastel painting, the softness of which emphasizes the poetics of his artworks. This exhibition is designed precisely on the basis of his pastels – the cartoon lovers have a unique opportunity fully enjoy the magic of this technique, in the genre of Cartoon Art rarely seen and therefore extremely enriching. The atmosphere and poetics of artworks of Victor Bogorad are absolutely unique and inimitable – we wish you a pleasant and undisturbed artistic experience.
---




















































(For fullscreen presentation in "Slideshow"mode click under the picture to such button

)
---
* See also the profile page of Victor Bogorad in the section "Gallery" – look here
---
previous exhibition

.

Home
---