Exhibitions
---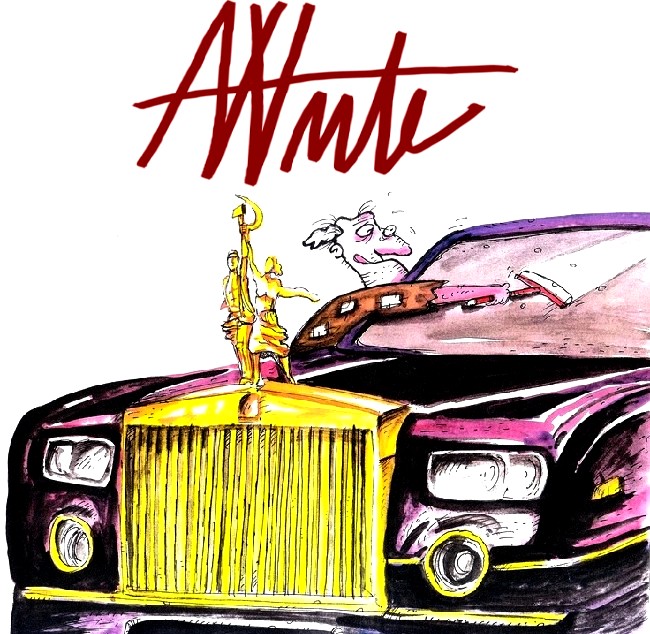 REPRESENTATIVE EXHIBITION OF RENOWNED CARTOONIST
---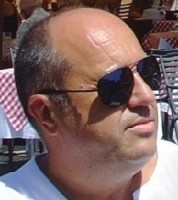 Maybe that's a piece of sentimentality and nostalgia, but even today, at times of powerful computers armed with, inter alia, increasingly sophisticated drawing programs, even today, my heart jumps of joy when I see a piece of art created by traditional artistic technique. The artwork, behind which we can feel a human being. I always imagine an artist who passionately picks up the artistic instrument and by the honest work of his hands (and of course also of his thinking apparatus) creates classical artwork that brings joy and catharsis to him and to all of the future viewers of his work.
Such an uplifting feeling brings us the creative activity of classic author of Romanian Cartoon Art Doru Axinte who understands the art and craft really masterfully – for every connoisseur of Cartoon Art is a great experience to see the results of his amazing creative work.
And what's more – Doru Axinte knows the value of humor in human life – he knows that cartoons have to process not only the so called "great themes" and deal not only with serious problems of human society (although the author does not avoid them) but it has to bring to the viewers release in the form of cathartic laughter – Doru Axinte in addition to his satirical creative work programmatically focuses on the creation of gag cartoons that bring us humor, of which is now in our lives as little as saffron. We must state that he always keeps a very high standard of his "jokes" and never drops below the level of good taste.
Doru Axinte with his high artistic and thought mastery ranks without any doubt among the great personalities of European and world cartooning.
*****
Let us recall briefly his life paths: Doru Axinte was born on 4th December 1962 in Falticeni, Romania. He graduated at the Faculty of Law of the Police Academy. Currently, he is working as a freelance artist concentrated mainly to the creation of cartoons and satirical graphic art.
In 1990 – debut of his cartoons in the military press and then publishing in the Romanian newspapers and humor rewiews. He is focused in his cartoons mainly on the "jokes" and "satire".
Doru Axinte started his artistic career as an autodidact. He has been intensively devoted to drawing since his early childhood, began to publish after 1990 and since then his cartoons have been published in more than 10 Romanian periodicals. Cartoons of Doru Axinte have been published in around 200 festival catalogues of the cartoon exhibitions. His artworks have been presented at numerous individual and uncountable collective exhibitions in Europe and all over the world.
He participated at a number of international cartoon competitions and his cartoons were awarded prestigious prizes and honourable mentions (some of them see bellow). Doru Axinte is the author of comics, book illustrations, posters and covers. He is a member of the Romanian Union of Cartoonists and the FECO-Romania (Federation of Cartoonists Organisations). Doru Axinte is living and working in Tulcea, Romania.
*****
AWARDS:
Gold medal: Serbia (2009)
Silver plaque: Macedonia (2013)
Silver Sunny Dragon: Armenia (2014)
Bronze medal: Israel (2009)
Grand Prize: Croatia (2010), Romania (2010)
1st Prize: Bulgaria (2009), Belgium (2011), Bulgaria (2011), Argentina (2013)
2nd Prize: Romania (2011), Iran (2011), Romania (2011), Argentina (2012), Hungary (2012), Iran (2013)
3rd Prize: Slovakia (2012), Iran-Fadjr (2013)
4th Prize: Czech Republic (2009)
Excellence Prize : China (2011)
Special prize: China (2009), Belgium (2009), Germany (2010), Belgium (2010), Croatia (2011), Romania (2011). Croatia (2012), China (2012), Macedonia(2013)
Special Jury Prize: Italy (2009)
Special Mention: Croatia (2012)
Honourable Mention: Bulgaria (2009), Italy (2010, 2011), Iran (2011), Romania (2011), Israel (2011), Poland (2012)
Mention: Iran (2012), Poland (2012)
Prize "Humoris Causa "ex aequo": Italy (2010)
Special diploma: Bosnia (2011), Bulgaria (2011)
Best cartoon Prize: Korea (2012), Korea (2013)
Master of caricature: Bulgaria (2013)
*****
We invite you to a tour of major exhibition of leading cartoonist Doru Axinte from Romania. Enjoy the very high quality of his classical cartoon creation. We wish you a pleasant experience! (For fullscreen presentation in "Slideshow" mode click under the picture to such button

).
---
Previous exhibition

.

Home
---