---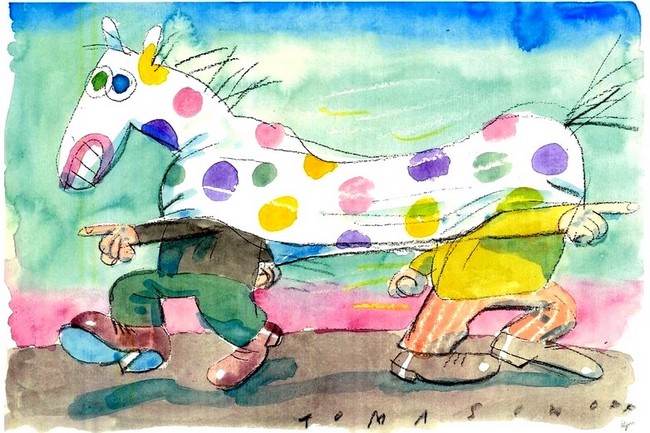 REPRESENTATIVE EXHIBITION OF SIGNIFICANT CARTOONIST
---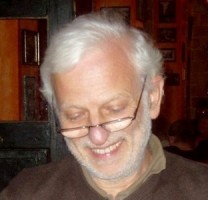 If we say that the psychiatrist knows the nooks and crannies of the human soul much better than anyone else, we probably will not be very far from the truth. And if this specialist in the human psyche is also the author of cartoons, so this is a thing we really have to look forward to. Such a favorable combination, rare even in the world, has been uniquely materialized in the person of significant cartoonist, illustrator and also a renowned psychotherapist Dr. med. Jan T o m a s ch o ff from Duesseldorf in Germany who for many years carefully analyzes our daily survival, unmistakably determines our diagnosis and subsequently prescribes us one of the most effective therapies for all woes – the trearment with humour.
*****
Three nations – Germans, Czechs and Slovaks proudly classify Jan Tomaschoff among their prominent personalities. He himself perfectly communicates all these three languages​​. If we would like to define more precisely his nationality probably the most fitting designation would be – a European citizen. Although both his parents were from Slovakia, his father from Turcianske Teplice and his mother from Bratislava – because of winding paths of fate – they met one another after the Second World War in Prague, which later (on 30th March 1951) became the birthplace of their eldest son Jan. So, he first saw the light of the world in the Czech capital and the scene of his first children's games and experiences has become Prague's picturesque quarter Dejvice. In Prague, he attended also the primary school and there in 1963 just as a twelve years old boy he offered his first cartoons to the respected periodical "Literarni noviny" (Literary newspaper). In the newsroom, where they were accustomed to publish the artworks of top authors only, they unerringly identified promising talent of the young artist and published his drawings immediately.
What direction would lead his next steps we can only guess, because another turning point in his life was the year 1966 when his parents moved with their children from the former Czechoslovakia to (today also former) "West Germany". Jan's heart choice – because as we know he strongly inclined towards art – was, of course, studying of Fine Arts at the "Kunstakademie" in Duesseldorf. This study, however, finally did not fullfiled his expectations, because in that time it was not possible to study "the cartoon" at the academy. His interest in art, however, went hand in hand with an interest in human beings and therefore entirely logical continuation was the study of medicine at the Medical Faculty in Cologne and Duesseldorf, from which he graduated as a medical specialist in neurology and psychiatry. In 1985 he has opened in Duesseldorf his independent medical practice as a neurologist, psychiatrist and psychotherapist, in which he works with great success till today.
Jan Tomaschoff is a rare exception to the rule, which states that "You cannot sit on two chairs at once." Besides his challenging and highly successful medical practice he has not left the cartooning, but he intensely devoted himself to this activity as well. His creation of cartoons has met with great response, and over time he has built an excellent reputation. He regularly has published his artworks in the most prestigious newspapers and magazines in Germany and Switzerland, such as Pardon, Eulenspiegel, Nebelspalter, Rheinische Post, Der Spiegel, Süddeutsche Zeitung, Die Welt, Hannoverische Allgemeine, Medical Tribune, etc. He released several albums of cartoons and became a popular illustrator. (see below).
Jan Tomaschoff presented his artworks at individual exhibitions in Germany, the Czech Republic, Poland, Italy, Turkey and Japan. He participated also on countless collective exhibitions in many countries of Europe and the world.
For his creative work he has won several prestigious awards at international cartoon festivals – he is a laureate of competitions in Pisek (Czech Republic) Knokke Heist (Belgium), Tokyo (Japan), etc. The Union of German journalists awarded him in 2006 the German Prize for Cartoon, other significant awards he also won in 2009 at the contest of the UN Ranan Lurie and in 2012 at the competition of the United Nations for the "Best Cartoonists of the world" he was awarded one of 13 prestigious prizes (only 5 of them were awarded to European authors).
After the fall of the communist regime in the former Czechoslovakia, Jan Tomaschoff become an active collaborator and friend of Czech and Slovak cartoonists, he is a member of the Czech Union of Cartoonists, he presented his work in the Czech Republic and Slovakia, in the Czech Republic has recently been released an album of his cartoons.
Since Jan Tomaschoff has not still lost his creative potential, there is no doubt that we will have the opportunity to enjoy his original creative work regularly also in the future.
*****
Books with cartoons and illustrations by Jan Tomaschoff:
"Cartoons" by Jan Tomaschoff from Kettwig, Galerie in der Wilhelmstraße (1975)

"Cartoons" by Jan Tomaschoff and Rainer Breuer, editions treves, Trier, Germany (1977)

"AGAV Katalog zur Gegenbuchmesse 1978: Verzeignis lieferbarer alternativer Bucher Uberblick uber die Messeteilnehmer…" by Rainer Breuer, Jan Tomaschoff, Günter Ehret and Norbert Ney, editions treves, Trier, Germany (1978)

"Slapstick. Das Weltblatt des Humors Heft Nr. 1" by Tomas M. Bunk / Tom Wenner / Jan Tomaschoff and Hans A. Nikel (1978)
"Friede freude overkill. Cartoons Band II. Cartoons zu allen passenden und unpassenden Gelegenheiten" by Jan Tomaschoff, editions treves e.V., Trier Germany (1980)
"Es geht aufwarts. Trendbeobachtungen eines Cartoonisten" by Jan Tomaschoff, Gerstenberg Gebrueder Verlag, Germany (1985)

"Es besteht kein Handlungsbedarf!" by Jan Tomaschoff, editions treves, Trier, Germany (1987)

"Kolbenfresser. Das Auto in der Karikatur" by Ernst Hurlimann, Horst Haitzinger and Jan Tomaschoff, Rosenheimer Verlagshaus, Germany (1989)

"Es besteht kein Handlungsbedarf! – Reihe: editions treves 195." by Jan Tomaschoff, editions treves, Trier, Germany (1991)
"Sturz nach oben!" by Jan Tomaschoff (1993)
"Rettet die Arzte! Medizin-Cartoons. (rororo tomate)" by Jan Tomaschoff, Germany (1993)

"Eros – beklemmend anstrengend! Cartoon vom Feinsten" by Jan Tomaschoff, Germany (1995)

"Biofreaks und Pillenfresser" by Gunter Kramer and Jan Tomaschoff, Thieme, Stuttgart, Germany (1996)

"Alternde Jugend & jugendliches Alter" by Gunter Kramer and Jan Tomaschoff Thieme, Stuttgart, Germany (1997)

"Doc & Dollar" by Gunter Kramer and Jan Tomaschoff from Thieme, Stuttgart, Germany (1997)

"Stress lass nach" by Gunter Kramer and Jan Tomaschoff from Thieme, Stuttgart, Germany (1998)

"Vernetzt nochmal!" by Jan Tomaschoff, Varus, Germany (2001)

"Das Anti-Burnout-Erfolgs…Gesundheit, Gluck und Glaube" by Helmut Kolitzus and Jan Tomaschoff from Deutscher Taschenbuch Verlag, Germany (2003)

"Heute schon gelacht? – Bd. 2: Die besten Cartoons aus Medical Tribune" by Regine Jacobsen, Sonja Kempinski, Christian Bob Born and Oswald Huber, Medical Tribune Verlag, Germany (2005)

"Patadvadsat. Kniha o slovenskej karikature"

(

Five

and

twenty

.

A book about

Slovak

cartoon

)

by Kornel Foldvari from LCA Publishers Group, Levice, Slovakia (2005)
"100+1 priatelov / friends"

by Kazo Kanala, FO ART, Bratislava, Slovakia (2006)
"Theorie an der Bar" by Peter Schneider and Jan Tomaschoff, Der Blaue Reiter, Germany (2007)

"Psychiatrie und Psychoterapie: 1000 kommentierte Prufungsfragen" by Helmfried E. Klein, Frank-Gerald Pajonk, Jan Tomaschoff and Angelika Brauner, Thieme, Stuttgart, Germany (2008)

"Ustav s inym poslanim. Truhlica slovenskeho humoru"

(

Institute

of

another

mission.

Box

of Slovak humor

)

by Tomas Janovic and Fero Jablonovsky, FO ART, Bratislava, Slovakia (2009)
"Irre(n)arzte. (Irrenarzte)" by Gunter Kramer and Jan Tomaschoff, Thieme Stuttgart, Germany (2010)

"Um die Ecke gelacht: Philosophisches Denktheater in Karikaturen" by Hans Lenk and Jan Tomaschoff, Lit Verlag, Germany (2012)

"Medicina zalozena na duvere. O nebohem pacientovi v postmoderni dobe"

(

Medicine

based

on trust

.

About miserable

patient in a

postmodern age)

by

Hana Konecna, Danica Sloukova, Tonko Mardesic. Ilustrations by Jan Tomaschoff, Galen Prague, Czech Republic (2012)
*****
Now let us visit together the clinic of Doctor of Humour Jan Tomaschoff and let act to us the healing substances encoded in his drawings. We wish you a pleasant experience. (For fullscreen presentation in "Slideshow" mode click under the picture to such button

).
---
previous exhibition

.

Home
---